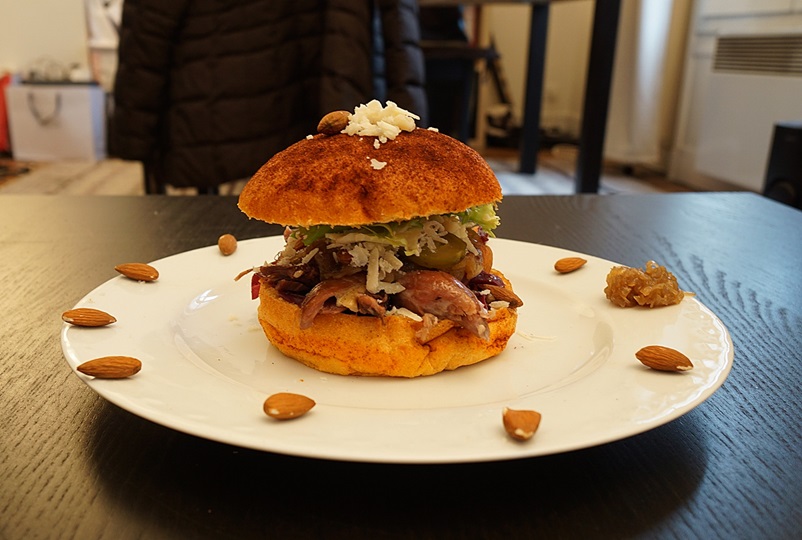 Duck burger recipe with sweet onion sauce, red cabbage with apples/plums cooked in wine, almonds & Parmesan cheese • Beer, Burger, Bond
Beer, Burger, Bond? What the hell is this? The question might have been floating around the universe over the enormous time span of the past two seconds and we are happy to answer it without any further ado. It would be nice though if you could imagine a little drum roll for this moment to add a bit of suspense 😉 Beer, Burger, Bond are the 3 pillars spelled with capital "Bs" on which the world is standing. Beer, Burger, Bond nights bring together unique burger creations, a great selection of beers and your favorite James Bond movies to celebrate the world's most deadly secret agent.
For every single James Bond movie we uniquely create a burger that is in line with the theme of the particular Bond movie that we are about to watch. Combine this with carefully selected types of beer that fit thematically with the movie and you have Beer, Burger, Bond at its finest! Today: A French style duck burger for Bond movie #21 Casino Royale.
Theme for this burger – French finesse and sophistication



Main villain Le Chiffre (French for The Number) has been the inspiration for burger #21 for the 2006 James Bond movie "Casino Royale". Not much is known about the life of Monsieur Chiffre. He is described as being officially stateless and merely a number on a passport (therefore his name). However, we learn in Ian Fleming's 1953 Bond novel "Casino Royale" that his birth name is Jean Duran, that he has a slight Marseille accent and that he works for the French "Syndicat des Ouvriers d'Alsace". So there definitely seems to be some kind of French connection.
Le Chiffre is portrayed in Casino Royale as a financier of international terrorism, with a penchant for poker and expensive tastes. Ever sporting a spotless, elegant black suit and using a platinum plated inhaler, he conveys a certain air of sophistication. These traces of French origin and sophistication have led us to create a burger that reflects the finesse of French cuisine.
We have used one of the most quintessential French dishes – Confit de Canard (duck confit) – as a meat basis. Duck confit is basically duck meat that has been cured with salt and then cooked in its own fat. The aromatic duck is paired with a French-style sweet onion sauce called Confit d'oignons and red cabbage with apples and plums cooked in red Bordeaux wine. The burger is topped off with crunchy whole almonds and Italian Parmesan cheese.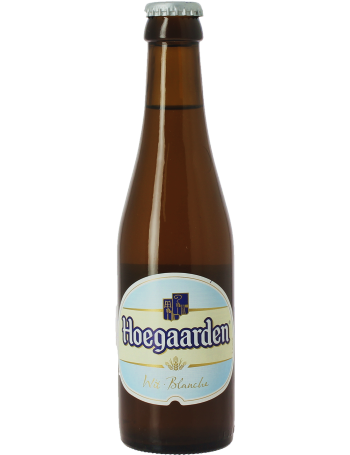 Hoegaarden, refreshing wheat beer from Belgium • Duck burger recipe • Beer, Burger, Bond
While France is a land of milk and honey for lovers of wine and fine dining, there is oddly enough barely any good local French beer to be found. However, the Wit Blanche beer of Belgian brewery Hoegaarden is virtually omnipresent in French restaurants and supermarkets and it is also one of our favorites. Hoegaarden Wit Blanche is a cloudy beer with a refreshing mild sweetness. Aromas include a slight banana taste, citrus, wheat and a hint of yeastiness. The crispness of the beer comes from the wheat and the medium-high carbonation.
It should be fairly easy to purchase this beer anywhere, since the owner – beverage giant Anheuser-Busch – is distributing it all around the world. If you cannot find it in your country however, you can check online beer specialty stores such as Saveur Biere which do international shipping.

For the red cabbage with plums and apples
✓ 250g red cabbage
✓ 1/2 onion
✓ 1/2 apple
✓ 2 plums
✓ piece of butter
✓ 2 teaspoons red balsamico vinegar
✓ 1/10 liter of red wine (preferably a good Bordeaux)
✓ 3 teaspoons brown cane sugar
✓ 2 teaspoons cinnamon powder
✓ 2 cloves
✓ 3 bay leaves
✓ pinch of cumin
✓ salt and pepper to taste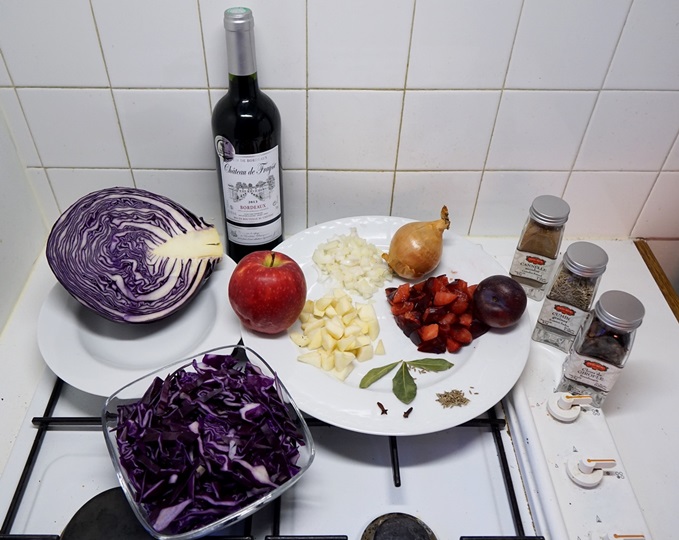 Preparing the ingredients for the red cabbage • Duck burger recipe • Beer, Burger, Bond
✓ 3 large sweet onions; sweet onions are non-pungent onion varieties, for example the Oignon doux des Cévennes from France, or Vidalia and Walla Walla onions in the U.S.
✓ 50g brown cane sugar
✓ 2 tablespoons of red balsamic vinegar
✓ 1 tablespoon of extra virgin olive oil
✓ 1/15 liter of dry apple cider (French: cidre brut)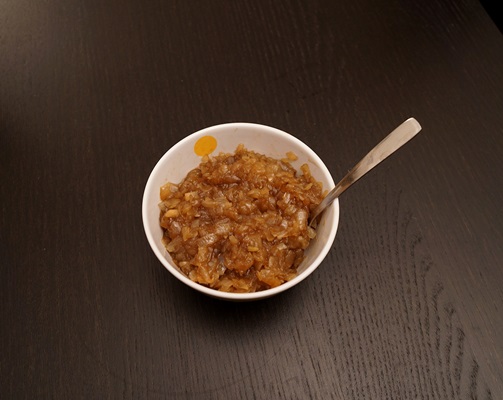 Confit d'oignons is a delicious sweet onion sauce from France • Duck burger recipe • Beer, Burger, Bond
For the burger
✓ Red brioche-style paprika burger buns. We bought ours at Gontran Cherrier's bakery in Paris. If you can't find similar burger buns in your city, you can simply buy normal brioche burger buns or make the red paprika burger buns yourself. Simply click on the recipe link here: Red brioche paprika burger buns
✓ One pack of confit de canard/duck confit (you will need a little less than one duck leg per burger). In France you can find this at every supermarket, and also in most countries of Europe and in the United States you can buy confit de canard at French delicatessen stores in your city or online. You can also find it on Amazon in most countries. I have had no problems ordering duck confit online in Germany, Spain, and in the U.S. This online store here also does international shipping of confit de canard to many countries around the world: Mondizen
✓ Can't find pre-prepared confit de canard? Simply follow this simple recipe here to make your own duck confit from scratch.
✓ Onion Confit (see above)
✓ Red cabbage (see above)
✓ Grated Parmesan cheese
✓ Tomato slices
✓ Gherkins
✓ Red onion slices
✓ Frisee lettuce
✓ Unsalted, whole almonds
Casino Royale burger toppings • Duck burger recipe • Beer, Burger, Bond
Red Cabbage with plums and apples
Cooking the red cabbage takes a lot of time. Estimate about 20 minutes for active preparation and 2 hours for (passive) cooking. It does make sense to cook the cabbage the day before you plan to have your burger night and then store it in the fridge. If you're in a hurry, you can of course also simply buy a jar of red cabbage from the supermarket. However, the homemade version will simply taste better!
✓ Take 250g of red cabbage and cut it into thin small stripes.
✓ Cut apples, plums, onions into small pieces.
✓ Melt butter on the stove-top in a frying pan over medium heat.
✓ Sauté onions, apples and plums in the butter for 2-3 minutes over high heat. Add red cabbage and continue sautéing the ingredients for a few more minutes.
✓ Turn down to medium heat. Pour 1/10 liter of red wine into the pan, then add 3 teaspoons of brown sugar, 2 teaspoons of balsamico vinegar, 2 teaspoons of cinnamon powder, 2 cloves, 3 bay leaves, a pinch of cumin, as well as salt and pepper.
✓ Close the pan with a lid (keep a slight crack open) and let the red cabbage simmer for around 2 hours over medium heat.
✓ Important: Keep checking if there is still enough liquid in the pan. Add water (and more wine if desired) regularly whenever necessary. Taste the cabbage after 1,5 hrs and add more cinnamon, cumin, sugar or salt & pepper if necessary.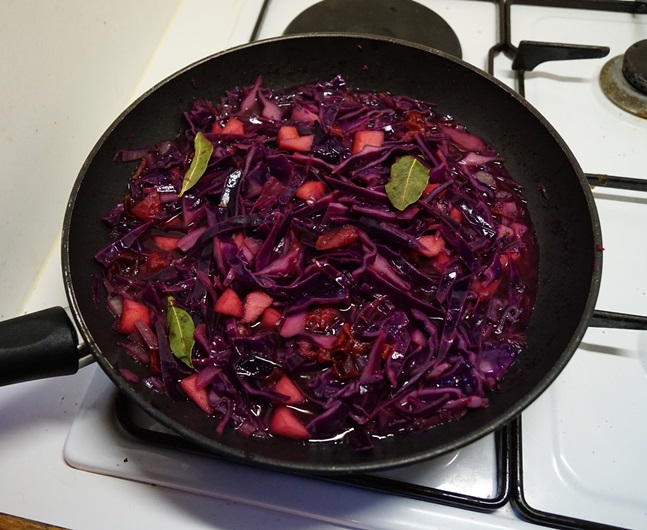 Red cabbage with apples & plums cooked in red wine • Duck burger recipe • Beer, Burger, Bond
Onion Confit
Preparing the confiture d'oignons takes a little less time and is actually fairly straight-forward. Calculate around 20 minutes of active preparation and 1hr of (passive) cooking. Again you should do this the day before you have your burger night. Cook the confit d'oignon in parallel to the red cabbage to save time. You can also do it much earlier if you wish, since you can keep the confit d'oignons in a jam jar in the fridge for about 2 months.
✓ Chop 3 large sweet onions into small dices.
✓ Put a tablespoon of olive oil into the saucepan and sauté the onions over medium heat until they become translucent.
✓ Spread 50g of brown sugar across the onions evenly. Add 2 tablespoons of balsamico vinegar and 1/15 liter of dry apple cider. Cook and stir the onions over high heat for around 15 minutes until almost all of the apple cider has evaporated.
✓ Put the pan over low heat and simmer the onions for 1hr. Stir from time to time.
✓ Let the confit d'oignon cool off, then put it in a glass jar into the fridge.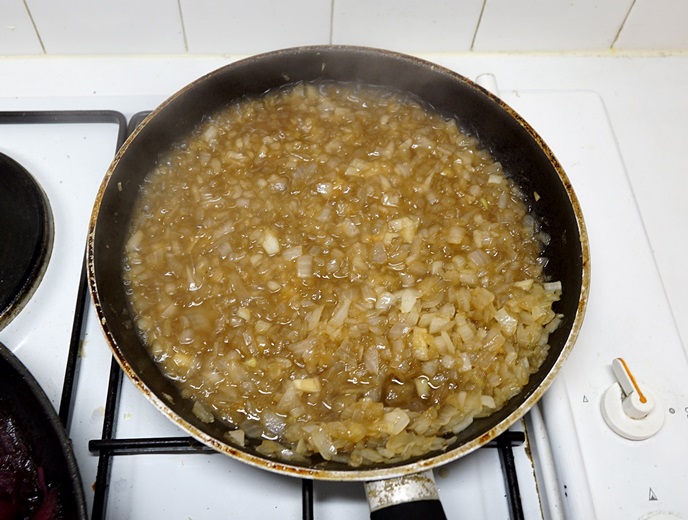 Preparing the confit d'oignons • Duck burger recipe • Beer, Burger, Bond
Preparing the duck and burger
If you have been able to purchase pre-prepared confit de canard:
✓ Defrost the duck legs which are sealed in a plastic sachet in a pot of hot boiling water for 5 minutes (sometimes you don't have to do that; it depends on which product you are buying).
✓ Take the defrosted duck legs out of the sachet and put them onto an oven tray covered with tin foil.
✓ Preheat your oven to 210°Celsius. Put the duck into the center of the oven and cook the upper side for 10 minutes. Then turn the duck around and cook the other side for 5 more minutes.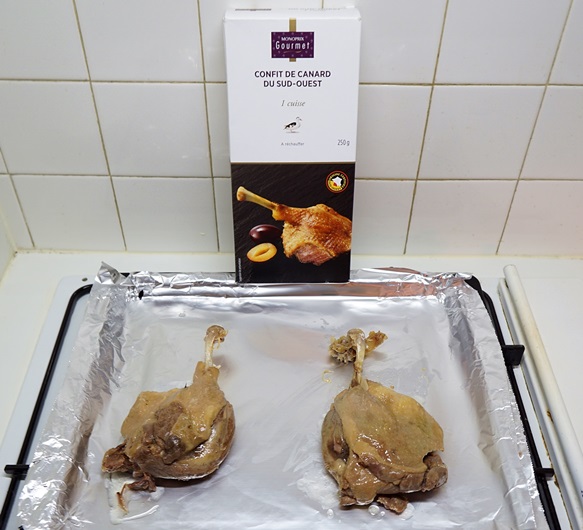 Duck confit can easily be bought at online grocery shops • Duck burger recipe • Beer, Burger, Bond
While the duck is in the oven:
✓ Re-heat as much red cabbage as you need in a saucepan.
✓ Prepare tomato slices, onion slices, gherkin sticks, frisee lettuce and almonds as toppings.
✓ Grate the Parmesan cheese.
✓ Cut open the burger buns. Put the red cabbage at the bottom. Add almonds, red onion slice, tomato slice, gherkins.
✓ Carve off pieces of duck meat and put them on the burger. It has to be still oven hot for optimum taste (if the duck is ready early keep it in the oven at a very low temperature).
✓ Spread the confit d'oignons over the duck meat.
✓ Top off with frisee lettuce and Parmesan cheese.
Bon appétit!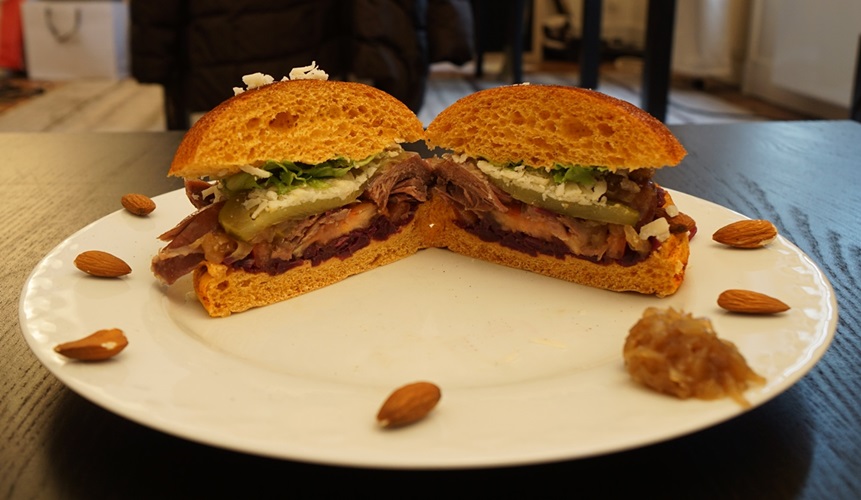 Exploring the inner workings of the Casino Royale burger • Duck burger recipe • Beer, Burger, Bond