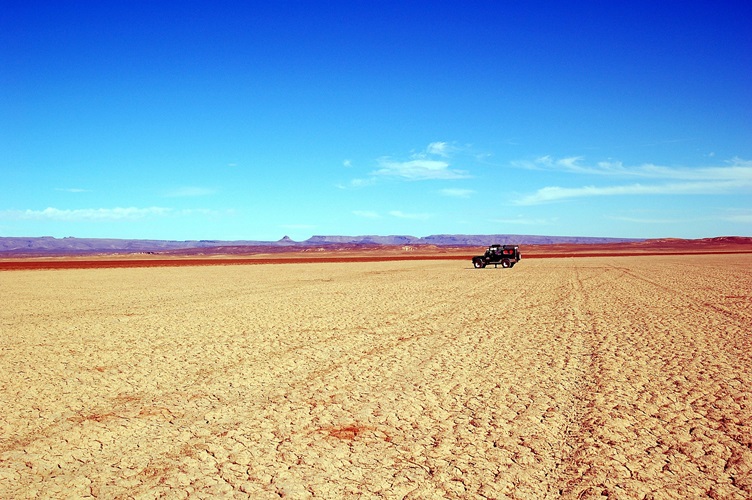 Getting around South Africa
1) Renting & driving a car in South Africa:
It is perfectly safe (and incredibly cheap) to rent and drive a car in South Africa despite what some people might tell you. If you are not accustomed to left hand traffic it might take an hour or so to get used to it though. Prices for a small vehicle start at around 100$ per week (that normally includes insurance, air-con, theft-protection, a ton of free kilometers and drop-off at a different city; excludes fuel). My personal favorites are https://www.budget.co.za/ and https://www.hertz.co.za/, but there are, of course, a lot of other reliable car rental companies as well. Check out this price comparison site for hunting for the cheapest price: http://www.rentalcars.com/en/country/za
A few things to bear in mind:
✓ Make sure that you always lock the doors even when driving. If you are approached by windscreen washers or beggars at traffic lights/intersections ignore them, shortly shake your head or wave them away.
✓ Keep valuables (phones, cameras, even backpacks, etc.) out of sight at all times when driving or parking the vehicle.
✓ Traffic police in South Africa can be pretty corrupt. If you are stopped by police, first of all ask them to tell you what you did. At the same time inconspicuously show them a print out of the card below (at that point they normally already back off). Under no circumstances pay cash to a traffic officer. That is strictly illegal. Fines are paid at police stations only and a receipt must be issued. If you continue to have problems call the 24hour anti-corruption hotline on the card below.
✓ At petrol stations a person will fill up the tank for you. It is indicated inside the fuel filler flap what petrol you are supposed to use for the car. But they know that anyway.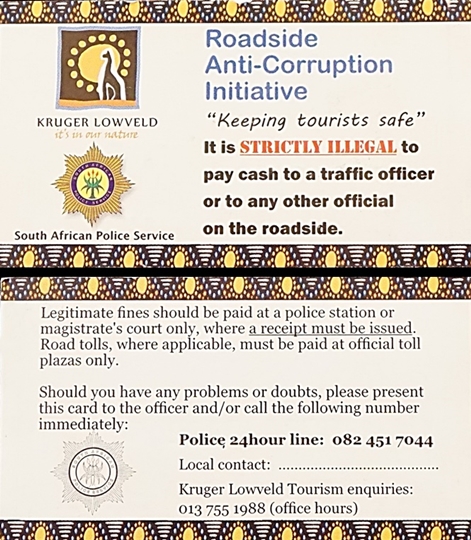 Call the anti-corruption police in case of any problems dealing with traffic cops • Getting around South Africa
2) Using buses and trains
✓ Baz Bus http://www.bazbus.com/ offers hop-on/hop-off door to door bus services for backpackers from Johannesburg to Cape Town (or the other way around) for around 240$ for a 14-day-pass (one way). You can get off or on at multiple stops along the way. In my opinion however renting a car makes way more sense and will ultimately be cheaper if you split the money with other travelers. Plus, of course, you are much more flexible with the car and reach destinations that you won't be able to get to via bus.
✓ If you need to travel between major cities you can consider taking Greyhound Bus https://www.greyhound.co.za/ or Intercape http://www.intercape.co.za/. Most major cities are also served by a good and safe fleet of long distance trains and prices are very cheap. Jo'burg to Durban, for example, is 25$ for an economy sleeper ticket: http://www.southafricanrailways.co.za/
3) Flying
There are a handful of cheap budget airlines in South Africa that offer, for example, one-way flights from Jo'burg to Cape Town from as little as 52$.
Here is a list: