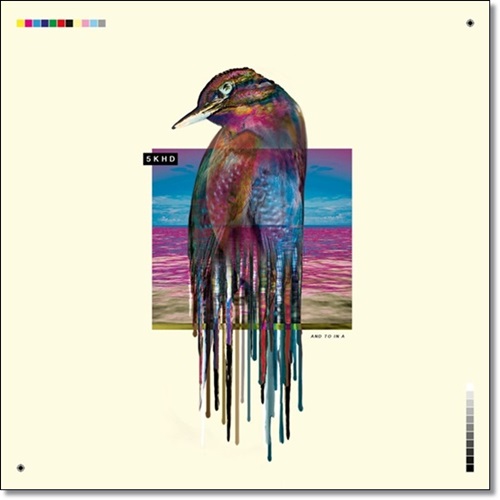 Is this the soundtrack to my new religion? It glows, and it breaks, it spellbinds and inspires, it unsettles, it leaves more questions than it answers, it frightens me, it alienates and transforms, it hurts, it confronts me and my loneliness, it punches me, and makes me willingly addicted – this music. I don't think that anything in recent times has fascinated me as much as this album. After years and years as a musician and music lover one gets bored easily by the bromidic, uniform pulp that is pumped out by the conveyor-belts of the music industry. 5K HD will disrupt your listening habits in a way very, very few bands can. Yet it remains accessible, emotionally direct, ear-catching pop. Abso-fucking-lutely brilliant!
5K HD is a band formed of acclaimed Austrian improv/jazz combo Kompost 3 and vocalist Mira Lu Kovacs. The cats from Kompost 3 have been playing together since 2009 when the band grew organically out of the project 'Jazzwerkstatt Wien' (Jazz Factory Vienna), a platform established to facilitate the creation and presentation of music and the collaboration of young musicians. Mira Lu Kovacs, frontwoman of the singer-songwriter formation Schmieds Puls, joined them in 2016/2017 to work together on the album And To In A under the moniker 5K HD.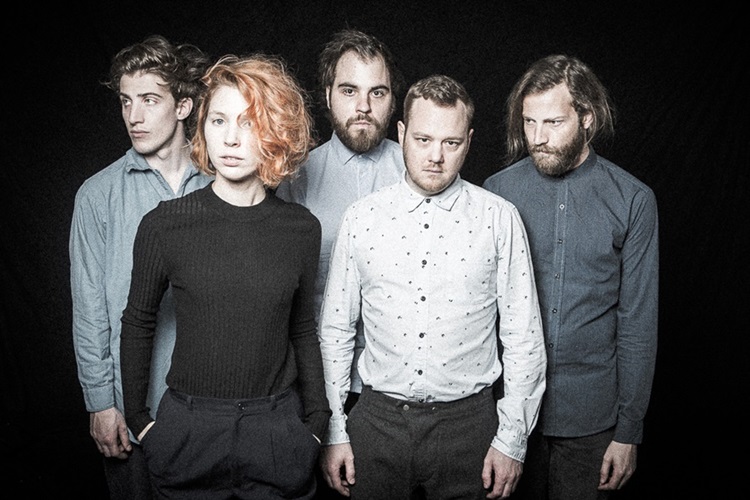 5K HD from Vienna, Austria

The quintet's music sounds like a feverish cosmic daydream; tripped-out, hazy and imaginatively poetic; eerily dripping space-honey that takes the listener through the twists and turns of a musical maze towards strange realms where weirder things swim. The album's first track Anthem is a case in point. Sparse rhythms, staggered broken beats, fragmented melodic (I wanna say) lines set against the shimmering arrangement of synthesizers and warm trumpet splodges. The sound is almost weightless. Zero-gravity music, yet under the paradoxical heaviness of a heart that seems to carry a terrible melancholia inside of it. That's the delightful trouble with this band: The music sometimes feels tastefully impossible and absurd yet sends out waves of compelling magnetism at the same time.
Stop Motion Music Video for Anthem  from 5K HD's new album And To In A

Nonchalant Trouble Boy follows a (seemingly) more conventional songwriting form, but surprises with texture-rich noise-isms, murky atmospherics and sections in 7/4-time. And then, of course, there is Mira Lu Kovacs's phenomenal voice – heart-stopping magic rising from the enchantress's vocal cords. The single release What If I again lays out a different musical vocabulary. A disturbingly minimalistic, thinned-out soundscape that pulls from a dark well of futuristic elements. Don't Die, characterized by generous temporal spacing and a forward stumbling rhythm, as well as the final track of the album, And To In A, with its warm sounds and minimal drum splashes, create the impression of sitting in Father Time's living room sipping tea at a moment when his out-of-phase pacemaker is slowly unhinging the spatio-temporal continuum creating in turn musical realities of unheard beauty.
5K HD's melting pot approach of blending different aesthetics to a hypnotic, intoxicatingly deep kaleidoscope of musical poetry sweeps you away with eclectic outbursts of feelings and imagination. Same caliber as Radiohead. Worldclass!
Lyric Video for Trouble Boy  from 5K HD's new album And To In A

Official Music Video for What If I  from 5K HD's new album And To In A

Tracklist
Anthem (Radio Edit)

Trouble Boy

Mute

Ice Bird

Not A Love Song

Don't Die

What If I

Patience

Gimme

And To In A
Line-up
Voice – Mira Lu Kovacs
Trumpet – Martin Eberle
Keyboards – Benny Omerzell
Bass – Manu Mayr
Drums – Lukas König