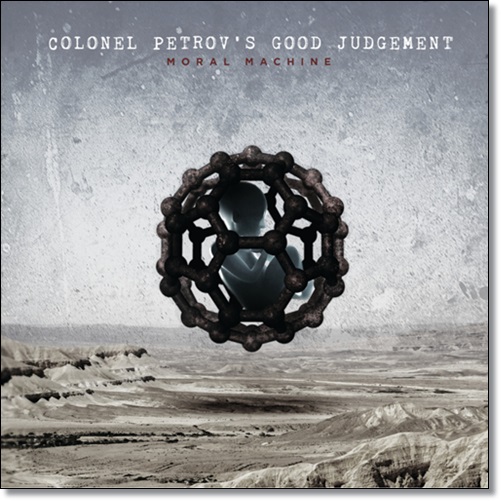 In 1983 Colonel Stanislav Petrov of the Soviet Air Defence Forces saved the world from nuclear apocalypse. When Soviet satellite systems falsely detected the launch of nuclear missiles from United States military bases, Petrov was a rock of level-headed judgment. He calmly concluded that the alarm had been triggered by a malfunctioning computer system and therefore decided against a retaliatory nuclear strike. What sounds like a storyline straight out of a James Bond movie screen-play was ominous reality back then. Through his prudent reaction Petrov prevented the outbreak of World War III and potentially saved millions of lives.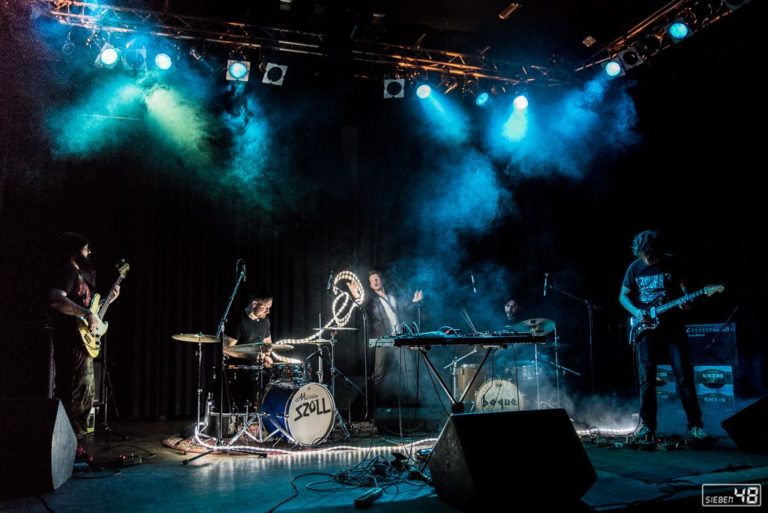 Colonel Petrov's Good Judgement – Moral Machine – Live • Pic by Andre Syman at Sieben48

In a tipping of the hat to the unpretentious cold war hero, Cologne-based experimental quintet Colonel Petrov's Good Judgement (CPGJ) blow up the room after 1:15 minutes into the first track Everybody Gut One from their savage debut album Moral Machine (2015). Surrendering to a darker, more sinister interpretation of history, CPGJ immediately assail you with a barrage of ruthless, heavy riffs, electrocuted syncopations and the pounding and thundering industrial machinery of two drum kits. All tunes are held mainly instrumental and vigorously captivate you with their radical sound and intense surge of energy.
Colonel Petrov's Good Judgement – Moral Machine Album Trailer

Moral Machine is a grungy tour de force of extraordinary potency. Everything is designed for maximum emotional and sonic impact. Moments of tricky poly-rhythmic wizardry and heavy, powerful riffs merge seamlessly with scorching, effervescent saxophone lines as can, for example, be heard in the brilliant second track Dark Star. CPGJ's stream-of-consciousness operates like a frenzied gush of noisy-steely shockwaves. Their creativity flares up and runs wild when the eerie saxophone sounds howl into the ether and cascading guitar solos navigate the menacing drum beat. At other times the music walks down different roads of a more claustrophobic quality as the five musicians break away into a cacophony of disquieting feedbacks, high-pitched tone repetitions, sonic screams and static interferences.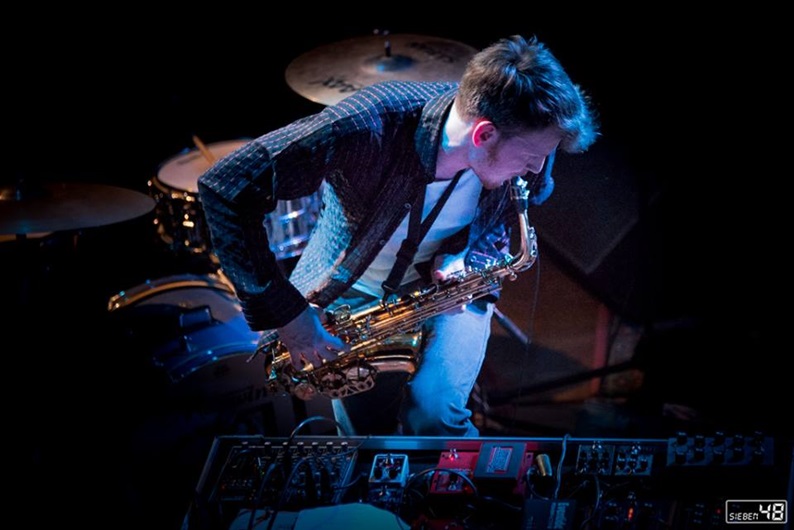 Saxophonist Leonhard Huhn • Colonel Petrov's Good Judgement – Moral Machine • Pic by Andre Syman at Sieben48

One thing is for certain: It never gets boring in this wicked jumble of improvisational artistry. The brilliance of Moral Machine lies within its ability to subtly walk the wire between jazzy, technical fluidity, liberating creative exuberance and brute, extreme force. It is a kind of music of exhaustive density and meaningful substance unlike the many high-polished products of today's pop market that insult the listener's humanity with their soul-denying vacuousness. This record has balls AND character! An absolute masterpiece of 21st century music.
Colonel Petrov's Good Judgement – Moral Machine • Track: Everybody's Gut One • Fattoria Musica Sessions

Tracklist
Everybody's Gut One

Dark Star

Moral Machine

Sappattack

Hole Of Love

Launch On Warning

Dick Laurant Is Dead

Next Time We Might Not Be As Lucky
Line-up
Guitar – Sebastian Müller
Drums – Nils Tegen & Rafael Calman
Bass – Reza Askari
Sax, Electronics, Voice – Leonhard Huhn