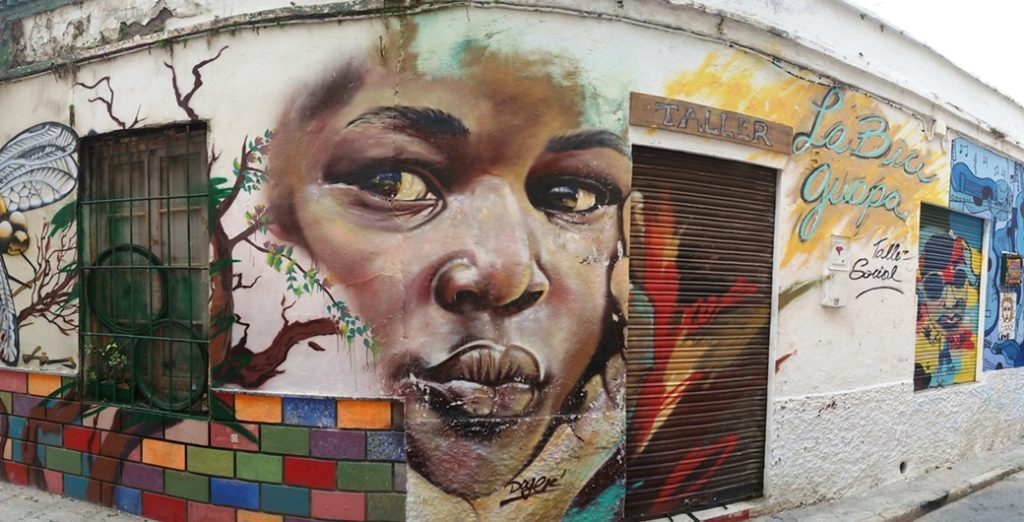 Street Art Malaga – Artist: Doger – Lagunillas neighborhood

When communities turn naked concrete walls and the spalling plaster of run down houses of deprived neighborhoods into a colorful, breathing canvas of urban art, good things can happen. Creativity takes courage and effort and it is therefore an encouraging thought so full of hope when neighbors and artists, owners of small businesses and cafés, friends and professionals get together to reshape life!
The global economic crisis hit Spain incredibly hard, especially the younger generation, with youth unemployment rates at times skyrocketing to alarming 50% and above. Not giving in to despair and lethargy in the face of a crippled economy and a lack of future prospects needs a lot of strength; and it is in times of adversity that we find this strength and grow stronger by sticking together and finding ways to deal with problems. When the community rolls up their sleeves to give their neighborhood an uplifting makeover of color, art and inspiration, it leaves a powerful message to everyone: Believe in transformation! There is power and hope in art! Let's dust ourselves off and rebuild!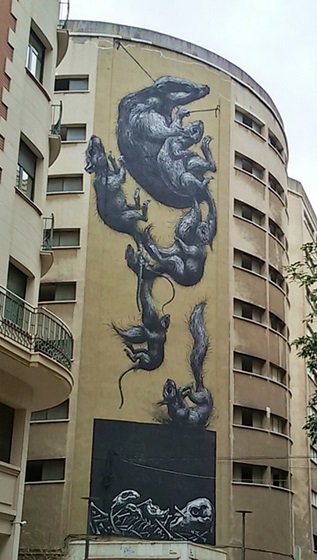 Street Art Malaga – Artist: Roa – SOHO neighborhood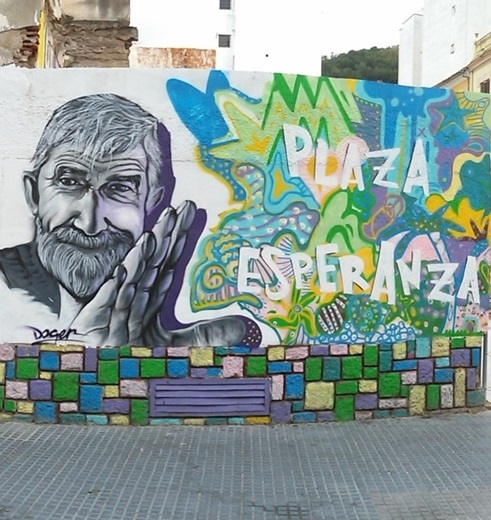 Street Art Malaga – Artist: Doger – Lagunillas neighborhood

Street Art Malaga – Re-imagining urban spaces, communities and the human spirit through art
Street Art in Malaga happens mainly in two neighborhoods: SOHO and Lagunillas. Both have been struggling mightily over the past years, but a lot of action has been taken recently to turn the sinking ship around. SOHO has received the lion's share of attention and media-coverage as a result of the efforts of the city to re-imagine this once-important, but now run-down district with its showcase project MAUS (Malaga Arte Urbano Soho). The project has attracted the interest of many illustrious names of the global street art community, including British street artists D*Face and Ben Eine, as well as Obey from the United States.
The street art scene in the Lagunillas neighborhood comes with a much lower profile and has only attracted the artistic prowess of local Spanish artists, however it is here where the real magic happens. It is here where the community has stood up and has taken its fate into their own hands by renewing the urban space and the human spirit through art and willful effort. And it is here therefore where we shall start our exploration of Street Art Malaga!
Click on the square symbol at the top left to open the menu of important points • Street Art Malaga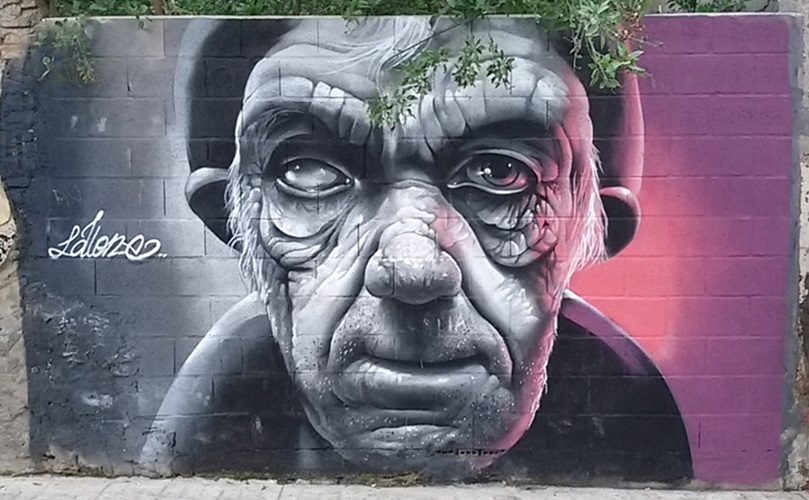 Street Art Malaga – Artist: Lalone – Lagunillas neighborhood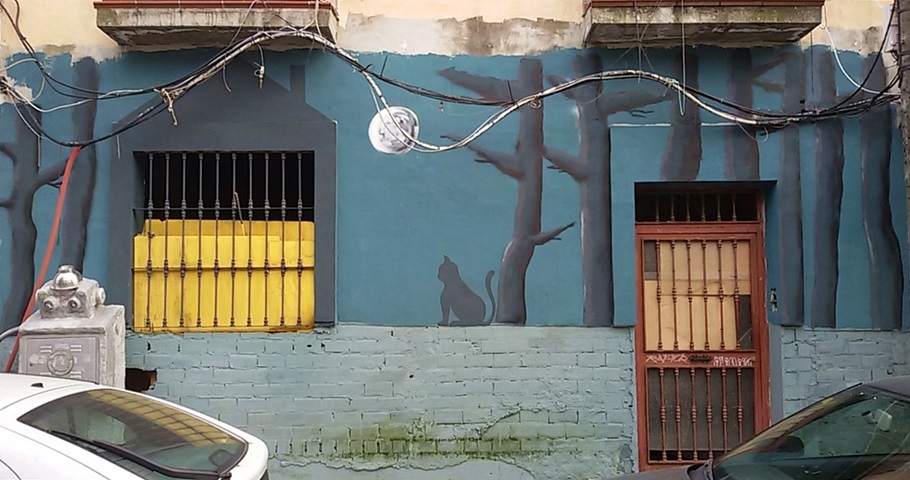 Street Art Malaga – Artist: unknown – Lagunillas neighborhood

The Lagunillas neighborhood – Color to the people!
The heart and soul of Malaga's local street art scene begins fittingly just a stone's throw away from the house where Picasso was born. Branching out to the north-east from the beautiful café Las Camborias on Calle Huerto del Conde is an urban wonderland of Spray Can Genies and Fairies. Despite the vicinity of the Lagunillas neighborhood to one of Malaga's most visited landmarks, not many tourists find their way here.
Regarded by many locals as the true urban cultural center of Malaga, it is the people of the neighborhood, not the municipal government, who have started to change the fate of their quarter. Most importantly there is Miguel Ángel Chamorro, a local artist who lives in Lagunillas. Concerned that the kids of the neighborhood might become entrapped by cultural impoverishment and social-moral disintegration, Miguel created the cultural association Fantasía en Lagunillas about 10 years ago. Its headquarters are at Calle Lagunillas 53 and the founders of the organization – Miguel himself, as well as Matías Murillo and Daniel Vega – see the cultural space they have created as a way for children, teenagers and adults to connect, dream and share.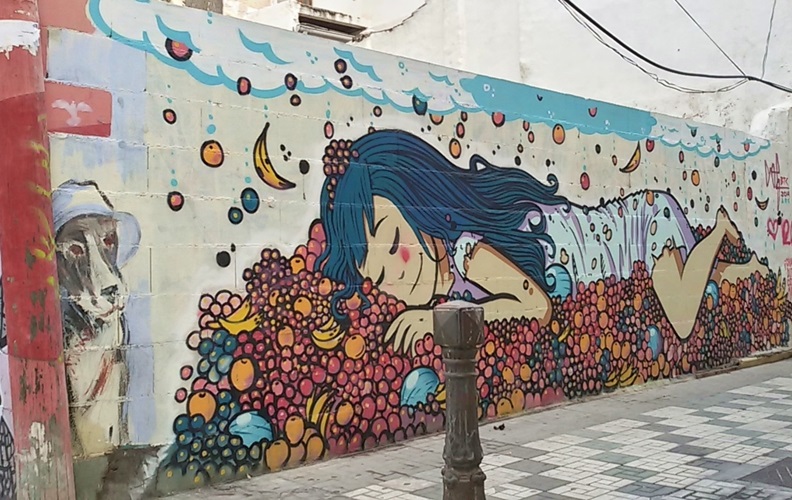 Street Art Malaga – Artist: unknown – Lagunillas neighborhood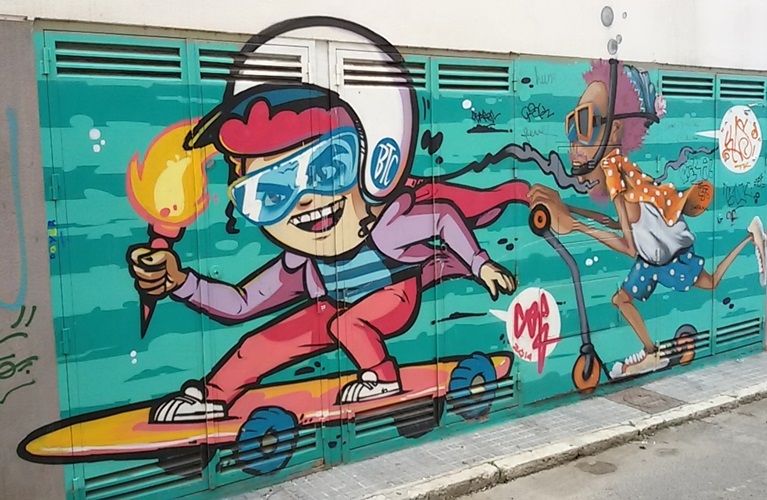 Street Art Malaga – Artist: unknown – Lagunillas neighborhood

It is here where the community comes together for local art exhibitions, theatre performances, poetry recitals and workshops. One of the most important goals of the organization is to engage children and teenagers in the creation of art and to promote artistic exchange. As a matter of fact, quite a few of the murals that you can see have been developed and created with the help of children.
Many other murals and art installations in the neighborhood have been contributed by local Spanish street artists like Lalone, Onze, Doger, Dadi Dreucol and Jose Luis Bogart. These artistic collaborations have instilled a lot of pride into the residents of Lagunillas and turned the neighborhood into a dynamic hotbed of imagination. The Lagunillas street art scene might not have the high-gloss poster child attractiveness of SOHO due to the lack of international stars and illustrious names, but its inspirational underground appeal is just drop-dead gorgeous.
CLICK THE CAMERA BUTTON TO SEE MORE STREET ART PICTURES FROM THE LAGUNILLAS NEIGHBORHOOD!
---
The SOHO neighborhood – Malaga's Urban Art project MAUS
SOHO is located just south-west of the touristic center. Sandwiched between the polished marina of Muelle Uno in the east with its yachts and upscale seafood restaurants, and the affluent touristic center in the north, SOHO is situated in a rather good location. Despite the good surroundings however, SOHO has slowly but surely fallen into decay over the last 50 years. Many houses are vacant and ramshackle, the flair is sallow and this part of town certainly does not attract the chic boutiques and big brands that you can find in the historic center. Instead you will often walk past uncomely lottery shops, blocked-up storefronts and closer to the port the occasional sex shop.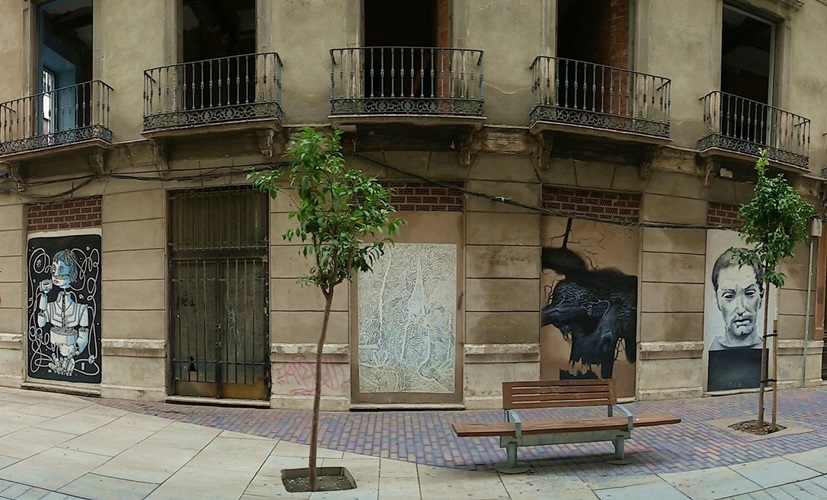 Street Art Malaga – Artist: Santiago Ydáñez – SOHO neighborhood

The MAUS project was initiated to change the poor image of the neighborhood by creating cultural spaces and providing cultural activities to attract a different crowd in the SOHO area. And the positive effects can clearly be seen, as more and more people attend the rich program of concerts, exhibitions and dance and theater performances, as well as marvel at the beautiful street art murals. Sure, things still need more time to evolve further and there are still many houses which are just sad, hollow facades, but color and vibrancy have definitely come back to this part of the city. Fortunately, the recent resurgence of the neighborhood has seen many street artists of international caliber partake in re-inventing the urban space, resulting in some top-notch, high-quality contributions. Let's have a look!
D*Face – Fighter Pilot Mural (Avenida del Comandante Benitez 14)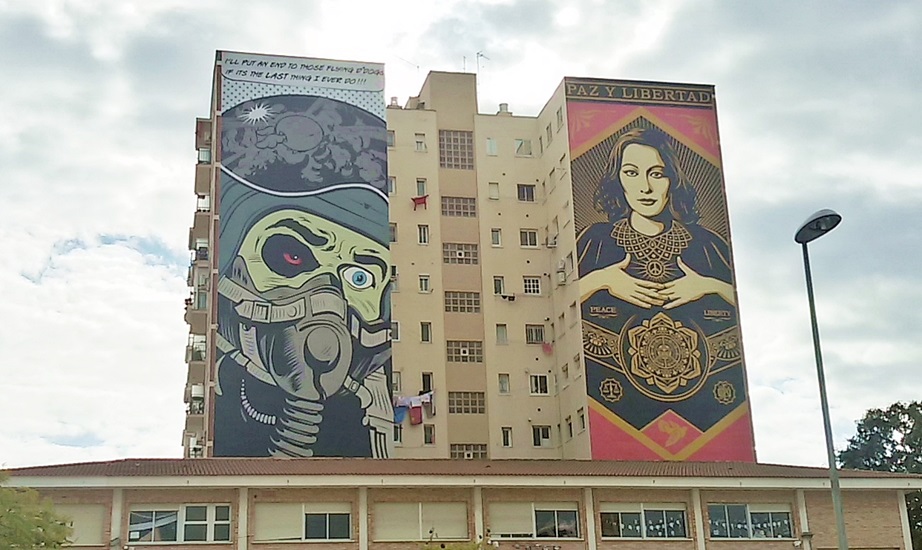 Street Art Malaga – Artists: D*Face and Obey – SOHO neighborhood

Dean Stockton's Fighter Pilot on the left tower and Obey's Peace and Liberty mural on the right tower of the Garcia Lorca public school are most certainly two of the most photographed street art murals in Malaga. Located right behind the Center of Contemporary Art, these two magnificent pieces of art will surely go a long way in establishing Malaga's reputation as a city of contemporary cultural importance which the city is striving for.
Stockton aka D*Face is best known for his pop-art style. The London-born artist most famously coined the term aPOPcalyptic to describe his artwork. The fighter pilot's gaunt, zombie-like face and a style that is reminiscent of Roy Lichtenstein fit this description like a glove. As Stockton disassembles and criticizes the construct of the established cultural narrative by offering alternative versions of life, the viewer is asked to challenge the glossy, polished appearance that our modern establishment holds high so dearly.
Obey – Avenida del Commandante Benitez 14 and Calle Barroso 7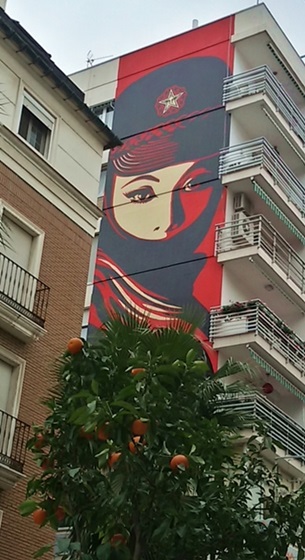 Street Art Malaga – Artist: Obey – SOHO neighborhood

He has appeared on The Simpsons, he has designed the famous Hope posters for Barack Obama's presidential campaign, he has created promotional materials for English rock band Black Sabbath, … he even owns his own OBEY clothing line. L.A. based street artist and designer Shepard Fairey, better known by his street pseudonym Obey is an absolute icon in the urban street art and pop-culture world.
Fairey who became notoriously famous in 1989 when he started a pop-cultural movement by plastering the cities of the world with 'Obey-Giant' posters currently has started a new campaign, entitled Universal Personhood. On these universal personhood posters and murals, Fairey portrays principally Arabian women cloaked in veils. The idea behind this latest artistic endeavor is to promote peace, equality and humanity by confronting discriminatory tendencies against women. The campaign also questions the completely overblown fear of the Western world towards Muslim societies.
BoaMistura – Calle Navalon and Calle San Lorenzo 19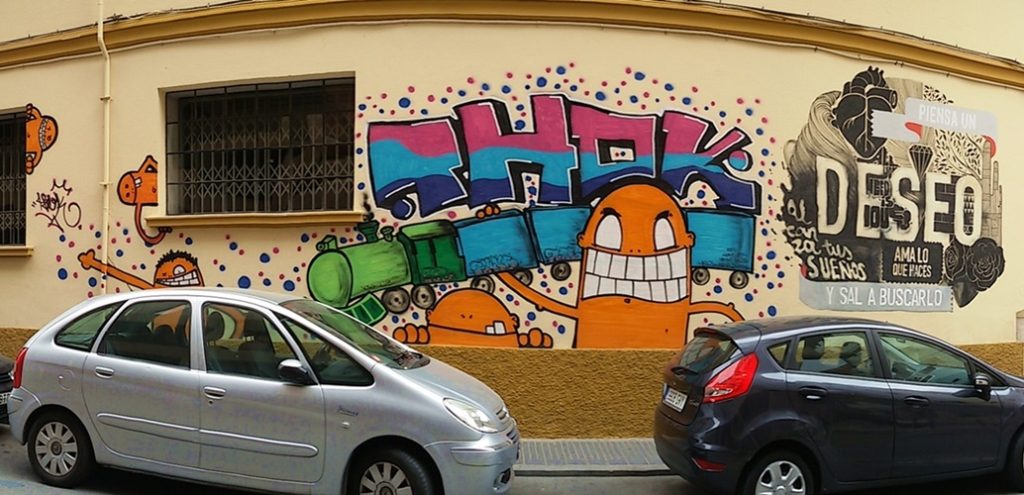 Street Art Malaga – Artist: BoaMistura – SOHO neighborhood

"Five Heads, Ten Hands, One Heart!" is the motto that the five-men collective of BoaMistura lives by. Their artistic name translates from the Portuguese as "good mixture", as each of them brings something different to the table. They formed their group when they were still at high school in Madrid. While their friends played football, they would sneak away and practice their spray paint techniques on neighboring buildings trying to emulate their street art hero Banksy.
Fast-forward in time, Javier's, Ruben's, Pablo's, Juan's, and the second Pablo's BoaMistura has today become a household name in the Spanish street art scene. They have successfully collaborated with international companies and organizations such as ONCE, Oxfam and the Red Cross and their works have been exhibited by many major museums. The style can be described as simple yet powerful: The use of curved futuristic shapes and the integration of positive words like the All you need is love in this particular black and white mural are typical for BoaMistura's signature.
Andi Rivas – Parking Garage Calle Alemania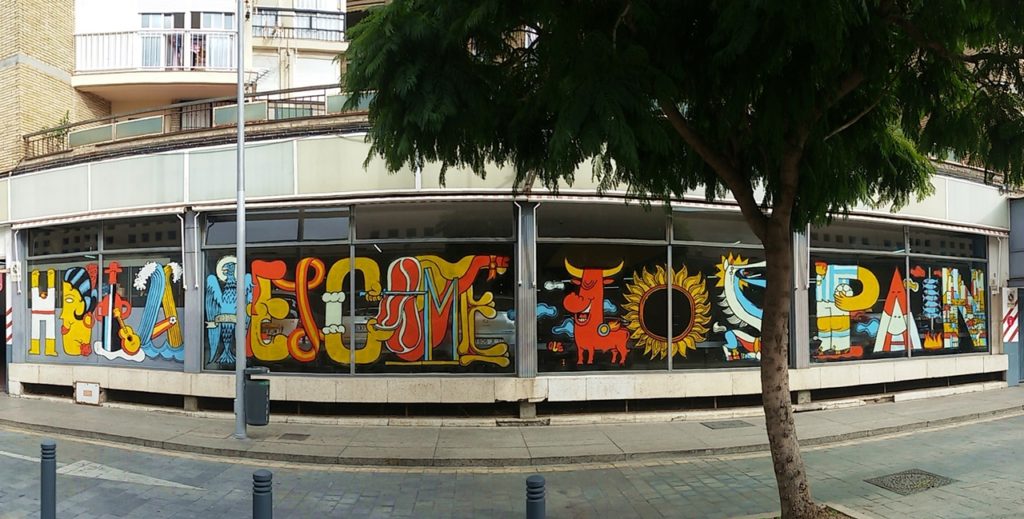 Street Art Malaga – Artist: Andi Rivas – SOHO neighborhood

Andi Rivas from Cadiz, Spain is a street artist, graphic designer, illustrator and maker of animated movies. His colorful Hola, Welcome to Spain artwork on the glass window of a public parking garage on Calle Alemania is particularly intriguing for its incorporation of customary emblems of Spanish culture. One can admire the typical low bun Flamenco hairdo with the red flower hair clip and red earrings; a red wine bottle with a flamenco guitar; the Spanish imperial eagle; slices of delicious Iberian Ham; a bullfighting scene; the scorching sun of the Costa del Sol; an oversized football player; as well as two of the most important symbols of the Malaga region: the pointy hoods of the Nazarenes – a Christian faith popular in this part of Spain; and the depiction of Espetos – sardines on a skewer – a typical delicacy in Malaga.
Manuel León – Calle Duquesa de Parcent 12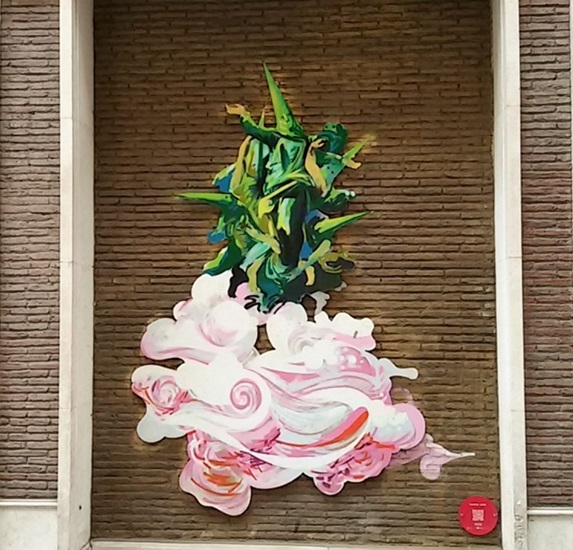 Street Art Malaga – Artist: Manuel Leon – SOHO neighborhood

Spanish-born painter Manuel Leon knows where his roots are. Born 1977 in the small village of Villanueva del Ariscal in the province of Seville he has become one of the most important painters of Andalusia. He graduated from the Faculty of Fine Arts in Seville and his work has been displayed at the Center of Contemporary Art in Malaga and other museums of significance. Many of his works are full of Nazarenes – the hooded followers of the Christian church of Nazarene – as is this particular work at Calle Duquesa de Parcent. The pointy hats of the Nazarenes are said to be shaped in such a way to symbolize a rising towards the heavens which the faithful believers try to reach through their penitence. This reading is beautifully captured in Leon's mural here, as the men cloaked in green hoods are ascending into lofty clouds of pink.
Okuda and Remed – Calle Martinez Campos 14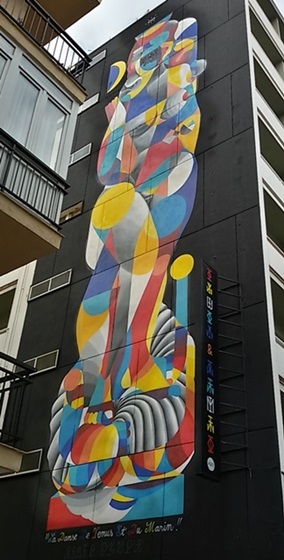 Street Art Malaga – Artists: Okuda & Remeda – SOHO neighborhood
Abstracted, surrealized, fragmented, reshaped, interpolated – a spiral of gaudy rainbows, circles and ellipses bolts into limitless verticality. This is the unique artistic signature of Okuda and Remed, to be found on Calle Martinez Campos. Spanish street art whiz Okuda, who in real life goes by the name Oscar San Miguel Erice, and French artist Remed aka Guillaume Alby, are currently both based in Madrid and often collaborate with each other. When they do, gates to new artistic dimensions open and lead you to fresh ways of experiencing modern art with a street appeal.
Stylistic characteristics of old masters like Picasso, Miro, Leger, Magritte and Dali are stripped of the original context, revitalized and cloaked into a new artistic robe that screams with in-your-face colors and contemporary street motifs. One of the most fascinating projects that Okuda has undertaken has been the transformation of an old, abandoned church into a skate park for skateboarders in Llanera, Asturias, in the northern part of Spain. There, the cool skateboarding kids zip up and down the halfpipe whilst looking at Okuda's colorful murals on the walls and ceiling of the church. Inspirational and daring!

Roa – Calle Casas de Campos 2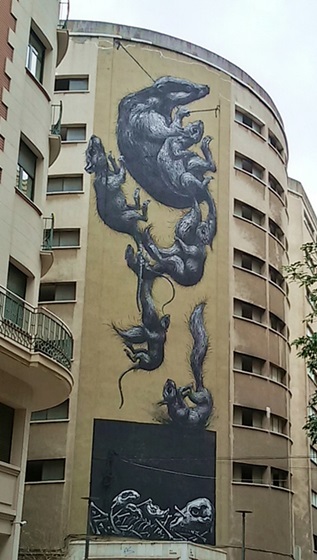 Street Art Malaga – Artist: Roa – SOHO neighborhood
There is something unsettling about Roa's dystopian portrayal of animals that can be found on the bare walls of our cities. Almost colorless in their appearance, devoid of all signs of spiritedness and positivity, they barely set themselves apart from the bleak facades that they adorn. The Belgian artist, whose real name is unknown, holds a mirror up to the world. He provokes, pours salt into the wounds of society, forces us to reflect, languidly warns us of a dismal, corrupted future that has become and is becoming past and present. Rats fall from the skies, clinging to dear life, vicious snakes hiss at the beholder, speaking of a paradise forsaken (thank you Adam and Eve), and baby lambs lie skinless on the ground, their crude muscles exposed, suffering. Roa's world is one that we don't want to live in … Oh, if only we had listened to the Wisdom of the Few.
Pejac – Calle Tomás Heredia 15
Street Art Malaga – Artist: Pejac – SOHO neighborhood

Silvestre Santiago, better known under his street art moniker Pejac, is a Spanish street artist with multiple talents. Born 1977 in Santander, he uses painting techniques and the brush as expertly as he works with stencils, paper and collages. His style can be described as minimalist, yet poetic. Pejac's work often cleverly plays with and incorporates the natural surroundings, which leads to surprising optical effects. In many of his works Pejac makes use of only one color – black – to subtly outline the delicate, fleeting silhouettes of his motifs.
On Calle Tomas Heredia 15 in Malaga, we can see Pejac's style in its pure essence: The simple, black silhouette of the painter standing on the ladder blends right in with the desolate condition of the abandoned house which the figure is overhauling. On taking a step back we realize that the work of art in its entirety even stretches over to the door to the right of the building. It is a chaotic jumble of shreds and lines and pieces that the painter has left there. Art seamlessly blurring with reality – the perfect illusion!

DALeast – Alameda Principal 25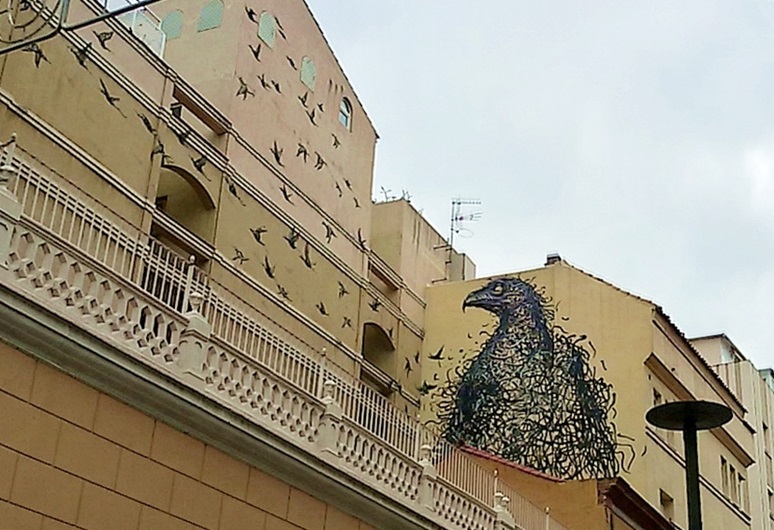 Street Art Malaga – Artist: DALeast – SOHO neighborhood

Creatures that sting – wild, sharp and fiery. Members of the animal kingdom are the main subject for DALeast's street art murals. The Chinese artist from Wuhan captures the raw animalistic spirit of his models with the sophistication of a seemingly simple, but complex style. Each animal is composed of a myriad of little shiny metallic barbs from which emerges a hollow, yet three-dimensional representation of the beast. Through this skillful treatment, DALeast's animal portrayals attain a ghoulish, grizzled quality that allow the observer a glimpse into their own brutish nature. Ferocious and pure instincts!
Faith 47 – Alameda Principal 47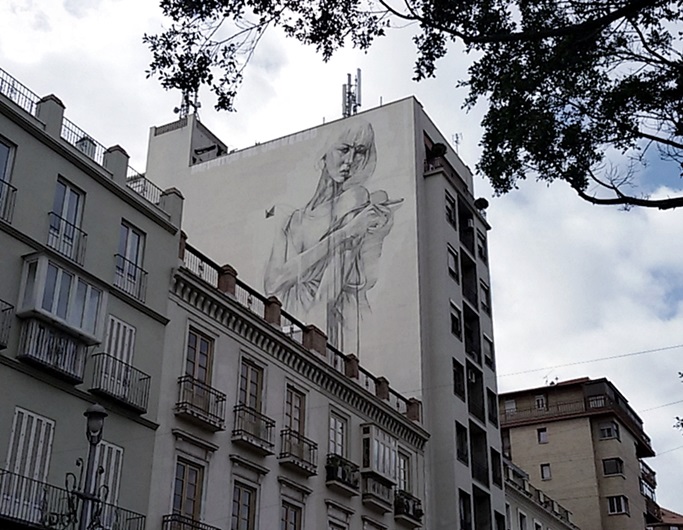 Street Art Malaga – Artist: Faith 47 – SOHO neighborhood

These gentle mystic eyes of yours
Cover an essence insecure
Of what and how and if and whether;
Misty mental clouds have gathered.
Your bones are frail, your muscles feeble,
What once seemed made of steel,
Unbreakable, now loses substance, steadily fading;
A touch of evanescence all pervading.
You once were young!
(Björn Klein)
Faith 47's style can be described in two simple words: aesthetic intimacy. Her murals capture the painful moments, the emotional upheaval, the vulnerability of human life and relations. While her portrayals often depict the female body in its quintessential femininity – nude or partially-bared, revealing its delicate beauty and frailty -, it is not so much the insinuated nudity that speaks of the characters' hurt, but the artist's exquisite arrangement of facial expressions and posture. The deliberate insistence on the monochromatic use of color plays an important part in creating an atmosphere that renders the observer receptive to empathy and establishes an emotional connection with the model.
Born in 1979 In Cape Town, South Africa, Faith 47 is an internationally renowned artist who has been active in the urban art world for more than two decades now. She is not only highly sought after as a commissioned street artist, but she also looks back upon a highly successful career of exhibiting her work in important art galleries and museums around the world.
CLICK THE CAMERA BUTTON TO SEE MORE STREET ART PICTURES FROM THE SOHO NEIGHBORHOOD!
---