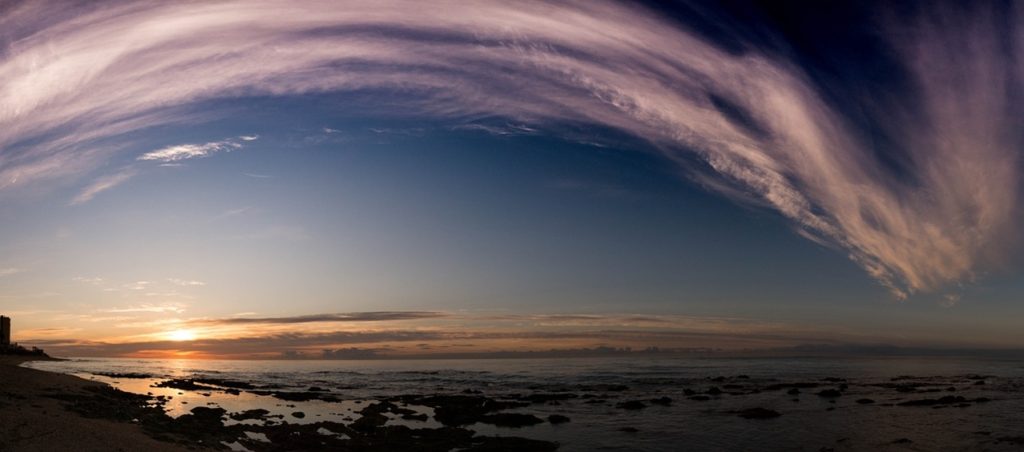 The sun sets at the beach in Andalusia • Travel Malaga
On a recent mild winter morning, my wife and I casually saunter along beautiful Playa del Palo, a nice stretch of sandy beach less than 5 kilometers from the city center of Malaga. At 19 degrees Celsius I am tempted to take off my hoodie just to walk around in a t-shirt and indulge in the warmth of the midday sun. But I decide against it, just because I'm afraid that Mother Winter, faerie of the Realm of Ice, might conceive this as mockery. So I'm sweating a little – that's not too bad on December 28th, right?
Where I grew up, we would normally have white Christmas: Snow, a crisp breeze, sledges, thick winter coats, people rubbing their hands to keep themselves warm … You are getting the picture. I must admit I am not the biggest fan of winter. So having the luxury of walking along the beach eating ice-cream, while my wife surrealistically gobbles down a bag of hot, roasted chestnuts is as close to a perfect post-Christmas December day as it will ever get.
Later that day, after a delicious dinner of sea-fresh monkfish and prawns, we recline and slowly sink into the warm, subterranean pools of Hammam Al Andalus – an Arabian style bathhouse, remnant of the strong cultural influence that the North-African Moors left during their governance of parts of the Iberian Peninsula at various times. Still the delightful taste of the wide ocean on our palate, we soak up the soothing impressions of the gently flickering candle lights, the warm water ensheathing our bodies, the aromas of lavender, rose and jasmine wafting through the air, the ornate patterns of Andalus architecture adorning the walls. Total relaxation.

Click on the square symbol at the top left to open the menu of important points • Travel Malaga

✓ The Alcazaba and Gibralfaro Castle (TOP Choice)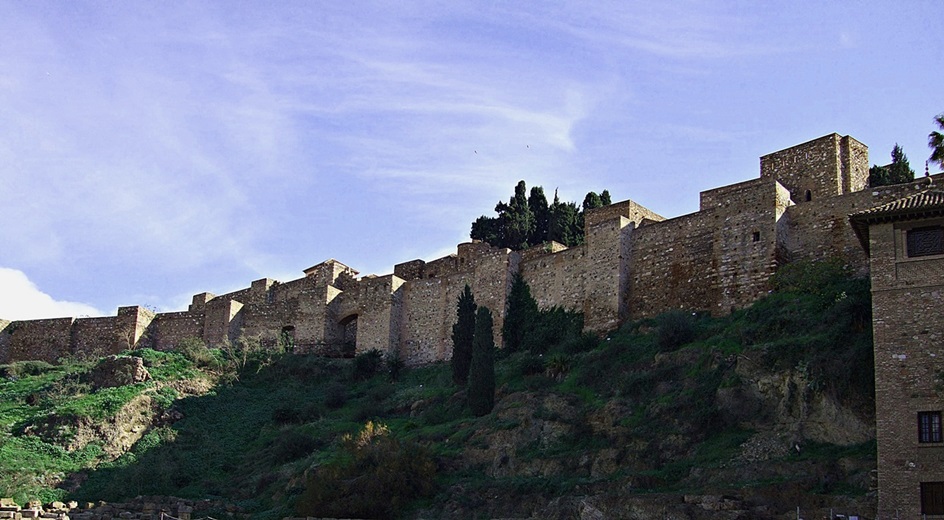 Extensive battlements of the Alcazaba of Malaga • Travel Malaga

Built in the early 11th century by the Arab Muslim dynasty of Hammudid, which at that time ruled the Caliphate of Cordoba that Malaga was a part of, the Alcazaba of Malaga is an absolute must-see during your visit of this sun-blessed city. While it might not possess the stunning transcendental quality of the better-known Alhambra of Granada, it is nonetheless an outstanding masterpiece of Moorish architecture and together with the Alhambra of Granada the best-preserved Moorish fortress in Spain.
As a structure of military purpose that also served as a palace to the Muslim rulers of Malaga, the Alcazaba, as well as the bordering Gibralfaro Castle, are dominated by extensive battlements and more than 100 defensive towers. These defensive strongholds were of vital importance to keep control of the Al-Andalus (= Muslim Spain) Empire of southern Spain. Castle Gibralfaro was constructed by the Sultan of Granada, Yusuf I, at the beginning of the 14th century on Mount Gibralfaro (The Rock of Light) to further fortify Malaga against attacks from the Christian dominated North of Spain.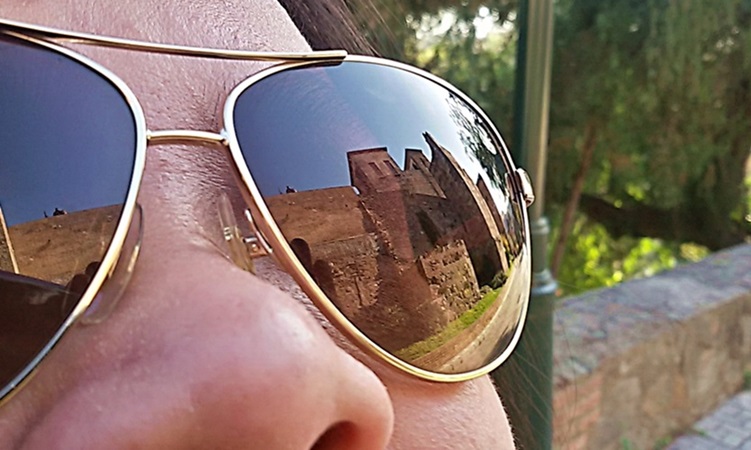 The Alcazaba of Malaga through a pair of shades • Travel Malaga

This however kept the Christian troops only in check for less than 200 years, as the Christian kingdoms successfully reconquered the Muslim ruled regions one by one. Malaga was retaken by the Catholic monarchs in the famous Siege of Malaga in 1487. After a brutal siege that lasted four months, the Christian troops successfully managed to starve out the Muslim population, who took to eating cats and dogs in their desperation in the end, before they finally surrendered. The last Muslim bastion in Granada fell into the hands of Christian troops shortly after in 1492, thus effectively ending Muslim rule in Spain.
Access to the Alcazaba is just to the right of the Roman Theatre at Calle Alcazabilla. You can either buy a ticket solely for the Alcabaza, which is 2,20 Euro, or you can buy a combined ticket for both the Alcazaba and the Gibralfaro Castle for 3,50 Euro. Entrance is free on Sundays after 2pm. Unfortunately, there is no direct walking path from the Alcazaba to the Gibralfaro Castle which forces you to retrace your steps back to the entrance of the Alcazaba. There, right next to it is a street called Paseo Don Juan Temboury via which you will be able to reach Gibralfaro Castle at the top of the hill.
Opening Hours: Every day, 09:00-20:00 (during summer, April 1st – October 31st); 09:00-18:00 (during winter, November 1st – March 31st); closed on: January 1st, February 28th, December 25th.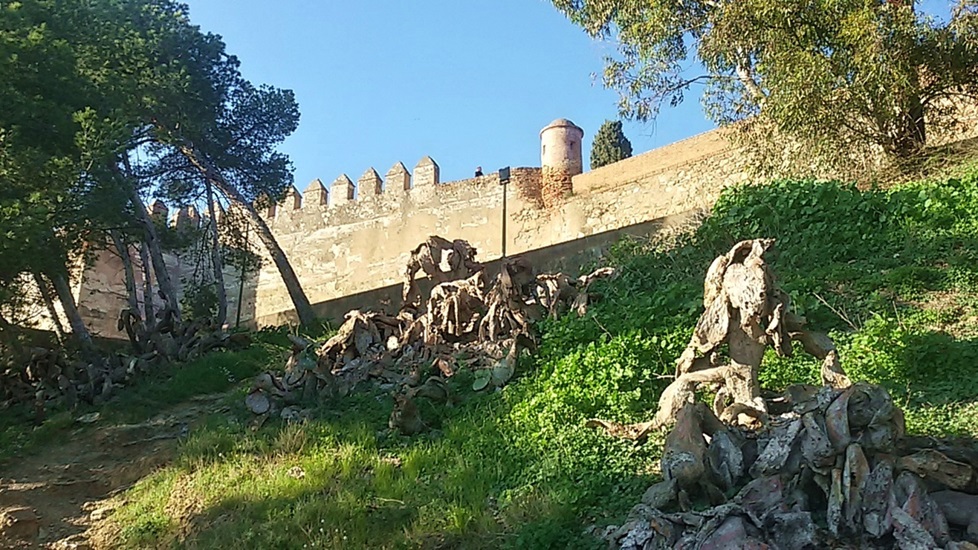 Gibralfaro Castle • Travel Malaga


Roman Theatre Malaga • Travel Malaga

At the foot of the Alcazaba lies the oldest, still intact monument of Malaga: The Roman Theater. Built during the reign of Emperor Augustus during the heyday of the Roman Empire in the first century B.C., the archaeological site comprises the amphitheater, as well as a little museum with a few excavation exhibits and information on display. Entrance is free and the amphitheater makes for a nice resting place to have a drink or snack, as it is actually allowed to sit there and enjoy the atmosphere.
During the summer months, the theater also plays host to open-air events, including poetry readings, concerts, and theater performances.
Opening hours: Closed on Mondays; Tuesday-Saturday 10:00-18:00; Sundays 10:00-16:00
✓ City Center and Christmas Lights (TOP Choice)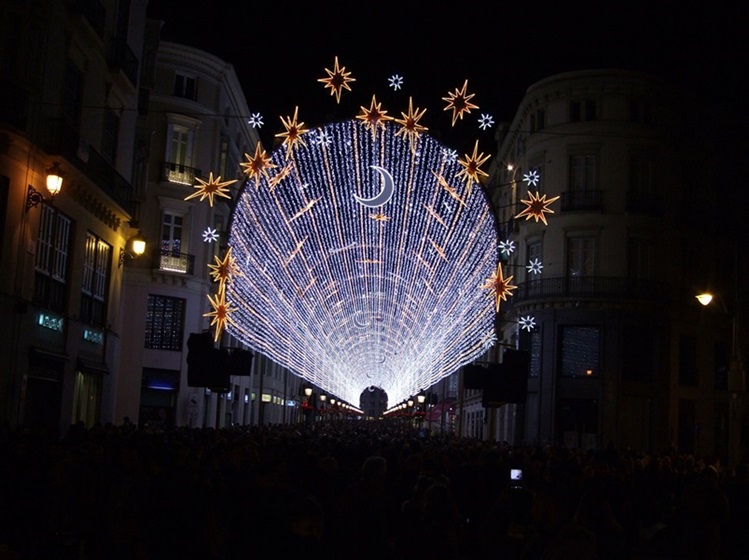 Christmas Lights Calle Larios Malaga • Travel Malaga
The city of Malaga is THE place to be in Spain for the Christmas season. Forget about Barcelona or Madrid – local Spanish tourists flock to Malaga in the hundreds to see the spectacular Christmas lights on major shopping mile Calle Marques de Larios, Plaza de la Constitucion and beyond and to have a rollicking party. Indulge in debauchery like all the other ordinary mortals by stuffing your tummy with delicious Christmas sweets and warming up with a typical Malaga Sweet Moscatel wine at our favourite tapas bar Las Merchanas.
Or go and marvel at the skillful street performers and live bands around Calle Marques de Larios and Plaza de la Constitucion and roam about the Christmas stalls around Avenida de Cervante and Paseo del Parque to find some unique local presents for your friends at home.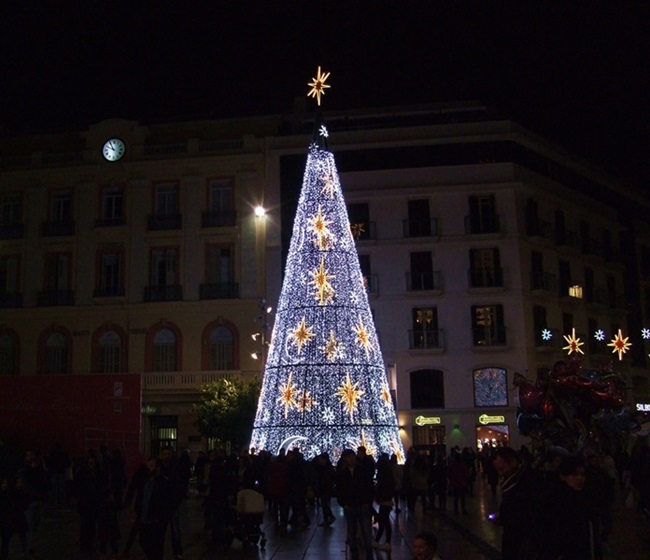 Christmas Tree on Plaza de la Constitucion • Travel Malaga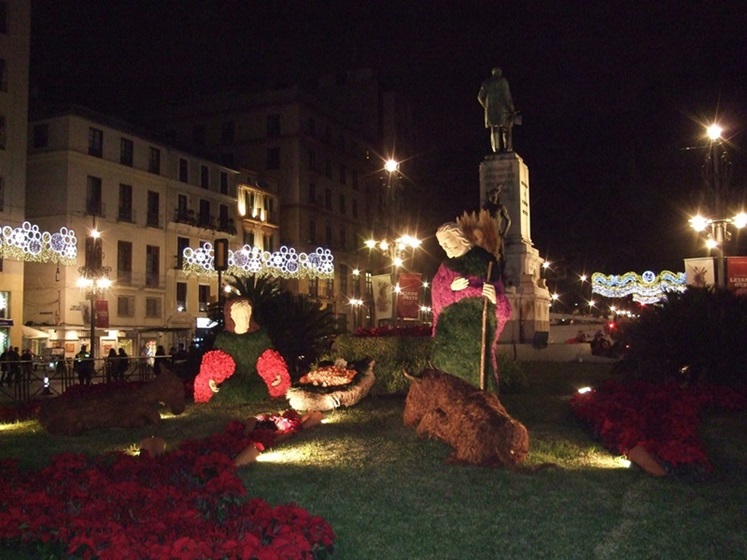 Nativity Scene during Christmas time • Travel Malaga
✓ Shopping: Malaga's Vintage Shops
Going shopping in general is incredibly cheap in Malaga compared to many other cities in Europe (I'm looking reproachfully at you in particular Paris, France) and after Christmas you will find many a shop offering large discounts. With its unique scene of small independent shops, vintage clothing boutiques and artsy community design shops and studios, Malaga should see you arrive with empty bags to make sure you won't miss out on all the great bargains.
Here are our top 4 of shops that offer that certain something:
✓ Flamingo Vintage Kilo (Calle Ollerias 27): As the name of the store already hints at, new vintage clothes, all from the United States, are sold at this store by the kilogram. A project run by Daniel Martinez, you can stock up here on cool, stylish corduroy jackets, sundresses, polo shirts or acid wash clothing starting at 7 Euros/kilogram.
Website: http://www.vintagekilo.com
Facebook: https://www.facebook.com/flamingosmalaga/
✓ Alfajar (Calle Cister 1): If you like art and expert craftsmanship you will love the Alfajar art studio, located in the Zea-Salvatierra Palace, a beautiful baroque building from the 17th century. On sale are Andalusian handicrafts, mostly ceramics, stoneware and pottery. All pieces are unique works of art (certified) made exclusively by Andalusian artists.
Website: http://alfajar.es
Facebook: https://www.facebook.com/Alfajar
✓ Wituka (Calle Granada 49):
One of our favorite clothing stores in Malaga, newly founded Wituka sells graphic t-shirts, polo shirts, hoodies, socks, shoes and more with unique motifs designed by freelance artists. Think of audio tapes with Afro hair-dos, bicycles with lemon wheels or cameras with human features. Fun and unique! They also pride themselves that all clothing items are made of 100% organic cotton. Check them out at Calle Granada 49.
Website: http://www.wituka.com
Facebook: https://www.facebook.com/witukaonline/
✓ Quasipercaso (Calle Andres Perez 5):
Selling vintage clothes and accessories, such as jewelry, knitted hats, bracelets, belts or headscarfs this tiny little shop on Calle Andres Perez is a treasure trove for out-of-the-ordinary clothing items. Make sure to stop by!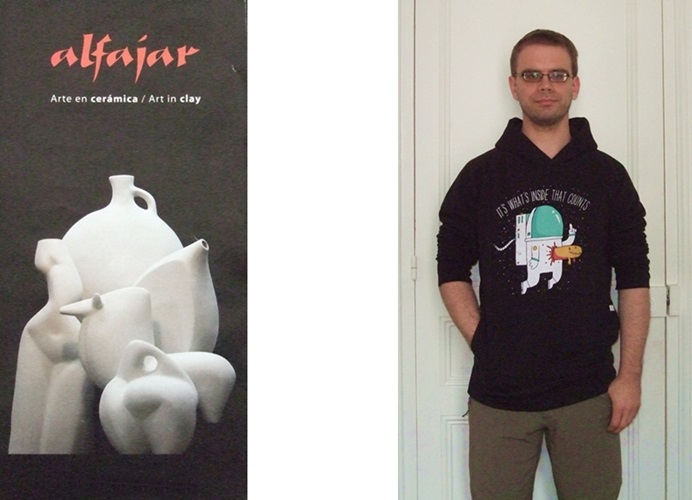 Left: Art studio Alfajar; Right: Bjorn wearing a hoodie from Wituka • Travel Malaga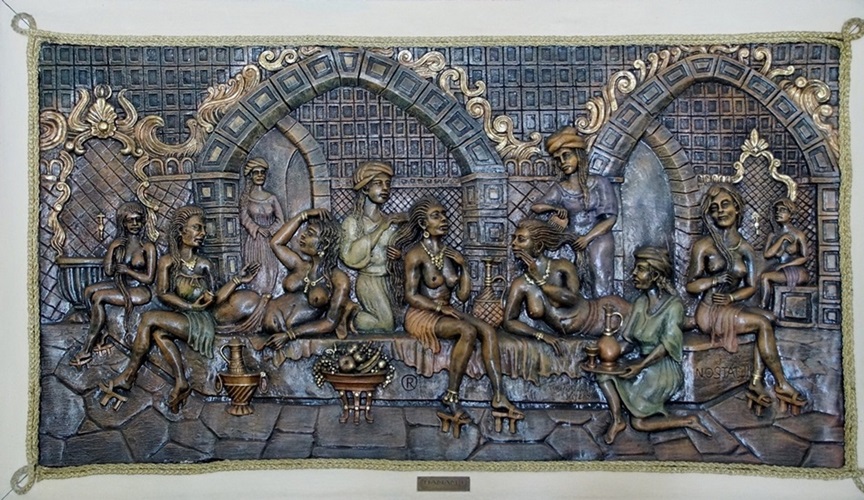 Hammam al Andalus – A journey into the tales of 1001 Nights • Travel Malaga
In the famous story-book One Thousand And One Nights (also known as: Arabian Nights), a compilation of folk tales in Arabic collected during the Islamic Golden Age, the storyteller of the 1001 tales – Scheherazade – tells one enthralling tale after another to King Shahryar. The king is resolved to take Scheherazade's life the next morning once she is done with telling her stories. However, Scheherazade always can persuade the king not to follow through with his plan with the promise that she will have even more exciting tales to tell the coming nights. At the end, the king has fallen in love with Scheherazade. He spares her life and decides to wed her. To celebrate, bride and groom go to the Hammam bath, which used to be one of the main hubs of social activity in the Islamic World back then.
Visiting the Hammam Al-Andalus in Malaga should be as much about experiencing the tangible aspects of the water caressing your skin, the Andalus architecture enchanting your eyes and the aromas and flavors captivating your sense of smell, as it should be about experiencing the intangible aspects of recreating the myths and cultural aspects behind the Golden Age of Islam. On visiting the Hammam Al-Andalus therefore do not simply make it just another day at the spa. It is way too special for that. Kick things off with a nice dinner at an Arabian restaurant and treat yourself to a portion of savory Tajin and a bottle of red Moroccan wine. Bring a copy of Arabian Nights. Read in it and delve into the tales of viziers, caliphs and jinnis. Then head over to the Hammam, preferably for one of the night sessions and experience what it means to truly be a part of One Thousand And One Nights. Why? Because your mind and imagination deserve to be stimulated as much as your body deserves to be pampered on your vacation. Indulge in the comfort of alternate realities and stop the natural passage of time!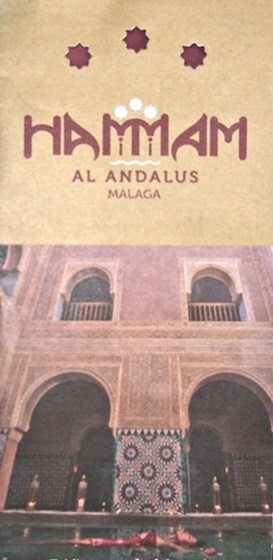 Hammam al Andalus – A world of total relaxation • Travel Malaga
What to expect?
Hammam Al-Andalus in Malaga consists of several thermal baths with different, contrasting temperatures. There is the main pool with lukewarm water at the center of the subterranean complex, where you will most likely spend most of your time. It is here where in ancient times visitors of the Hammam would have conversations about politics, business and all other topics of interest. You will also find two cold pools at the very entrance where Hammam-goers would search for stimulation in the ice-water, as well as the hot room where the temperature of the water is a little hotter than in the main room and where you have little steam cabins (extremely hot), as well as a side room with hot stone tables where you can stretch out your entire body for ultimate relaxation.
With flickering candles dotted along the bathing areas and soothing Andalusian music being played in the background an atmosphere of utter tranquility is conjured up. The bathing sessions always last 1,5 hours and can be booked with or without different kinds of massages and/or traditional cleansing rituals (for more details on the different services and pricing packages on offer, please have a look at the official website). The price just for the bathing experience without any additional services is 30 Euro. Bathing session + a 15min massage with essential oils is 43 Euro (as of December 2016).
To further dazzle your senses and to make a choice of a scent in case you are planning on having a massage visit the Aroma Corner where different essences like lavender, rose or jasmine are set up. There is also a seating area where you can enjoy Arabian tea and play chess in case you need some time out of the water.
What to consider before coming
✓ To be on the safe side, make a reservation in advance. One day prior to your visit to the bathhouse is normally sufficient.
✓ Bring your own swimwear. Towels are provided and if you do not bring anything at all, they will provide you with a swimsuit too, but it just feels more comfortable if you bring your own.
✓ There are safe lockers in the changing rooms, so you don't need to worry about where to put your things.
✓ Book a session at night, it is just a tad more magical. Bathing sessions start at 10am, noon, 2pm, 4pm, 6pm, 8pm, 10pm and midnight (from Monday to Sunday, every day!). Arrive about 15 minutes ahead of time.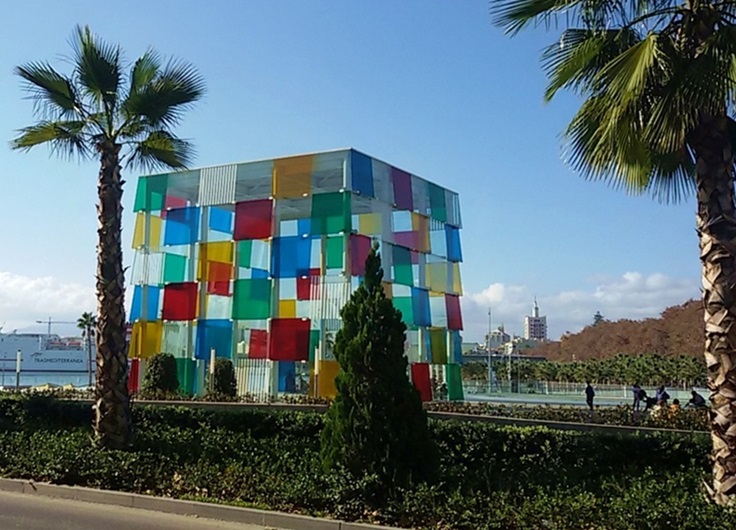 Centre Pompidou Malaga • Travel Malaga
Although Centre Pompidou Malaga naturally cannot compete with the outstanding collection of its big brother Centre Pompidou Paris, the modern art center should be nonetheless high on your list when in Malaga. Unless you are not interested in art at all that is.
The enormous, multicolored glass building located in prime location at the marina of Malaga was designed by French artist Daniel Buren and is lovingly called 'El Cubo' for obvious reasons. The museum exhibits more than 80 permanent works of modern art (20th and 21st century) on two floors, both underground, among which Frida Kahlo's The Frame, Picasso's The Flowered Hat and The Rape by Rene Magritte are probably the most famous.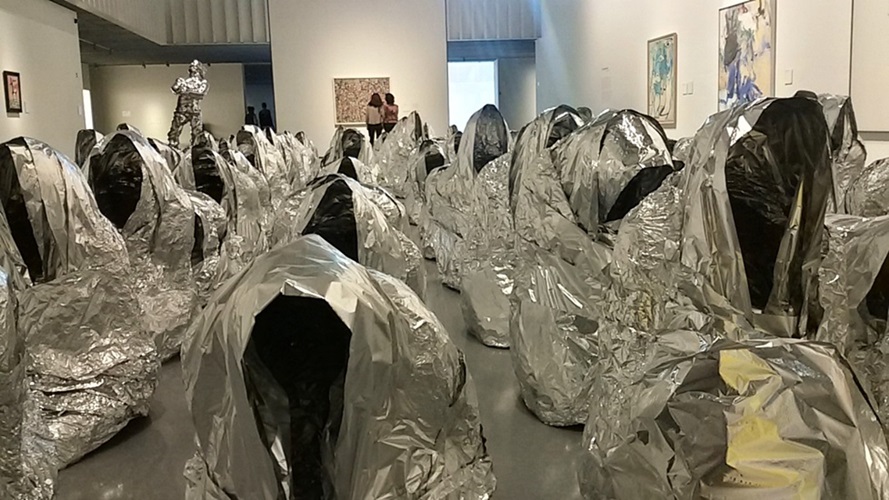 Kader Attia's Ghost installation – Centre Pompidou Malaga • Travel Malaga
The permanent exhibition is thematically divided into five major parts, entitled: Metamorphoses, Self-Portraits, The Man Without Face, The Political Body and The Body In Pieces. Especially Kader Attia's Ghost installation, which is part of the The Body in Pieces section, caught our attention. Haunting in its outlandish negation of the individual, Attia's work displays 102 statues of women kneeling in prayer, all facing in the same direction, their hoods faceless and empty – without identity. It left us obsessed and contemplating for hours after leaving the museum.
Opening Hours: Daily 9:30-20:00; closed on Tuesdays; closed on December 25th, January 1st.
Ticket Prices: 7 Euro (permanent exhibition); 4 Euro (temporary exhibitions); 9 Euro (combined); Free Audio Guide.
✓ Cathedral La Manquita – The One Armed Woman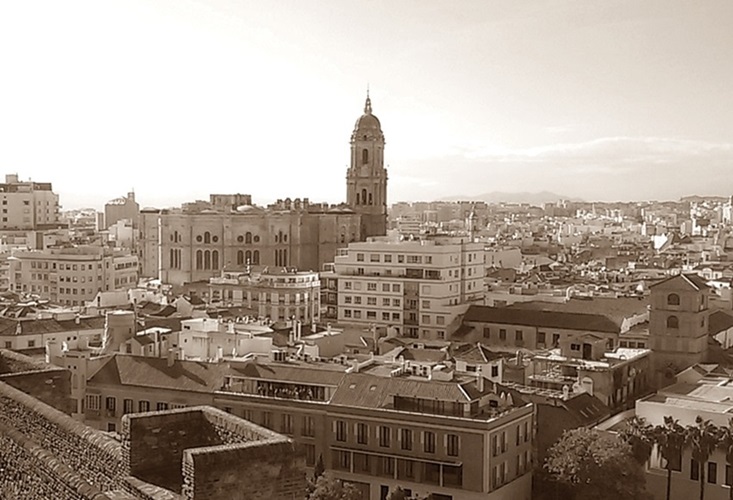 The One Armed Woman – Cathedral of Malaga • Travel Malaga
The Cathedral of the Incarnation of Malaga is often jokingly referred to as La Manquita by locals – the One Armed Woman – because it only has one church tower. Originally designed to have two towers, the Spanish financial funding of the American side during the American revolutionary war to sting the British colonial rival in 1782 led to a freeze of construction due to a lack of money and thus the second tower simply never got built.
The cathedral, which bears both Renaissance and Baroque style features, can be seen as a symbol of Christianity replacing the formerly dominant Muslim faith of Al-Andalus as a direct result of the reconquest of Spain by Christian troops. After King Ferdinand II of Aragon and Queen Isabel of Castille had retaken the city in the Siege of Malaga in 1487, the construction of a proper Christian cathedral was commissioned to be build on the grounds of a Muslim mosque. First construction was kicked off in 1500 but the whole process was rather ill-fated and dragged on forever and the cathedral in its current (still unfinished form) was only completed in 1782.
Unfortunately, entrance to the cathedral is not free, but you have to pay 5 Euro to enter, which has sparked mischievous rumors that they are actually planning to give the One Armed Woman a face-lift and build the second tower after all. All kidding aside, there are naturally different opinions on whether it is justified to ask for an admission fee to religious structures or not. I personally am opposed to the idea, as I think that a house of god should be open and free to everyone, and that funds should be rather raised on a voluntary donation basis, a donation which I would be happy to make, but oh well … my opinion (thankfully) is only one of many.
Bullfighting arena Malaga • Travel Malaga
Bullfighting is the quintessential national sport in Spain – and one of the most controversial due to its brutality and the cruelty inflicted on the animals. Whether you like it or not, bullfighting is an integral part of Spanish culture and you won't come across a Spanish city that does not have a bullfighting arena.
In Malaga, it is of special interest to look into the relationship that bullfighting played in the life of Malaga's most famous son, Pablo Picasso. Picasso was born and raised in Malaga and already as a young boy was taken to the bullfights by his father. He developed a great enthusiasm for the sport, which led to a prolific number of paintings and sketches on the theme. While Picasso's enthusiasm for bullfighting and the forceful vitality of the fight can easily be seen in many of his works, he also captured the brutality and the dramatic suffering and struggle of the bull quite well, which fittingly encapsulates the difficulties that a lot of Spaniards have at coming to terms with a deadly game that quiet a few would rather see abandoned.
A visit to the bullfighting arena of Malaga is still fascinating from a cultural point of view since it plays such an important role in Spanish history. The bullring is however only regularly open from April to September from 10:00-14:00 and from 18:00-20:00. During winter it is kind of hit and miss whether you will find the arena open or not as our friends from Malaga told us. Sometimes you will be able to watch young matadors during training, but most of the time you will find closed doors during winter.
✓ Nativity Scene at Town Hall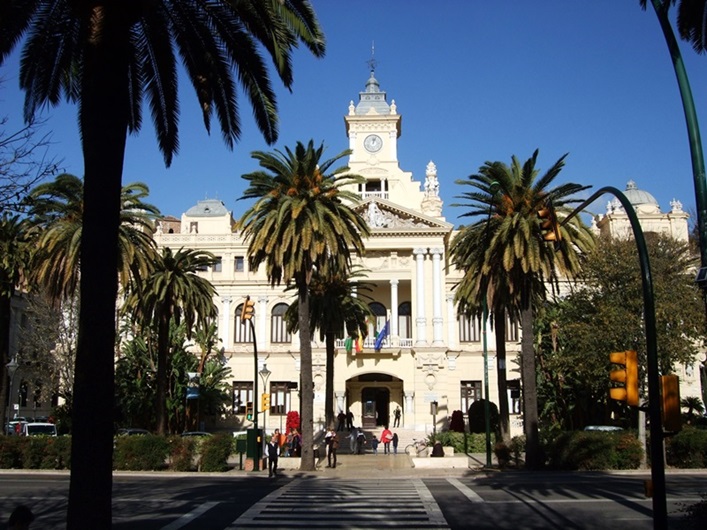 City Hall Malaga • Travel Malaga
City Hall Malaga is living proof that 20th century architecture does not always necessarily have to come in the square, grayish concrete form. The picturesque Neo-Baroque building in light yellow was built between 1912 and 1919 and features some stunning decorative work, beautiful sculptures, lush gardens, a luxurious imperial staircase and intricate stained-glass windows which depict scenes of historical importance to the city of Malaga.
The City Hall is particularly famous for its stunning, monumental nativity scene that is set up during the Christmas Season. A lot of people line up to see the sophisticated arrangement which retells the different milestones of Jesus's life on a grand scale. Calculate a 10 minute waiting time.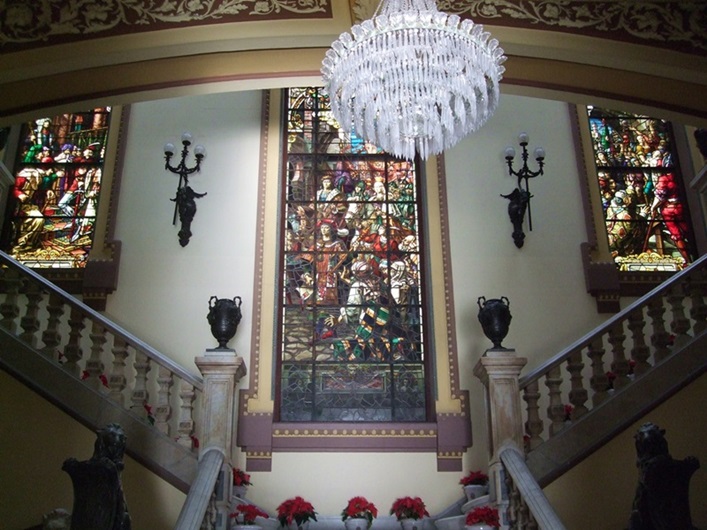 The stunning interior of the City Hall of Malaga • Travel Malaga
Opening Hours of the Town Hall: Monday to Friday 9:00-15:00 (closed on weekends); during Christmas open every day between 10:00-14:00 and 17:00-21:00.
Address: Avenida Cervantes 4

Panoramic view of the marina and bullfighting arena in Malaga • Travel Malaga
Malaga is an ancient city and the history of its port goes way back to the days of the Roman Empire. It was originally established by Phoenician merchants who turned Malaga into a thriving trading port, shipping delicacies like wine and olive oil, as well as mineral resources to countries on the Mediterranean Sea and the North African shore.
Nowadays, the modern marina, encompassing Palmeral de las Sorpresas and Muello Uno, is bustling with energy as people take a walk on the sun-drenched promenade past yachts, private sailing ships, and fine-dining seafood restaurants. Drop by popular seafood restaurant Marisqueria Godoy which offers excellent fresh monkfish and other seafood goodies. The restaurant has rightfully made it onto the list of Michelin Guide 2017 for its good cooking, however the service can sometimes alternate between 'okay' and bumptious (the food is totally worth it though).

Gobble down some tasty seafood at Marisqueria Godoy • Travel Malaga
If you continue eastwards, you will get to the beaches of Malaga. While Playa La Malagueta is the beach nearest to the marina area, it is not necessarily the nicest one. If you don't mind walking a bit, venture further east to Playas del Palo and Playa el Dedo. From Playa La Malagueta it's about an hour of walking. Alternatively, you can hop on bus No.11 which leaves from Paseo del Parque every 10 minutes and serves the entire stretch of coastline.
Playa del Palo and Playa el Dedo are both dotted with little bars and seafood eateries. One of the most popular with the locals is El Tintero where you should definitely stop by and eat one of the most typical local delicacies that you will be able to find in Malaga: Espetos – sardines on skewers which are grilled over charcoal. Simply delicious!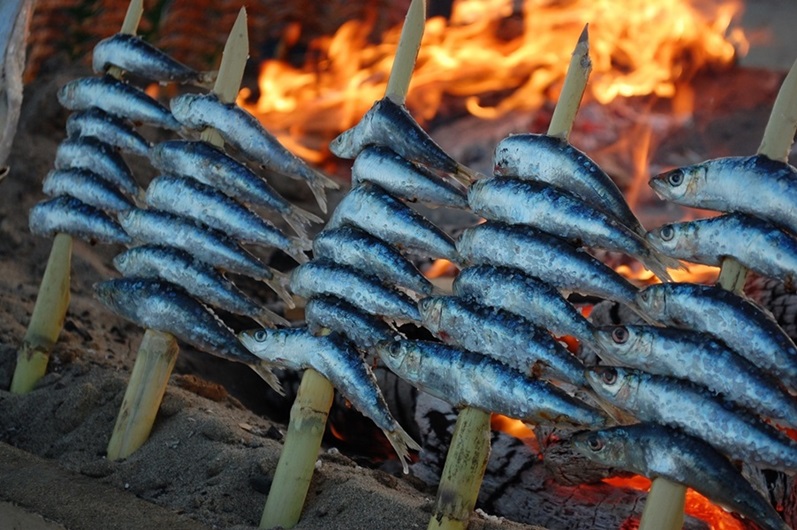 Espetos, sardines on skewers – a specialty of Malaga • Travel Malaga
✓ Picasso's Birthplace and Picasso Museum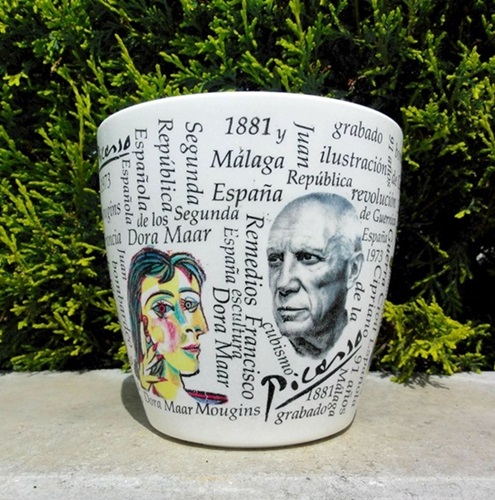 Malaga – The birthplace of Pablo Picasso • Travel Malaga
Retrace the first steps that little Pablo Picasso took at Plaza de la Merced, the location of his birthplace. Here little Pablo was born and raised before the family moved to La Coruna when Pablo turned ten. Plaza de la Merced is still full of energy even today and it is easy to picture little Pablo running around, playing with his sisters and making first drawings of the pigeons that roosted in the sycamore trees at Plaza de la Merced. Pigeons would become one of his favorite artistic motifs when he was a child, certainly also due to the fact that his father, Jose Ruiz Blasco, bred pigeons and showed him how to draw them.
Picasso's house of birth is a beautiful building in its own right. It was built in 1861 by Diego Clavero and is made up of four floors. On the ground floor is a small collection of Picasso's engravings, lithographs and sketchbooks. One of the most interesting works on exhibit is probably a drawing book which shows the rough sketches that Picasso did for his work The Young Ladies of Avignon in 1907. The upper floors try to recreate the 19th century home environment that Picasso and his family used to live in to allow the visitor a glimpse back in time. They contain the original enormous iron key to the front door and other unique personal items, as well as more drawings and ceramic works of Picasso and his father.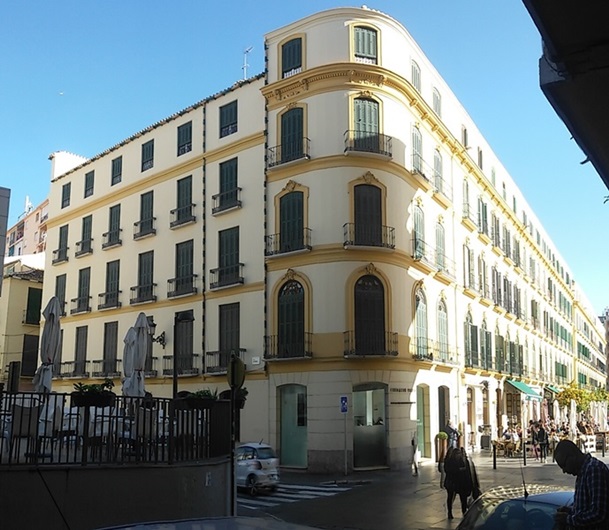 Picasso's birth house at Plaza de la Merced • Travel Malaga
The Picasso Museum at the Palacio de Buenavista has been a fairly recent addition to the art scene of Malaga. It opened its doors to the public in 2003 and comprises a beautiful collection of Picasso's oeuvre ranging from early academic studies to cubism, as well as Picasso's reworkings of Old Masters later on. Some of the gems on display here include Olga Kokhlova with Mantilla (1917), Mother and Child (1921-22) and Portrait of Paulo with white hat (1923).
Picasso's Birthplace
Address: Plaza de la Merced 15; Opening Hours: Every day 9:30-20:00, except bank holidays; Entrance Fee: 3 Euro including audio guide.
Picasso Museum
Address: Calle San Agustin 8; Opening Hours: Every day 10:00-19:00, except bank holidays; Entrance Fee: 7 Euro (Permanent Collection); 10 Euro (Permanent Collection + Temporary Exhibition)

✓ Basilica Santa Maria de la Victoria (TOP Choice)
Address: Plaza Santuario 8
Opening Hours: Tuesday-Saturday 10:00-12:30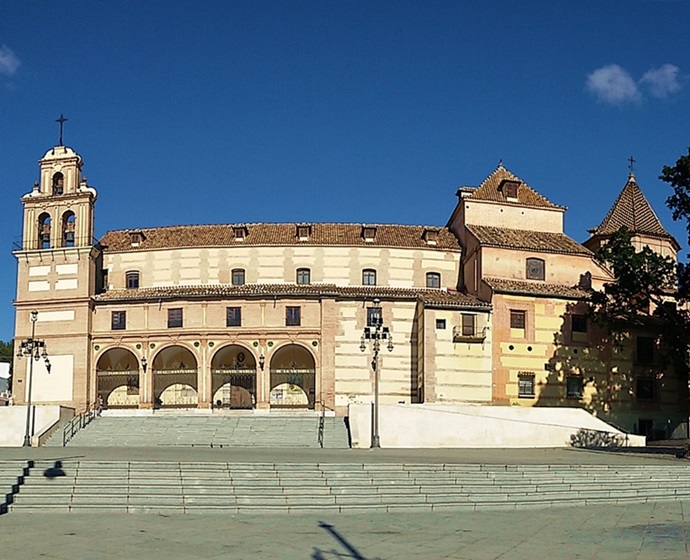 Basilica Santa Maria de la Victoria • Travel Malaga
A well-hidden gem outside of the touristic center, the Basilica of Santa Maria de la Victoria is only mentioned as a side-note in most guidebooks, which is great, because on most days you will have it all to yourself. Of particular interest at this 15th century Baroque style church is the 17th century crypt and the tranquil courtyard that can be accessed on the left side of the main building.
The crypt is outrageously macabre with its bizarre black-and-white stucco of skeletons and carcasses that are incorporated into the more customary ecclesiastical display of saintly statues and crucifixes. A beautiful antithesis to this unsettling though delightful presentation of the forces of life and death forms the otherworldly courtyard at the left wing of the main building complex. A place of perfect symmetry, surrounded by lush vegetation and dotted with artificial ponds, it was the unique meditative atmosphere of this calm haven which captured our imagination.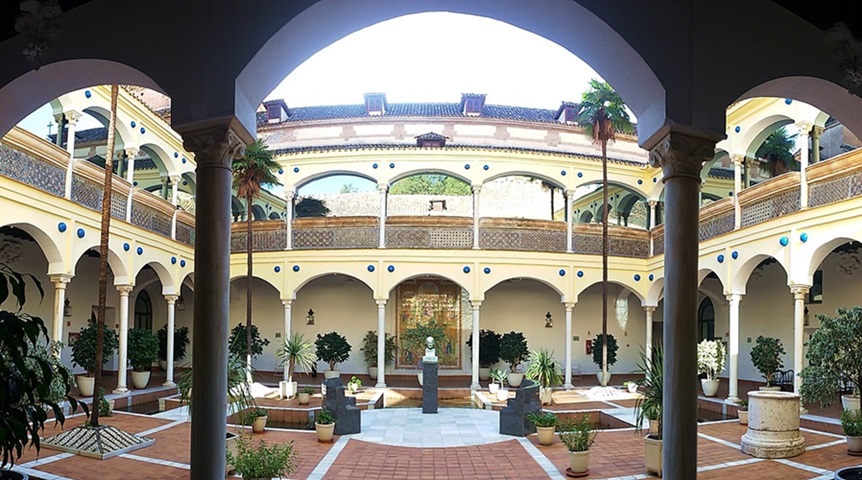 Tranquil courtyard at the Basilica Santa Maria de la Victoria • Travel Malaga
✓ Street Art Scene Malaga (TOP Choice)

Colorful street art scene of Malaga • Travel Malaga
Malaga has a fantastic art scene! One of the best in Spain. And while there is a wide range of great museums and a fascinating history of established art to be explored, it is in the city's streets where the art receives its most deviant and dynamic treatment. It is often so that the art which takes place right in our midst – in our neighborhoods and during our lifetime – gets the least attention; be it because it does not appeal to the taste of art critics, because we don't allow ourselves the time and leisure to take in the beauty surrounding us in general, or because it has not been institutionalized.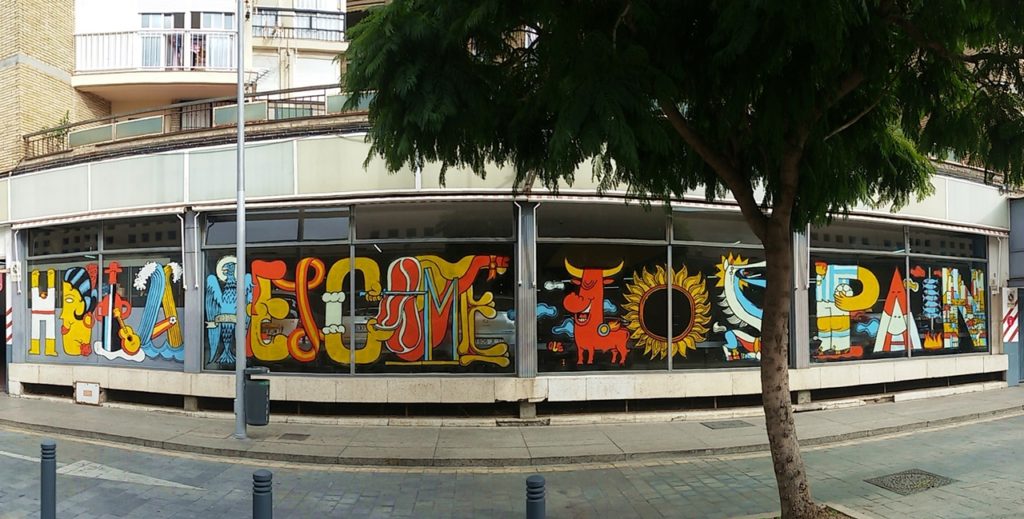 Street art by Andi Rivas in the SOHO neighborhood • Travel Malaga
In the case of street art in Malaga, the MAUS street art project (an acronym that stands for Malaga Arte Urbano Soho) has as a matter of fact drawn a lot of attention. This project was brought about in the Soho neighborhood of Malaga to breathe new life into an otherwise run-down and derelict part of town. And it has partly worked, as more and more people have started frequenting the area to marvel at the murals of internationally renowned street artists, such as Obey and D*Face. Only very few tourists however lose their way to the actual heart of street art in Malaga, the Lagunillas neighborhood, which begins only a stone's throw away from Plaza de la Merced. This is where the real action takes place and where you will find the most impressive concentration of street art in Malaga.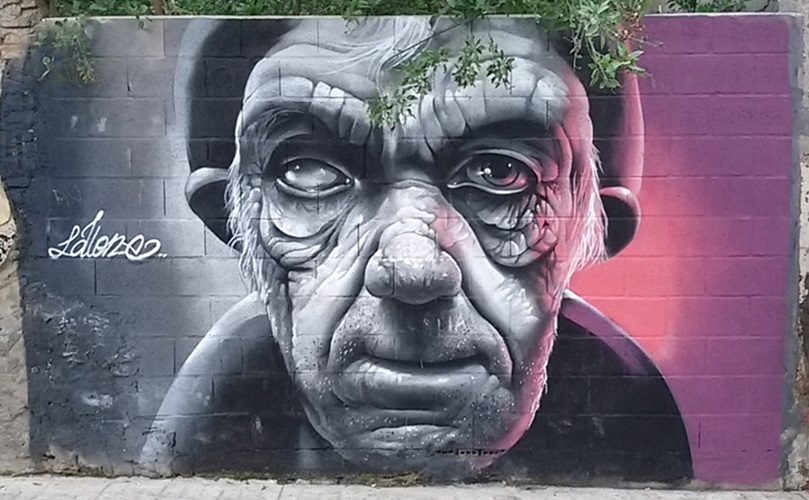 Street art by Lalone in the Lagunillas neighborhood • Travel Malaga
The Soho and Lagunillas neighborhoods have such an incredible wealth of street art works that we wrote an extra article just on the MAUS project and the Lagunillas neighborhood, which you can find HERE.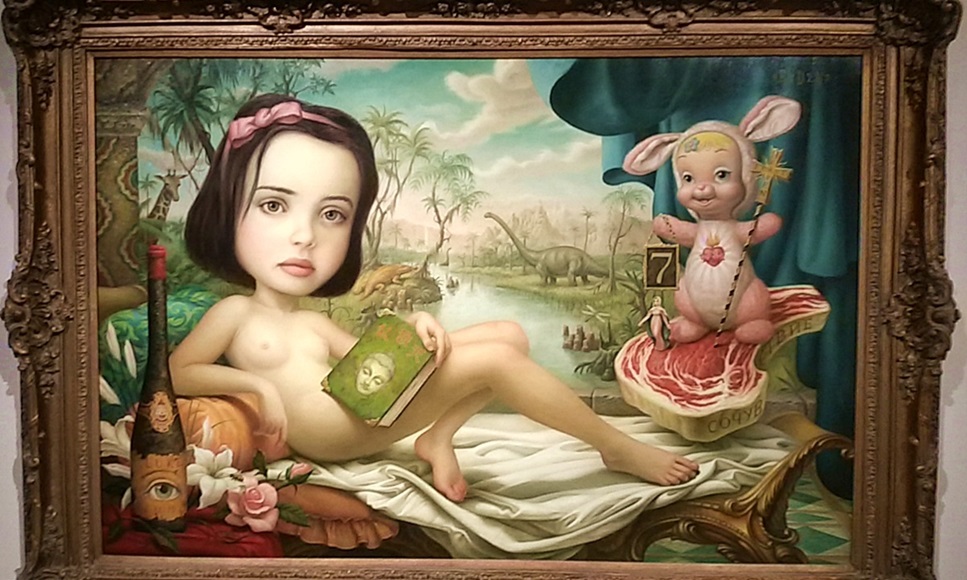 Mark Ryden's Snow White painting at the CAC Malaga • Travel Malaga
The Center of Contemporary Art in Malaga (CAC – Centro de Arte Contemporaneo) has become one of the most important museums for contemporary art in Europe since its official opening in 2003. The CAC is located in the Soho district, along the banks of the Guadalmedina river and focuses exclusively on art from the 1950s until today. Apart from its permanent collection which comprises important works by Roy Lichtenstein, Frank Stella, and Olafur Eliasson, among others, it is particularly known for hosting excellent temporary exhibitions of some of the world's hottest contemporary artists: Ai Weiwei (China), American Lowbrow artist Mark Ryden, Richard Long (UK), … they all have exhibited their work at Malaga's CAC, which should in no case be omitted during your stay in Malaga.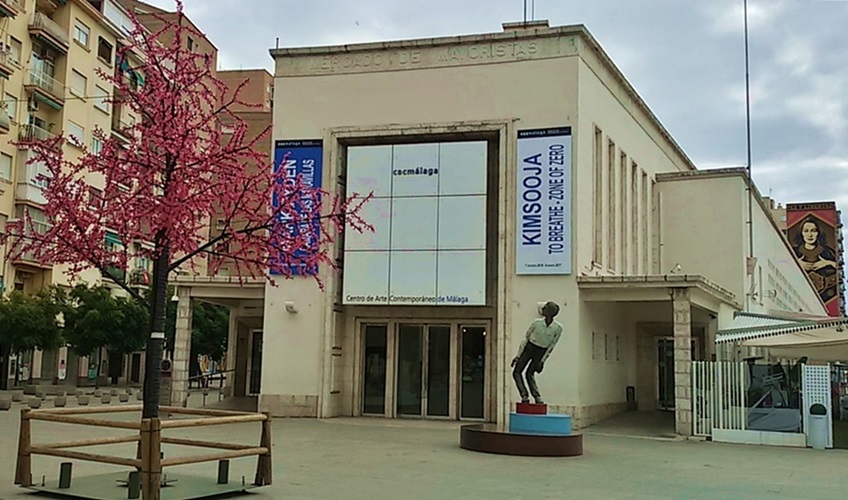 The Center of Contemporary Art Malaga • Travel Malaga
Opening Hours: Tuesday-Sunday 10:00-20:00 (winter); Tuesday-Sunday 10:00-14:00 + 17:00-21:00 (summer); closed on Mondays.
Entry is Free
✓ Unicaja Malaga Basketball Games (TOP Choice)
Address: Palacio de Deportes Jose Maria Martin Carpena; Calle Miguel de Merida Nicolich 2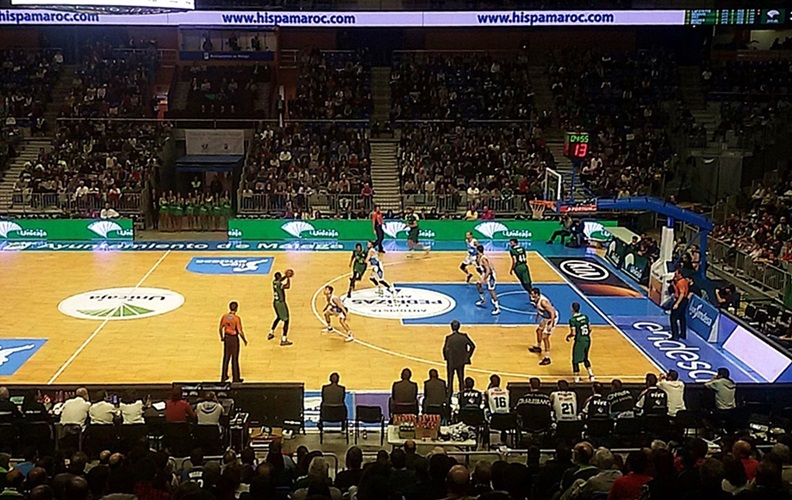 Watch a game of basketball at the Palacio de Deportes • Travel Malaga
If you're into sports drop by Palacio de Deportes for a game of basketball, the arena of Baloncesto Malaga, the professional basketball team of Malaga. The team has been pretty successful in the premier league of Spain over the past 25 years: They missed the playoffs only twice during that time, won the championship once, and have qualified for European competitions 23 times in a row. They are also one of the few European teams who have ever managed to get a win against one of the elite NBA teams, beating the Memphis Grizzlies in a friendly match in 2007. So we are talking about one of the best teams of the Spanish league here.
Cheerleaders firing up the crowd during a game of the Unicaja Malaga basketball club • Travel Malaga
The arena is a little further away from the city center, 8 kilometers south-west. You can take bus 16 (towards Termica) from Paseo del Parque and get off at Imperio Argentina, or just take a cab. Tickets can be bought online on the official website: https://www.unicajabaloncesto.com/. Foreign credit cards are accepted, however the process of buying tickets is not exactly straightforward. For starters, the website is only in Spanish, so use the internal translation plug-in of Google Chrome. Next click on the tab 'Registrarse' at the top center of the site. In order to buy tickets you need to register first. You can only enter addresses inside of Spain, but you can work around that problem by simply entering a fictitious address. After finishing the registration process, log into the site (tab 'acceso') and then click on the 'comprar entradas' tab. Click on the game that you would like to see and choose a seat. Tickets cost between 6,00-32,00 Euro, depending on category.  
✓ Last But Not Least: Further Things To Do in Malaga
✓ Verdiales Music Festival: Annual festival of Spanish folklore music and dance in the suburbs of Malaga. Always takes place on December 28th. Further info: http://www.andalucia.com/verdiales.htm
✓ Carmen Thyssen Museum: Art museum, which focuses on 19th century Spanish painting. Address: Calle Compania 10. Further Info: http://www.carmenthyssenmalaga.org
✓ La Concepcion Botanic Garden: Beautiful, extensive botanical gardens with rare plants from all over the world. About 5 kilometers north of Malaga city center. Entrance Fee: 5,20 Euro. Further Info: http://laconcepcion.malaga.eu/en/
✓ Clarence Jazz Club: Tucked away in a little side alley behind the cathedral, Clarence Jazz Club is one of the best live music venues in town. Enjoy an evening of groovy Jazz tunes while sipping cocktails at this intimate club. Address: Calle Canon 5; Further Info: http://clarencejazzclub.com/
✓ Museo Interactivo de la Musica: Cool, interactive museum about music with a great collection of more than 1000 instruments from different times, countries and cultures. Address: Calle Beatas 15; Further Info: http://www.musicaenaccion.com
✓ Trip to the White Town of nearby Frigiliana: Visit this quaint little village on the Costa del Sol by rental car. An absolute gem with whitewashed houses and narrow cobble-stoned alleyways, Frigiliana was recently voted 'Prettiest village in Andalucia'.