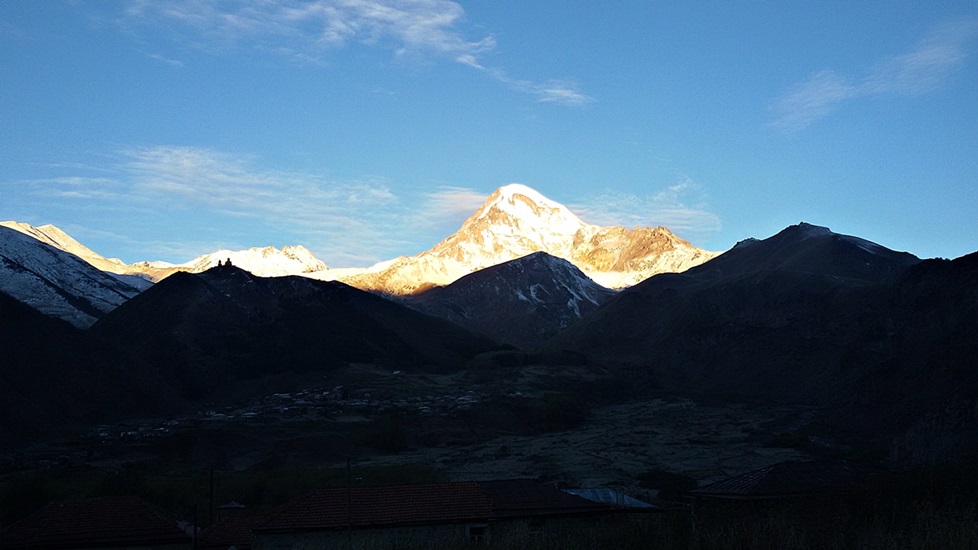 The beautiful country of Georgia • Travel Tbilisi
Are you thinking of epic, sublime mountain ranges when you wake up early in the morning? Crystal clear rivers and pristine glaciers? The rustic mysticism of centuries-old churches and fortresses? The artistic finesse of sculptors and poets? The voluptuous green of lush pastures and rich vineyards? The warm embrace of natural hot springs caressing you and the enchanting scent of flavorsome dumplings, cheese, pomegranate and walnuts? Can you picture all of it? In every single detail? Yes? Like what you're seeing? Feel the wanderlust? The itchy feet? The yearning for distant horizons and infinity deep down in your soul which won't give you peace until you have quenched the thirst for adventure?
You got Georgia on your mind!
We are NOT talking about the birthplace of Martin Luther King or the home state of the Atlanta Hawks basketball team. This is Georgia, the country that snuggles up to the Eastern shore of the Black Sea; undefinedly sandwiched between Europe and Asia, bordering on Russia in the North, as well as Turkey, Armenia and Azerbaijan in the South and Southeast. They say this country will take your heart in a storm with its amiable hospitality and its copious abundance in historical and natural wonders. And it's all true! Once you have set foot inside this poor, yet rich country you will definitely want to come back again.
This article wishes to convey some of the beauty and inspirational energy that are hidden in this little-traveled jewel, as well as provide a concise guide what you can do in Georgia if you plan for a one week trip there. On this short 8-day trip we will whisk you away to the lively capital city of Tbilisi (2 days), the UNESCO World Heritage Site of magical Mtskheta (1 day), as well as go for some awe-inspiring trekking in the Caucasus mountains (5 days). A trip surely to be remembered!
---
A. Before the trip: Visa requirements, electric plugs and Co.
---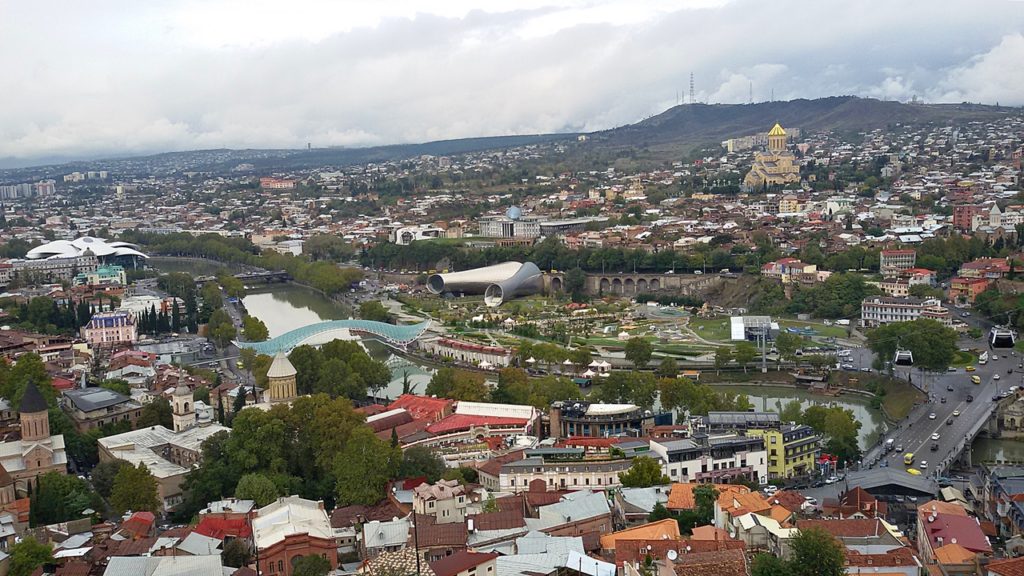 Panoramic view of Tbilisi. Picture taken from Narikala fortress • Travel Tbilisi
B. The capital: Tbilisi (2 days)
1. Getting there – From the airport to the city center
Malicious gossip has it that flights arrive at Shota Rustaveli Tbilisi International Airport at all times – just that none of these times are convenient. Chances are high that you will arrive at some weird hour – like 3 o'clock in the morning. If you do, you probably would like to be prepared and know your options on how to get from the airport to your hotel in the city center for the best possible price. Here they are:
By Train
On the official website of the Tbilisi Airport, the new train service is being praised as the cheapest and easiest way of getting to the city center. While that may be true in theory, it won't be of much use to most visitors of Tbilisi because there are only two (!!!) trains from the airport to Tbilisi per day (and two the other way) and their scheduled times will most certainly not overlap with your arrival time (unless you are willing to wait for like half a day). The price for a ticket is unbeatable though: 0.50 Gel (which is about 20 cents). Traveling time is about 20 minutes.
As of 23. November 2016 the train leaves for the city center at the following hours:
                                8:45am                                                 6:05pm
For an updated timetable you might want to check the official airport website:
By Bus
The yellow minibuses (route #37) will carry you to the city center at the same price as the train (0.50 Gel). However, they have the added advantage that they run much more frequently than the train-that-you-saw-last-summer. Between 7am to 8pm you will be able to hop on a bus every 15-30 minutes; between 8pm to 11pm every hour. The bus stop at the airport is right outside the arrival hall to your right.
The ride to the city center will take you about 30-45 minutes depending on where you need to get off. The bus driver will basically drop you off anywhere along the route if you shout shech'ereba (= stop) or signal him that you would like to get off, but if you are unsure where to get off then Freedom Square or Rustaveli Avenue are probably good bets as they are very central. You can also find the names of the official stops here in English:
http://www.info-tbilisi.com/busroutes
Tips:
There is limited space for luggage on these buses, so if you are bringing half of your goods and chattels you should consider taking a cab instead.

The drivers normally won't give you change, so make sure that you have the exact amount of money with you.
Taxi or arranged pick-up?
Especially if you arrive in the odd morning hours (very probable considering the strange arrival times of many flights at Tbilisi airport) you might have no other option but to hail a taxi. As in every country where the taxis don't operate on meters, getting a fair price can be a bit of a head scratcher as the cab drivers will likely try to take advantage of you.
You have to negotiate for the price before you leave. The standard rate for a taxi to the city center should be between 25-30 Lari (about 10-12 Euro), however having said that you might find it hard as a foreigner to find a driver who will be willing to take you to the city center for that price. Most people I have met paid about 20 Dollars, which is almost double the standard price! To avoid all the hassle, your best option is to ask your hostel/hotel/apartment to arrange a pick-up for you and to tell them to give you a quote for the price beforehand. This way you should have no problem ending up with the realistic and fair price of 25-30 Lari.
---
2. Things To Do In Tbilisi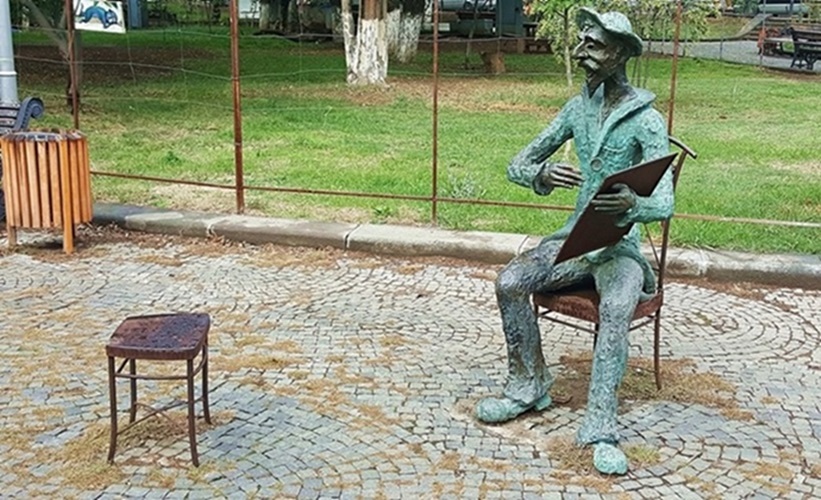 The Painter and his model of thin air • Travel Tbilisi
Click on the square symbol at the top left to open the list of points of interest • Travel Tbilisi
– Bronze Statues & Sculptures in Old Town Tbilisi
Tbilisi certainly has no lack of sights and landmarks of historical importance. My favorite thing to do while staying in Tbilisi however was something that might not immediately occur to other tourists as being worth their while: Strolling around Old Town Tbilisi and searching for the 1001 bronze statues and exhibits of poetry that have been installed by the artistic community all over the city center. Not only are these statues nice to look at, but they tell you something uniquely intimate about the culture of a people who thankfully find it important to integrate the finer qualities of art and poetry into the very midst of their city and society! So just roam around the old town of Tbilisi with its quaint houses and winding cobble stone streets, soak up the energy and try to find all the pieces of art scattered around the city. We hope you'll enjoy it as much as we did!
We have marked the area that encompasses Old Town Tbilisi red to make it easier to navigate around. If you click on the little square symbol at the top left, a menu will appear which will show you the names of the various points of interest around the map.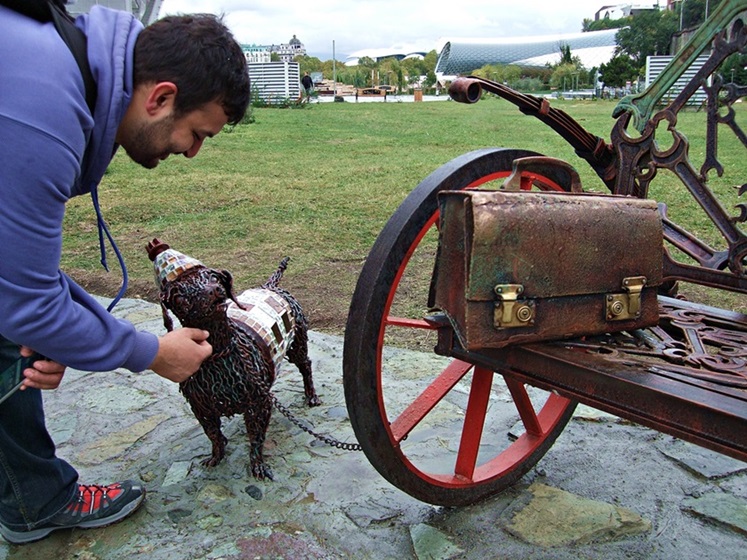 Atta boy! There are more treats in the suitcase • Travel Tbilisi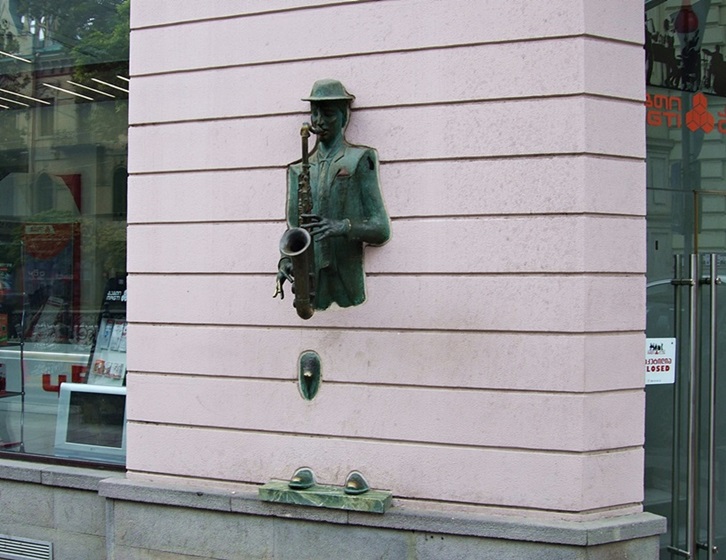 Jazz is the big brother of revolution. Revolution follows it around (Miles Davis) • Travel Tbilisi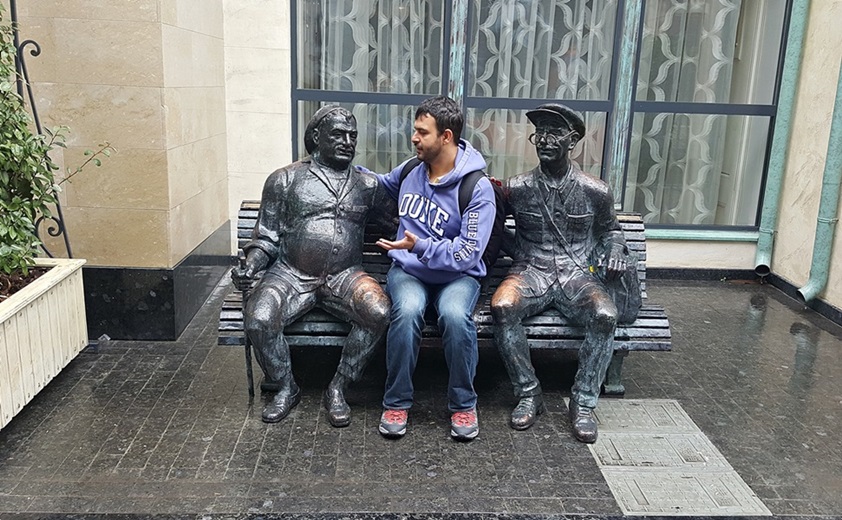 My friend Nikhil discussing politics with the bronze heads • Travel Tbilisi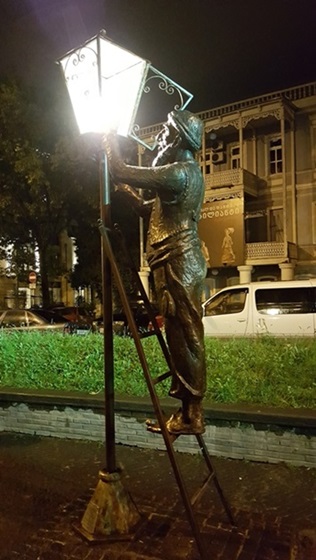 The light of lamps can change the world (or in some cases just the expression on a face) • Travel Tbilisi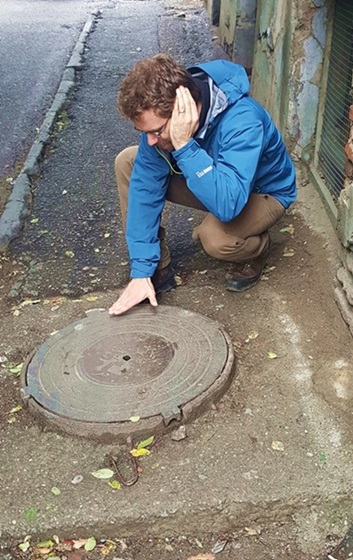 Last Night a DJ saved my life • Travel Tbilisi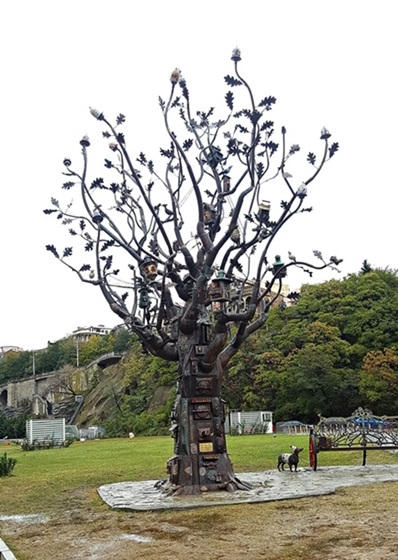 The magic tree shall shine on in the darkness • Travel Tbilisi
Other important landmarks that you can visit while you are exploring the old town center include:
Sioni Church (Erekle's Street)

Colorful Jan Shardeni Street with its art galleries and restaurants.

Jvaris Mama Church (Jerusalimi Street)

Narikala Fortress (see below)

Rezo Gabriadze Marionette Theatre (see below)

Sulfur Baths (see below)
---
– Narikala Fortress & Kartlis Deda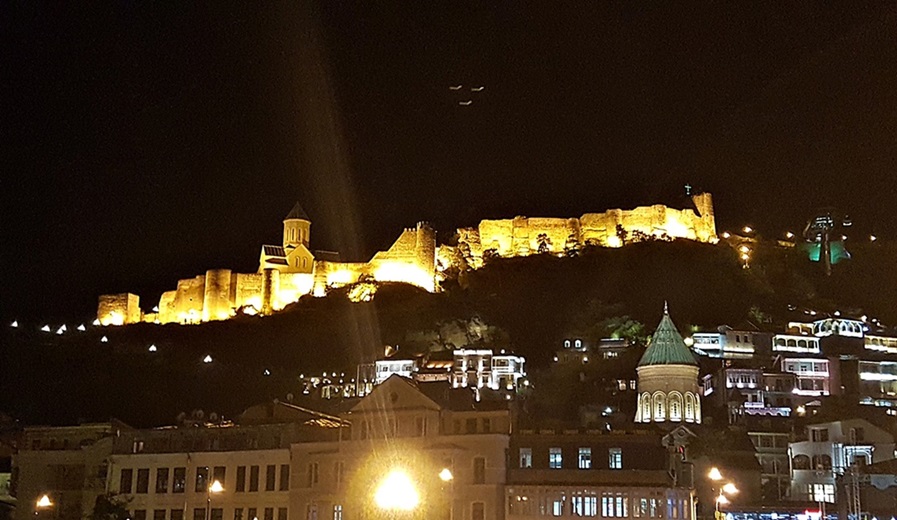 Illuminated Fortress Narikala at Night • Travel Tbilisi
Visiting the ancient Narikala Fortress and the Mother of Georgia (Kartlis Deda) on the holy mountain of Mtatsminda should be high on your list of sights to see when visiting Tbilisi. Towering imposingly above the old city center the fortress offers beautiful panoramic views over Tbilisi. The fortress was built in the 4th century A.D. Amidst its ruins stands St. Nicholas Church, which originally dates from the 13th century. However, the church was destroyed by a fire and therefore had to be rebuilt in the late 1990s. If you are a little more adventurous, you should climb further up to the fortress tower with the cross, though be prepared that the climb is a bit tricky.
Kartlis Deda was erected by Tbilisian artist Elguja Amashukeli in 1958, so the statue is a fairly recent addition. It is nonetheless an important artifact of Georgian national pride as she stands emblematically for the Georgian national character. Sporting a traditional Georgian dress, the mother of Georgia as she is lovingly called holds two important symbols in her hands, a bowl of wine and a sharp sword. The wine represents the country's warm-hearted spirit of hospitality. The sharp sword is a token that Georgians are prepared to defend their highest good – their freedom – against anybody who is threatening it.
It is a very enjoyable hike of maybe 20 minutes up to the fortress and if you are a cat-lover you should definitely walk as you will bump into a whole bunch of stray cats on the way. However there is also the option of taking a cable car from Rikhe Park (close to the Peace Bridge on the right hand side of the river) all the way up to the fort. Taking the cable car is actually a great way of taking some stunning pictures of the old town, as you will glide right over it. It will also give you a nice overview over the city, which will come in handy for your further planning of the day.
If you are an early riser you might be disappointed though. Opening hours are from 11am to 11pm. The price is 1 Gel (less than 40 cents) one way and the entire ride takes less than 5 minutes.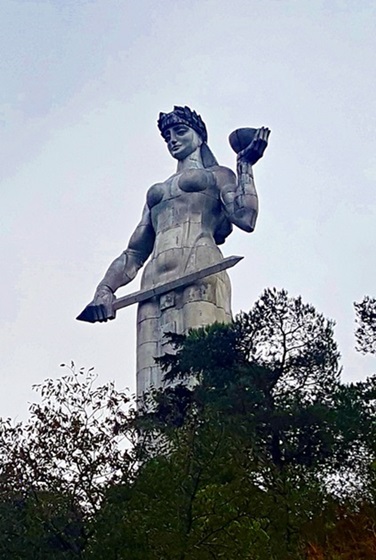 Kartlis Deda – The Mother of Georgia • Travel Tbilisi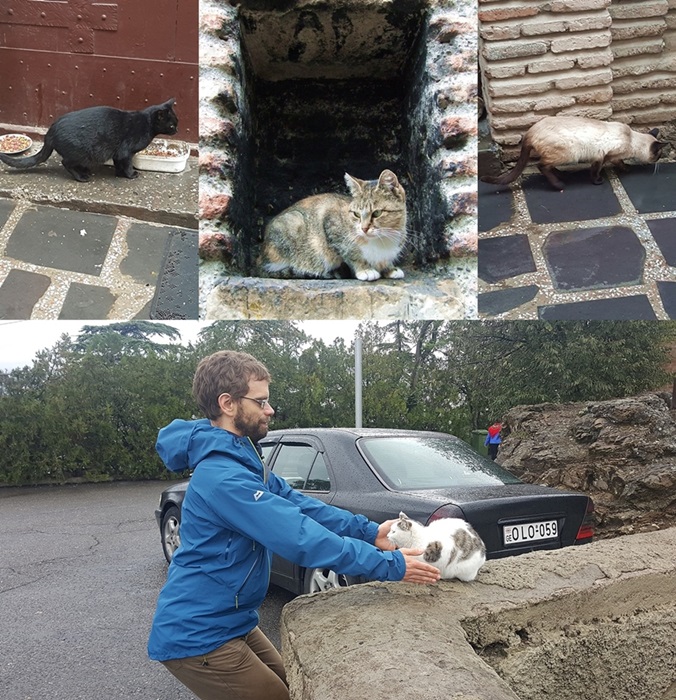 The stray cats of Tbilisi – post-communist economic struggles have been even harder on animals than on humans • Travel Tbilisi
---
– Rezo Gabriadze's Marionette Theatre
As you stroll through the picturesque alleys of the historic old town of Tbilisi and walk down Ioane Shavteli Street, you will come to a strange-looking yet beautiful clock-tower. Crooked and askew, a crazy patchwork of checkered tiles, Greek pillars, wooden hatches, bells and ornaments, this is the home to Rezo Gabriadze's Marionette Theatre. Gabriadze founded his theater in 1981 and has been incredibly successful with it ever since not only in Georgia, but also touring the world.
He has won multiple awards for his fantastical yet deep and meaningful shows, including the French Commandeur Ordre des Arts et des Lettres – the highest honor that is awarded by the country of France for cultural achievements. Famous people who have received this badge of honor include Audrey Hepburn, Sean Connery, Clint Eastwood and David Bowie.
Currently (as of November 2016) there are four shows that you can attend:
The Autumn of my Spring

The Battle of Stalingrad

Ramona

Diamond of Marshal de Fontie
Shows normally take place in the evening hours, and currently start between 7-8pm. Check the up-to-date timetables on the official Facebook page. Highly recommended!
Website: http://gabriadze.com/en/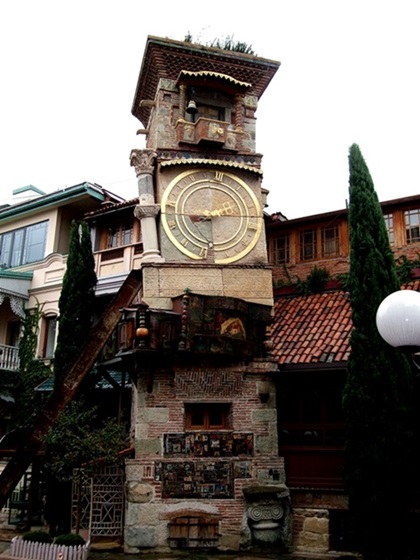 Rezo Gabriadze's Marionette Theatre – Clock-Tower • Travel Tbilisi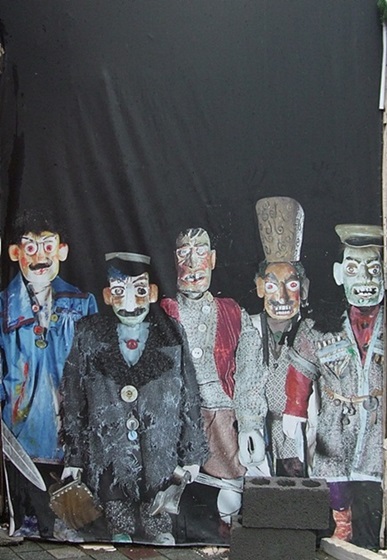 Rezo Gabriadze's Marionette Theatre • Travel Tbilisi
---
– Flea Market at Dry Bridge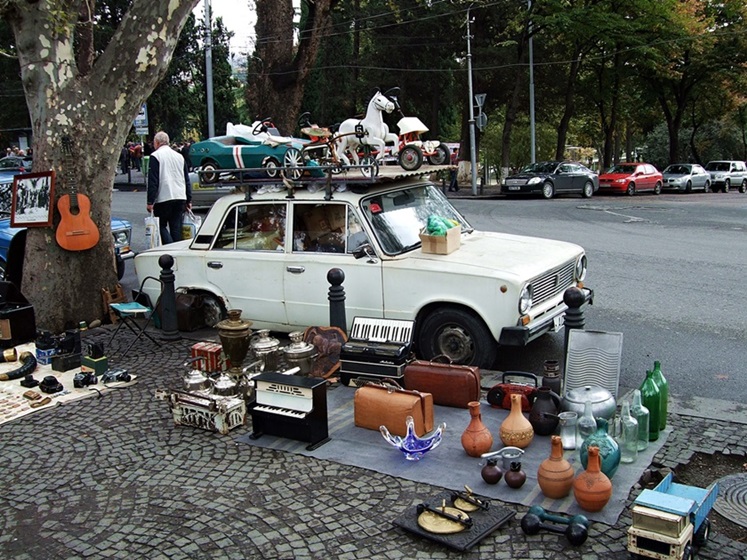 Flea Markets is where normally the itching starts • Travel Tbilisi
This colorful flea market at the Dry Bridge and Dedaena Park along the river Mtkvari will hit the bullseye for those with a penchant for antiquities, Soviet memorabilia and the generally bizarre. Open daily from 10am to 5pm (weather permitting), this might be a good place to quench your thirst for souvenirs or at least take a few snapshots for your photo album. Though a lot of it is valueless trumpery, you might be able to find a good bargain as you browse through the mingle-mangle of old typewriters, Balkan-style drinking horns, military badges, coins, statues, little pianos, gas masks and sometimes entire bearskins.
Haggling is a must though if you do not want to be completely hornswoggled by the impish street vendors. Start with one third of the asking price and you might end up with your pride still half-way intact when you later on realize that the valuable silver coins you just bought are merely worthless Chinese counterfeits. If you don't know your coins and antiquities, stay away from the more expensive items. Keeping that in mind, this place is great to spend an hour or two just to shop and stroll around and to partake in the joy of bazaar human interaction…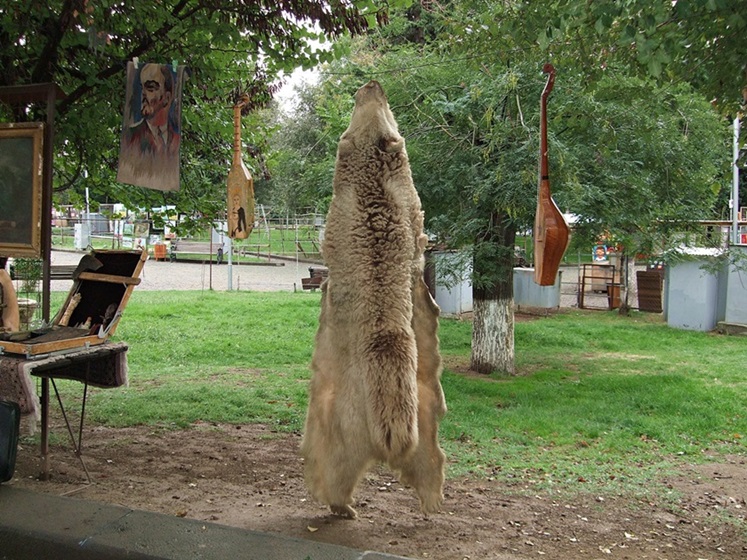 Hunters wanna hunt, lovers wanna love • Travel Tbilisi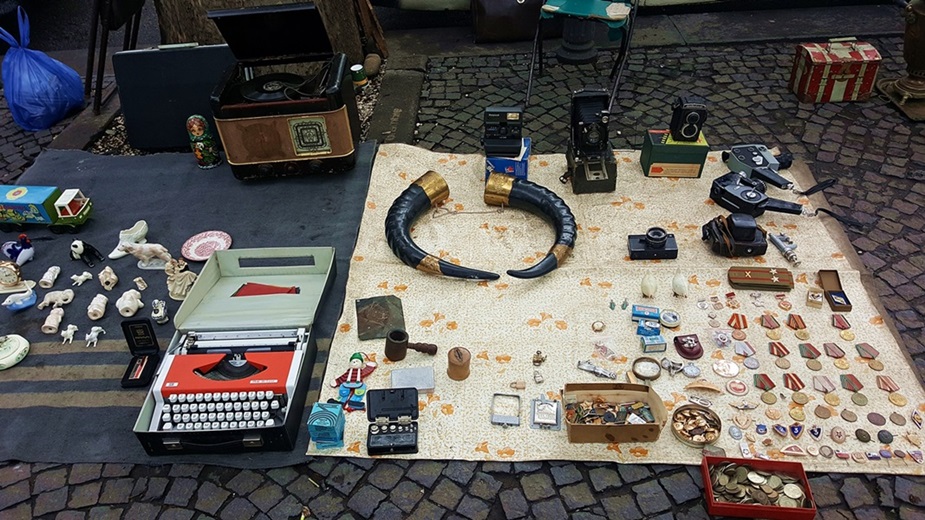 This is where we can buy the drinking horns for our cervisia, Asterix! • Travel Tbilisi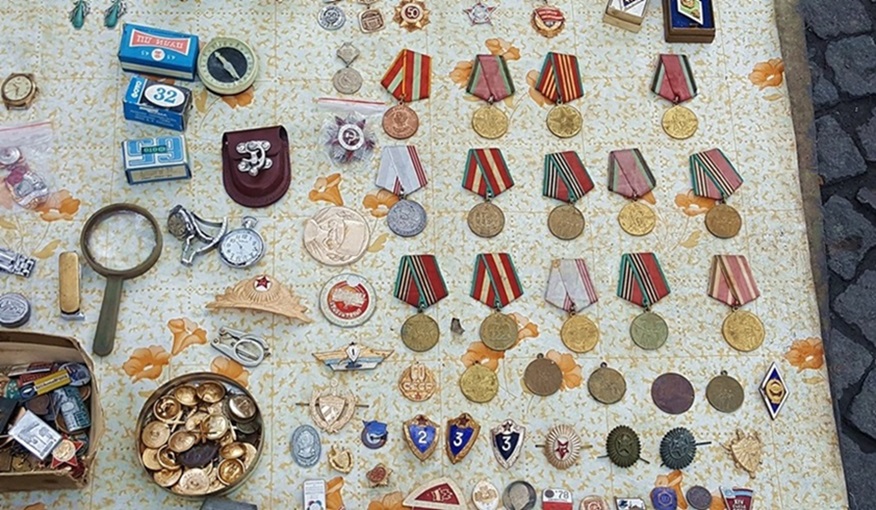 Since the dawn of man military honors have always made the world a better place! • Travel Tbilisi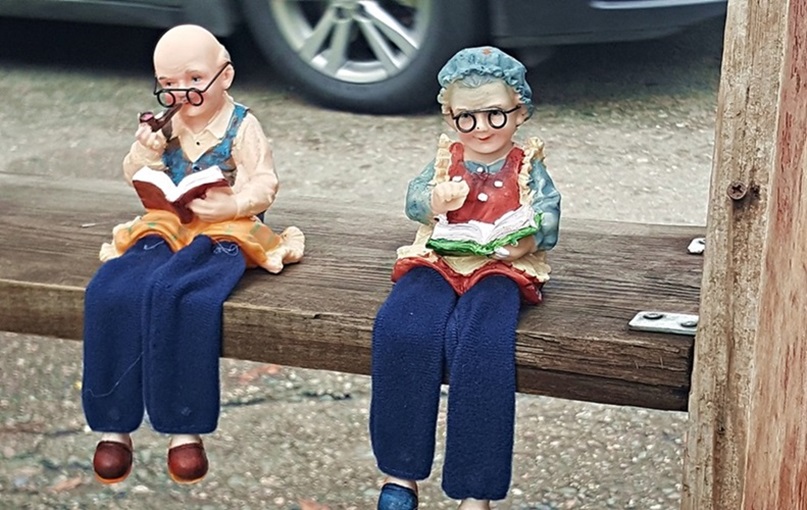 Growing old together at the flea market • Travel Tbilisi
---
– Park Rikhe, Sameba Cathedral  & Peace Bridge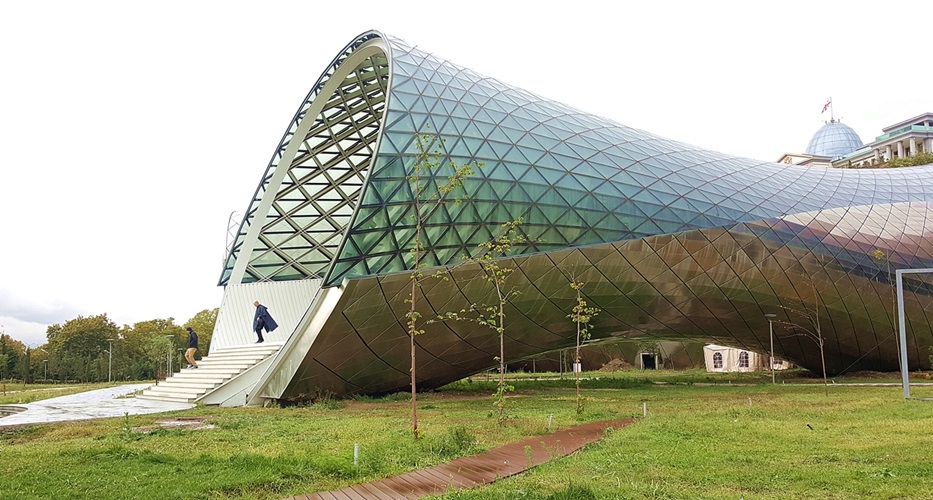 Music Theatre and Exhibition Hall • Travel Tbilisi
If you leave the old town of Tbilisi, cross the Metekhi Bridge towards the other side of the river and turn left, you will reach Park Rikhe. Apart from this being the place where the cable car to the fortress leaves from, you have some nice statues and a fountain here, and you can also play chess at a giant chess board. It is generally a really nice place to hang out. A little further north in the park you have the modern Music Theatre and Exhibition Hall, designed by Italian architecture firm Fuskas. Composed of two massive silvery glass tubes, the new cultural complex was still not open to the public when we visited at the end of 2016, but is expected to open in 2017. So check for music/theatre performances and exhibitions. But even with the futuristic-looking complex not being open yet, it is quite an attention-getter and makes for some lovely pictures.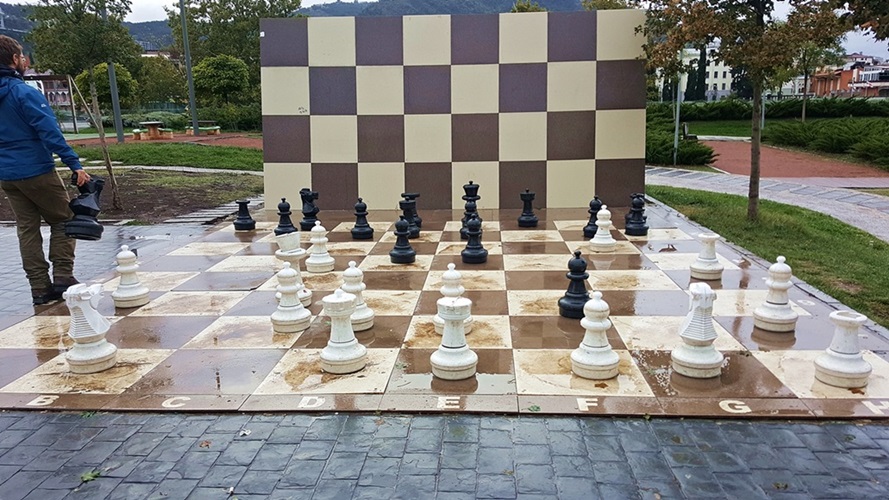 Giant Chessboard at Rikhe Park • Travel Tbilisi
Behind the park, a little elevated on a hill you have the Georgian Presidential Palace, brainchild of Italian architect Michele de Lucchi. Neo-classicist in style it is dominated by the huge modern glass dome juxtaposed to the more classic Roman pillars and triangular roof. Since you can't go inside there is no point in walking up there, however it looks nice from afar and if you make your way up to the St. Trinity Cathedral (also known as Sameba Cathedral) it is sort of on the way and you might as well take a peek.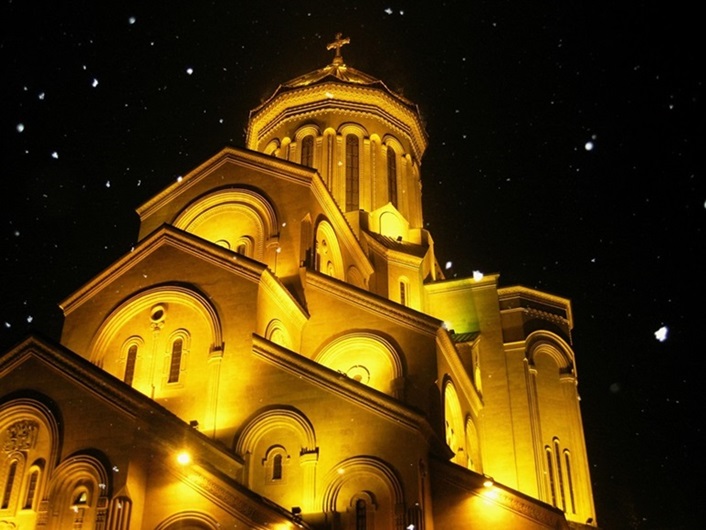 Sameba Cathedral –  Reaching for the stars • Travel Tbilisi
From Park Rikhe it is about a 20 minute walk to Sameba Cathedral. Built on Elia Hill, Sameba Cathdreal is one of the largest religious structures in the world by total area. The premises encompass roughly 5000 square metres and the cathedral itself is an impressive 105,5 metres high. Definitely worth a visit. The rules are strict, women might be asked to wear a headscarf. So please be respectful.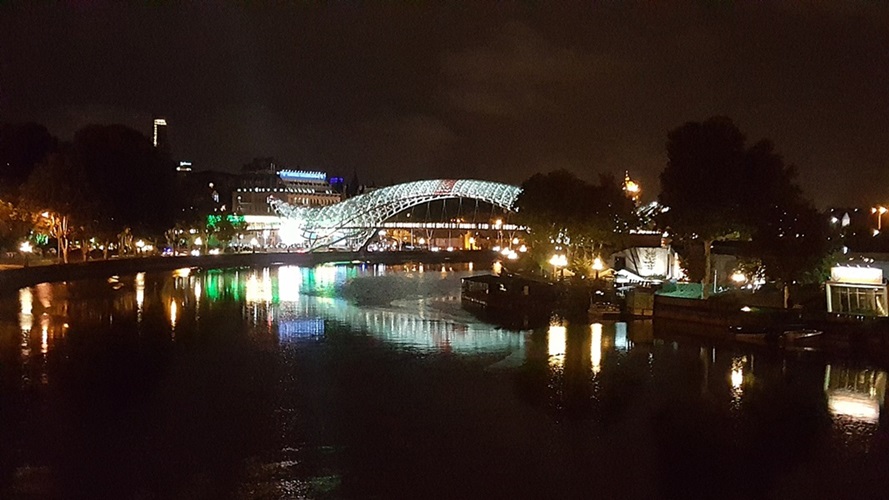 Peace Bridge from afar at night • Travel Tbilisi
If you walk back towards the old town you can cross the river via the Peace Bridge. Shaped like a huge metallic arch, this bridge sparkles with a gazillion LED lights at night. It was opened very recently, in 2010, and was designed by the same architect who also oversaw the construction of the Presidential Palace. Due to its unique, flashy look, it has quickly become a favorite sight with tourists and locals alike.
---
– Sulfur Baths
Taking a sulfur bath in the Abanotubani district of Tbilisi is a tradition that probably dates back as far as the 1st century as signs of early Roman settlements indicate. Join in with the long-standing tradition and have a unique experience that will help you shed all your stress after a long day of exploring the city. The bath houses are fed by natural hot springs which are high in sulfur and other minerals with the temperature ranging between 36-41 degrees Celsius.
There are many bath houses to choose from, but our two favorites are the beautiful Orbeliani Baths (31 Abano Street) with their intricate turquoise and blue mosaic facades and the Royal Bath House (2 Abano Street).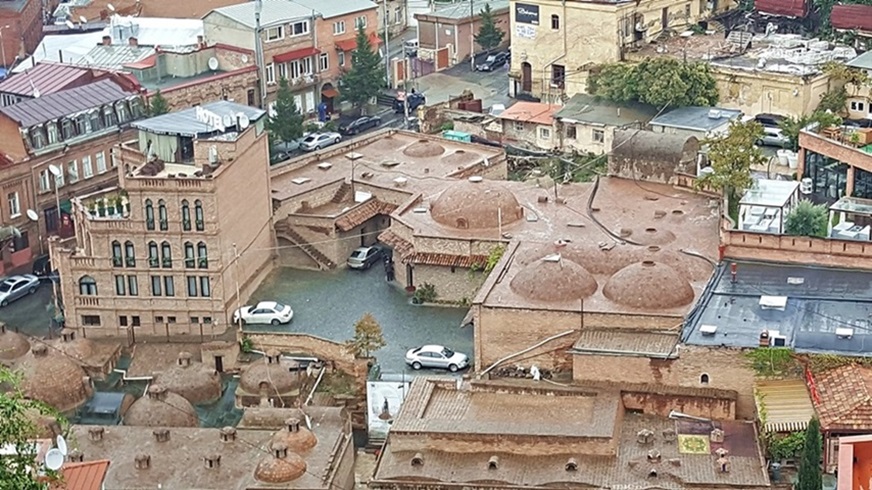 The brick domes of the Royal Bath House from a bird's eye perspective • Travel Tbilisi
Most of the bath houses have public rooms as well as private rooms. If you are not that comfortable with being nude in front of strangers, a private room might be a good option for you. Most of the bath houses are open from around 8am until midnight; some are even open 24hrs. Getting yourself understood might sometimes be a bit tricky due to the language barrier as often staff and owners only speak very limited or no English. Therefore it will help if you know a little about what to expect when you get there:
Depending on which bath house you choose you will have to tell the receptionist whether you would like to go to a public or a private room. Normally prices for a public room are about 2-3 Dollars and you can stay there as long as you want, whereas if you rent a private room you will pay around 5-8 Dollars per hour. You then will be given a key to a locker to store your things and after undressing yourself, you will either be led to your private room or to the public bath where you can hop into the pool with all the other guests. Feel all the stress and tension gradually drop off of you (as much stress as you can possibly have during a vacation). If you have had enough, you can head over to the sauna or take a shower to cool off a bit.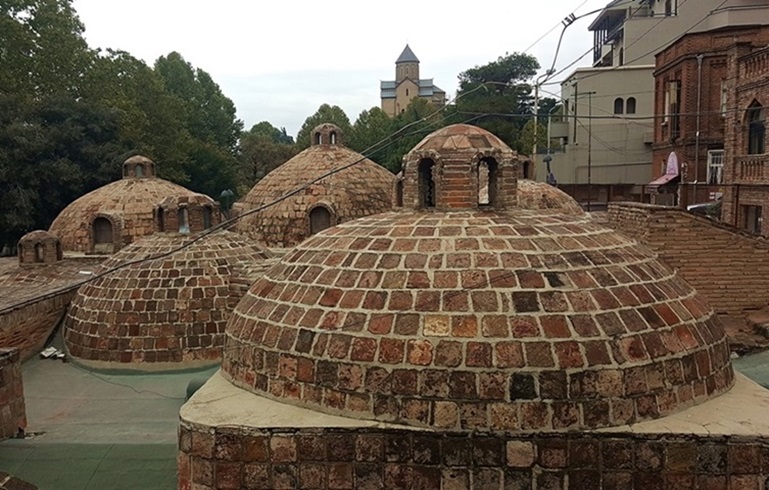 Close-up image of the Royal Bath House roofs • Travel Tbilisi
---
– Historic Rustaveli Avenue
Rustaveli Avenue is located northwest of Freedom Square and is a major thoroughfare going through the city of Tbilisi. It is named after poet Shota Rustaveli, widely considered as one of the most important contributors to Georgian literature. Spangled with many beautiful historic buildings of past grandeur, this is one of the most expensive streets in the entire city. Important buildings include the former building of parliament, the Rustaveli Theatre, the Tbilisi Opera House and the Kashveti Church.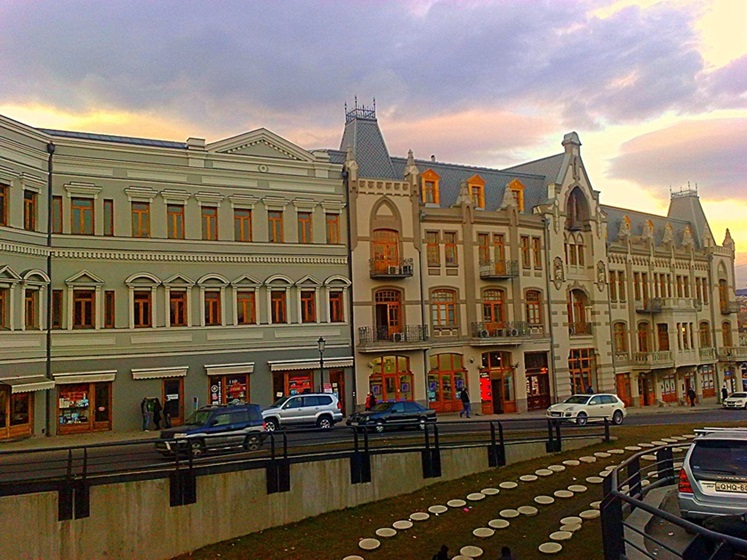 The grandiose architectural splendor of former Russian and Soviet dominion can still be seen everywhere around the city of Tbilisi • Travel Tbilisi
---
3. What & where to eat and drink

– Cleopatra's Orgasm at Chakrulo on Rustaveli Avenue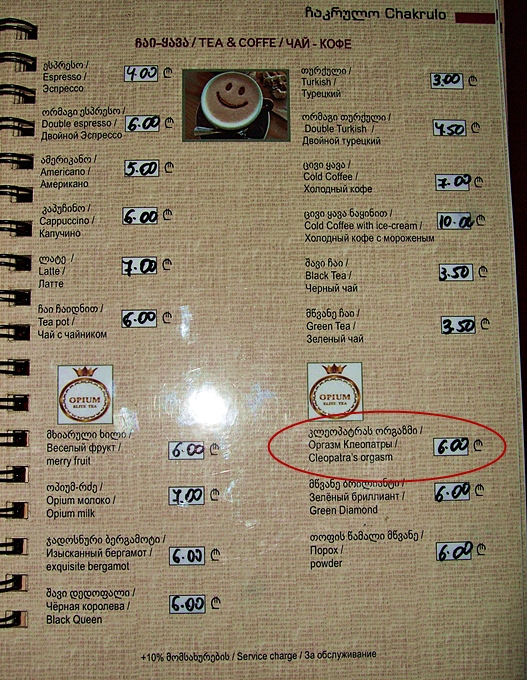 Cleopatra's Orgasm • Travel Tbilisi
If you ever wanted to know what it would feel like to experience Cleopatra's orgasm, head over to Chakrulo, a Georgian restaurant on Rustaveli Avenue. Apart from having an intriguing selection of teas that includes aforementioned orgasm, opium milk and green diamond, the food is pretty good, too. Try the beans in a clay pot or the Khinkali, Georgian dumplings filled with minced meat. Interesting are also the folk dance performances that they have at night in the basement. I'm not sure how authentic they are, but it was definitely good fun.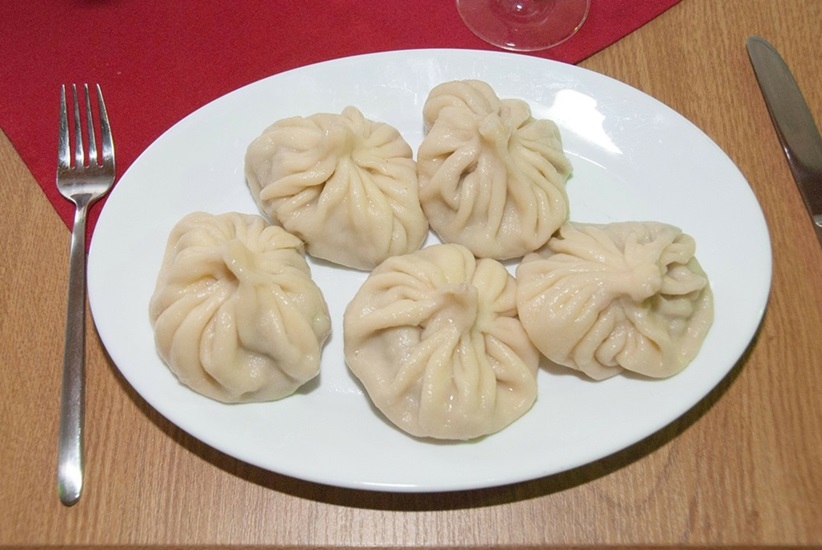 Khinkali – traditional Georgian dumplings • Travel Tbilisi
– Sakhachapure #1 (5 Rustaveli Avenue, East Point Mall)
Try the best Adjarian Khachapuri in town, a particular type of Khachapuri in which the dough is shaped like a little boat. Comes with a piece of butter and a raw egg.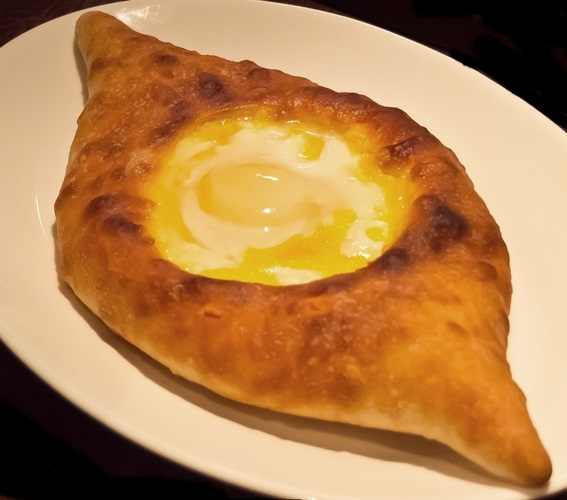 Georgian Adjarian Khachapuri • Travel Tbilisi
– The Black Lion Restaurant – Shavi Lomi (23 Amaghleba Street)
The insiders' tip! The Black Lion Restaurant served the most delicious food we had in Georgia – and believe us, we tried a lot of really great food. The locality is pretty well hidden as there is no sign that would indicate that there is a restaurant. You will have to look out for the black lion that is painted on the brick wall. The restaurant is in an old cellar and offers a unique atmosphere with its charming flea-market style sofas, tables and decor. The food is so delicious that you seriously do not know what to order because you wanna try it all. But you definitely have to taste the Jonjoli (an assortment of different kinds of cheese), the Phkali (beetroot, spinach and walnut paste), and the delicious pork chops. The food is just insanely good and honest to god if you don't come here, you are really going to miss out!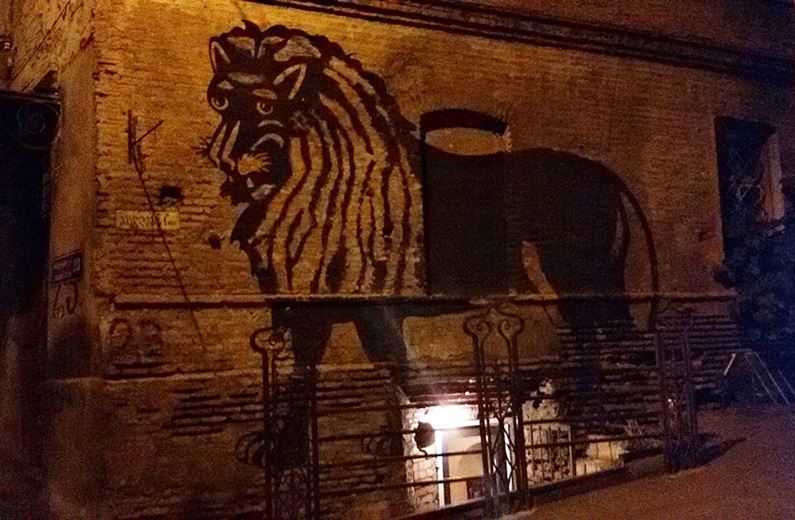 The Black Lion Restaurant • Travel Tbilisi
– Acid Bar No 4 (9 Leonidze Street)
Stop by Acid Bar No 4 for a comfortable night out with friends and a couple of drinks. This cozy bar off the tourist map serves excellent Georgian brandy and is just a generally hip place to pass the later hours of the night. Old school decor, bookshelves, predominantly local crowd. Nice place.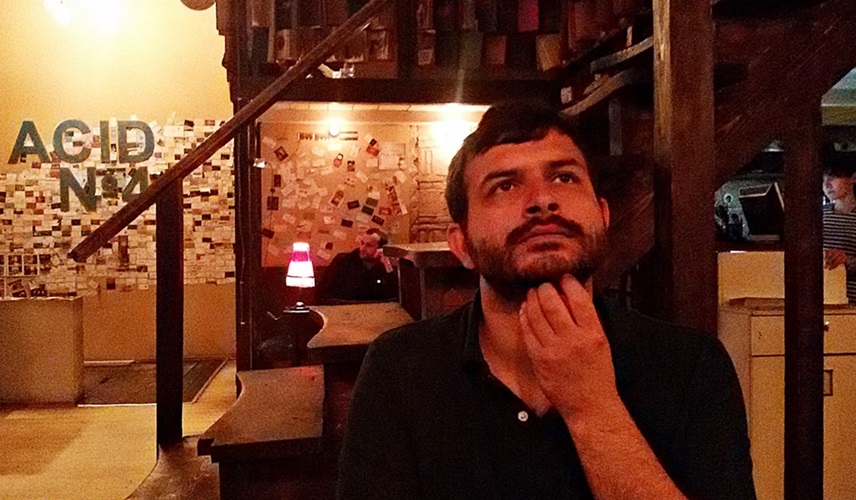 Acid Bar No 4 • Travel Tbilisi
– Cheese and Wine Store underneath the Dry Bridge (Atoneli Street 31)
This store is very well hidden, tucked away right below the dry bridge in a little backyard next to a biker bar. It is fairly difficult to find, but … so are most good things in life. Georgia is very famous for its wine and cheese and this guy has the best and most unique selection that we could find in Tbilisi. Added advantage: He speaks decent English and thus can provide some valuable background information on origin, production processes and so on. If you would like to bring some excellent stinky cheese and wine back home with you, this is by far the best place to buy it.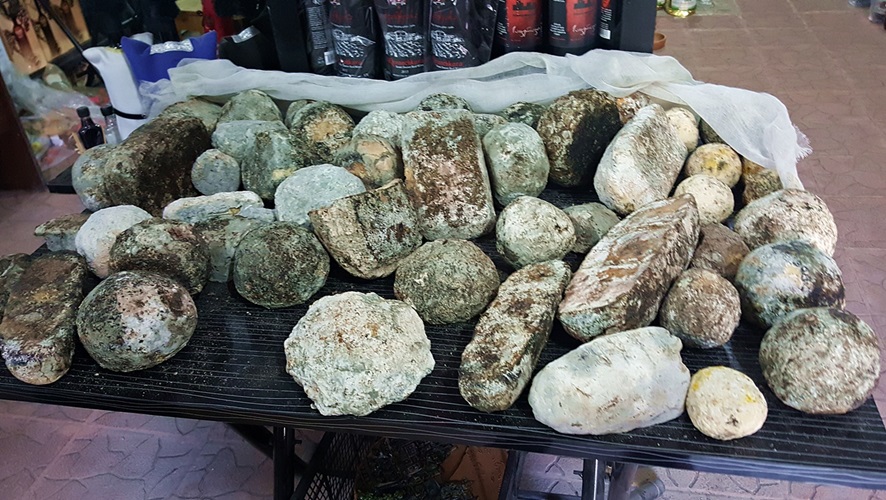 Yes Borat, this is cheese! • Travel Tbilisi
– Creator Bar (Ivane Machabeli Street 10)
Still standing strong after hours and hours of exploring Tbilisi? If you still have some energy left, drop by this dingy, alternative bar. Cool place to catch some live music and to hang out with a young Georgian crowd. The live music played here is pretty eclectic and ranges from Heavy Metal to Jazz and Spanish Guitar nights.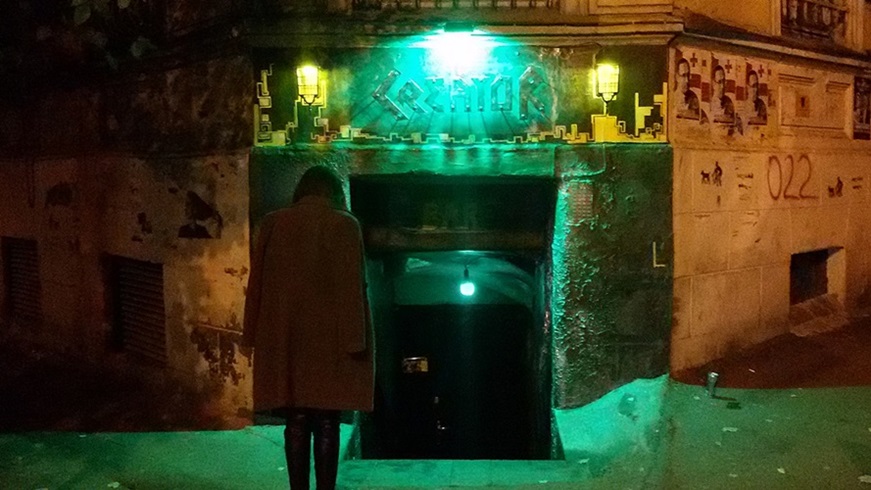 Creator Bar • Travel Tbilisi