Espetos, grilled sardines on skewers – One of the most typical dishes served in Malaga • Foodie Malaga
They say that the way to a culture's heart is through its stomach! Apart from visiting sights and architectural wonders, it is certainly the exploration of a country's eating customs which brings us closer to a better understanding of the country and its culture on our travels. Spain has a fabulous food culture and one that clearly sets it apart from all the other cultures surrounding it. How important food and drink is in the country of Rioja, Bullfighting and Flamenco Music shows the fact that Spain is the country with the greatest number of restaurants and bars per person in the world: One for every 175 people!
Click on the square symbol at the top left to open the list of cafes and restaurants! • Foodie Malaga
1. Best Cafés and Hidden Hangouts in Malaga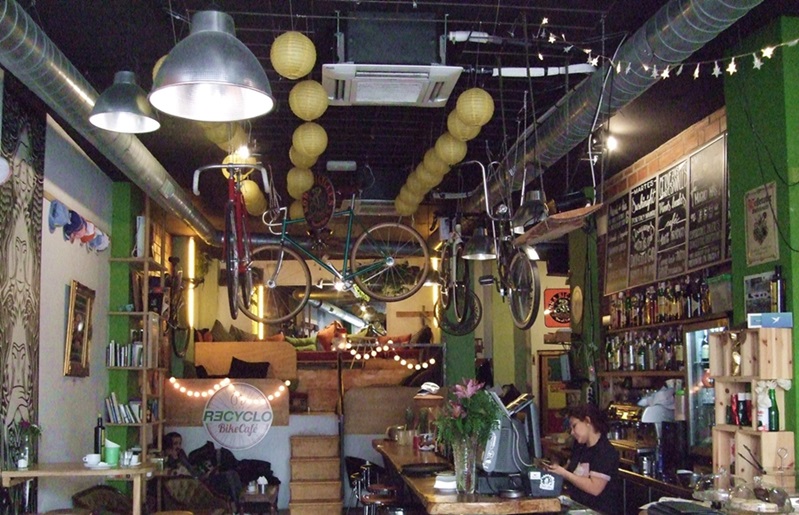 Recyclo Café Malaga • Foodie Malaga
A good day starts with a good breakfast and a bike! Sounds like you? Then Recyclo Café is the perfect place for you. No worries you do not actually have to cycle, but the concept of the café is all about bikes. Bicycles hanging from the ceiling, a goat skull with bicycle handlebars as horns on the wall and a bicycle repair shop adjacent where you can also rent a bike to explore the city. They have a great variety of yummy breakfasts to choose from and the fresh fruit juices are simply fantastic. Very friendly and quick service, too. Start your day with a smile at our favourite café in Malaga and cycle off the calories afterwards…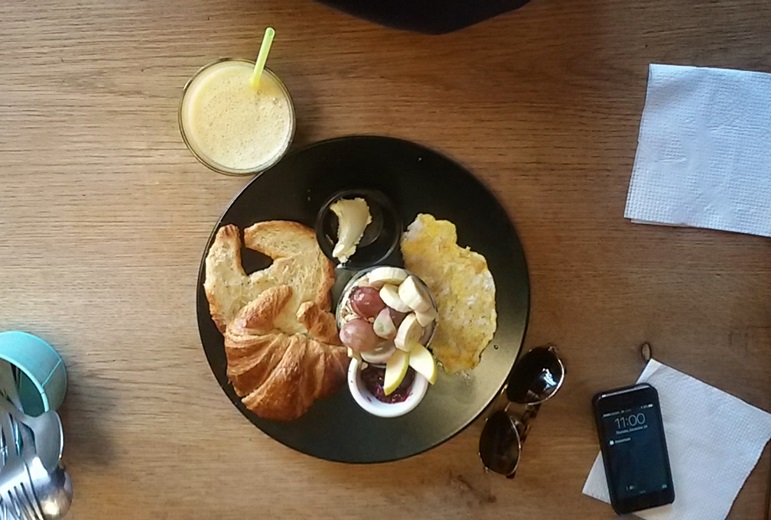 Healthy breakfast at Recyclo Café Malaga • Foodie Malaga
Opening Hours:
Monday-Thursday 9:00 am – midnight
Friday-Saturday 9:00 am – 2:00 am
Sunday 10:00 am – midnight
Café Central
Address: Plaza de la Constitucion 11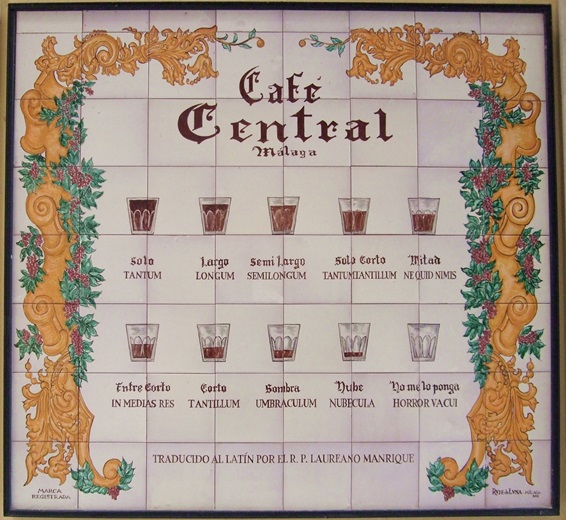 Café Central, an absolute institution in Malaga • Foodie Malaga
Located on busy Plaza de la Constitucion, Café Central is one of the most historic cafés in Malaga. Old world in style and with a nice outdoor seating area, this is a great spot to watch the vibrant Spanish city life pass by while enjoying the arguably best churros in town. Churros are fried-dough pastries, not particularly sweet, which are dipped into Spanish style drinking chocolate, rich and thick and whipped up so much that you can almost cut it into slices. At Café Central, this traditional Spanish delicacy is served gluten-free and you will regret it for the rest of your life if you haven't tried it at least once.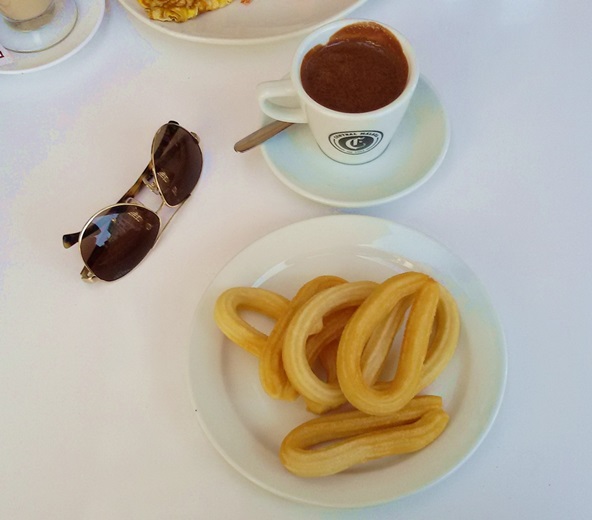 Gluten-free churros at Café Central • Foodie Malaga
Opening Hours
Monday – Saturday 8:00 am – midnight
Sunday 9:30 am – 11:00 pm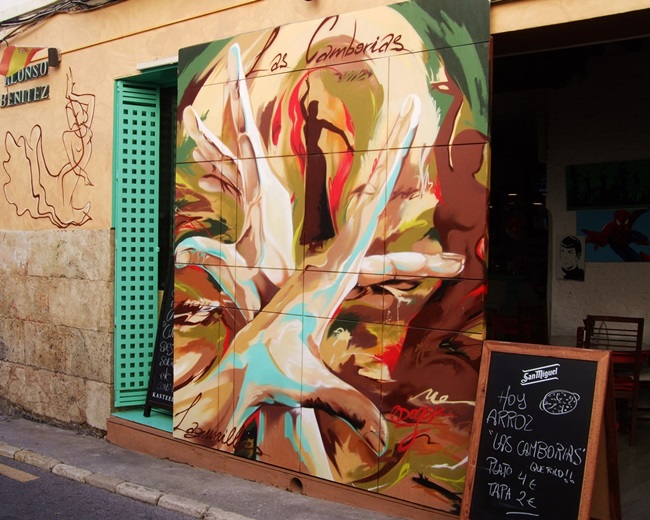 Artsy entrance to Las Camborias • Foodie Malaga
Las Camborias captures the essence of creativity in one small room: Colorful, quirky, artsy and fiery, yet cozy and full of heart. You come for the beer and food, but you stay because of the kind people, the impromptu live music and the laid-back atmosphere. This space has a very personal touch and there is something magical about the tasteful retro look with comfy couches, old-style chairs and self-made art. Las Camborias is cool in all the right places. A little further away from the city center in the Lagunillas neighborhood this adorable little café/bar should be high on the list of every visitor of Malaga.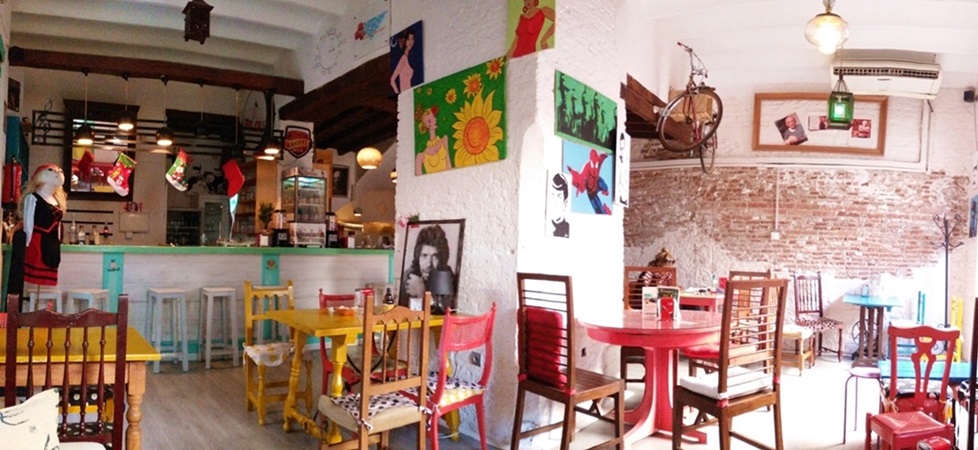 Colorful Las Camborias • Foodie Malaga
Opening Hours:
Monday – Saturday 11:00 am – 2:00 am
Sunday 11:00 am – midnight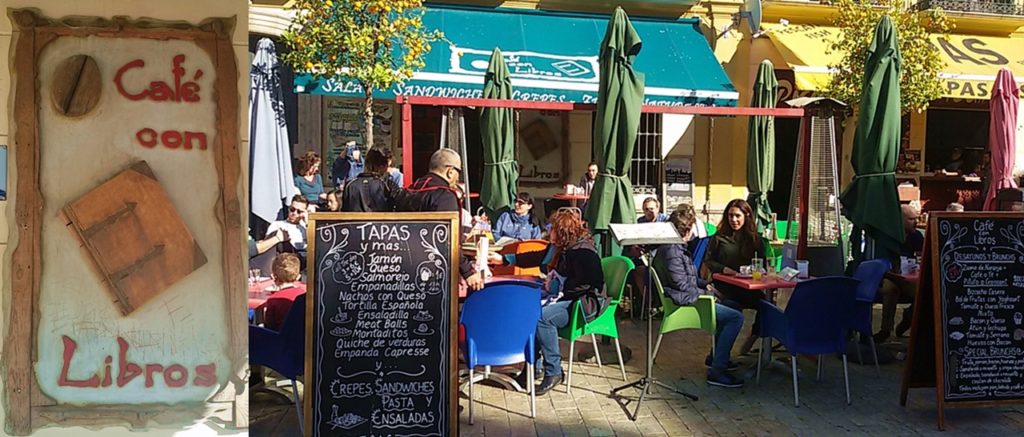 Tapas & Books – Café Con Libros • Foodie Malaga
In today's fast-paced world, places where you can just kick back and relax, chat, read and connect are in danger of extinction. Café Con Libros offers just that: A beautifully decorated café with a wide range of books in many different languages which wait to be read. Or sit on the sunny terrace with its swing chairs and of-the-wall outdoor couches and enjoy a great variety of tapas, crepes and homemade cakes. Three tapas are just 6 Euro and the food and cakes are of excellent quality. Expertly prepared coffee and juices round off the great selection at this café and there are also events held on certain days, ranging from readings and theater performances to concerts..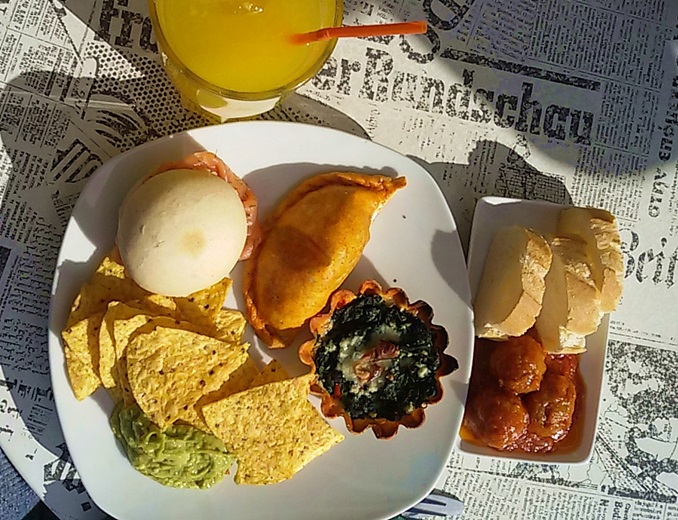 Selection of tasty tapas – Café Con Libros • Foodie Malaga
Opening Hours:
Monday – Sunday 10:00 am – 2:00 am
La Casa Invisible
Address: Calle Nosquera 11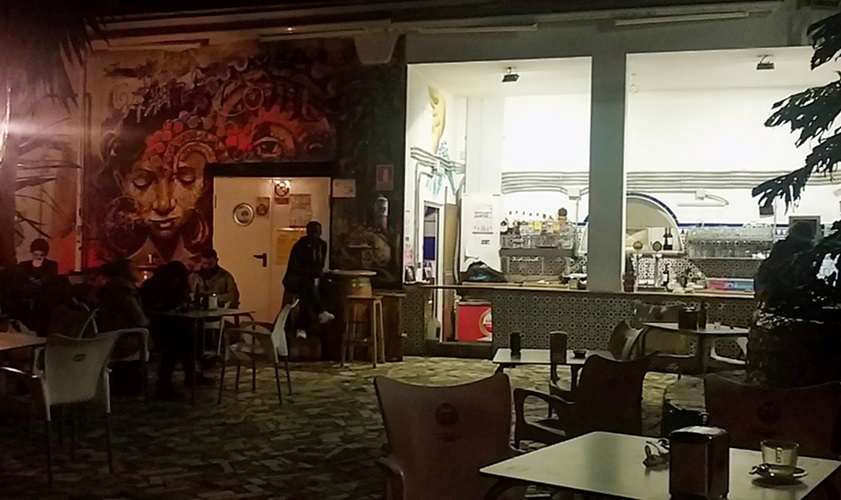 Hideaway café La Casa Invisible • Foodie Malaga
La Casa Invisible is one of Malaga's best-kept secrets. Tucked away in a romantic backyard off a narrow, quaint alleyway, we still managed to walk past it twice despite having the correct address. The atmosphere is hip and alternative, with light rock or jazz music playing and cool graffiti art adorning the walls. The food is simple but yummy: Hummus, burritos, lasagne, burgers, curries, wraps and salads. They also offer a variety of vegan dishes. Peaceful and tranquil as it is, this hide-away café is full of pleasant surprises: Sometimes you have spontaneous jam sessions, poetry readings and even choir concerts.
Opening Hours:
Monday – Sunday 10:00 am – midnight
---
2. Our Favourite Restaurants and Eateries
Las Merchanas
Address: Calle Mosquera 5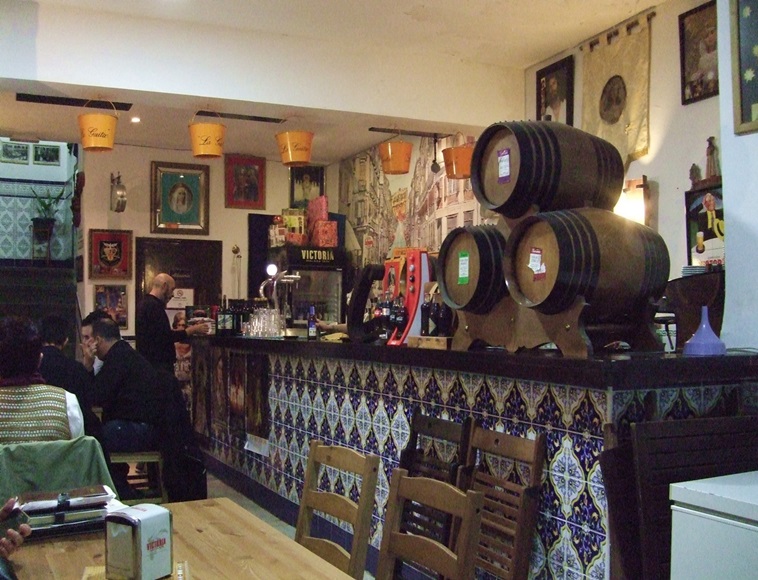 One of the best eateries in town – Las Merchanas • Foodie Malaga
It is difficult to overstate how popular this tapas bar is with the local foodies. This authentic place in prime location is absolutely packed on any given night, and once you have tried their tapas, you will know why. The Gambas al Pil-Pil (prawns in boiling oil, garlic and pepper) and the Galician Octopus are the stars of the show, although you can order about anything here and leave well satisfied. Have a Malaga Moscatel Sweet Wine with it, which is just simply to die for. Special is also the decor of this bar which evokes the Catholic side of Malaga, with pictures of Jesus and Virgin Mary, crucifixes and figures of Nazarenes (those men in pointy hats; not to be confused with members of the Ku Klux Klan) virtually everywhere.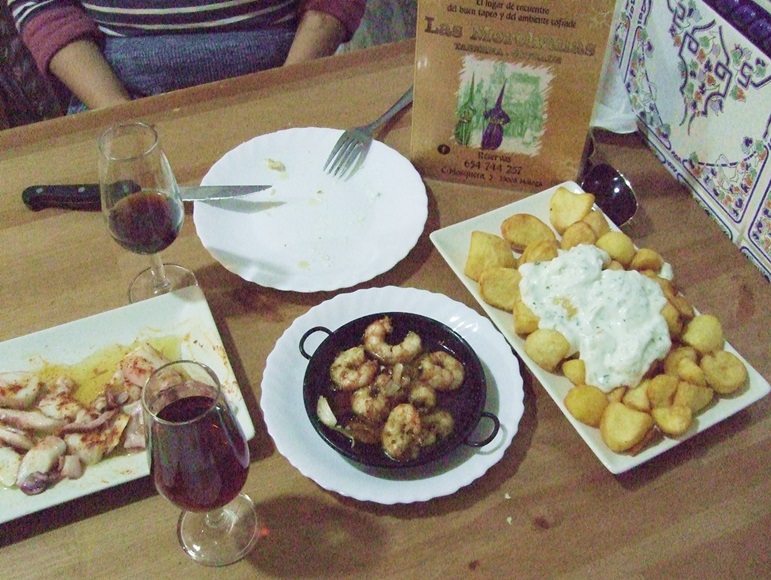 Gambas al Pil-Pil and sweet Moscatel wine – Las Merchanas • Foodie Malaga
Opening Hours:
Monday closed
Tuesday – Sunday noon – 4:30 pm and 7:30 pm – midnight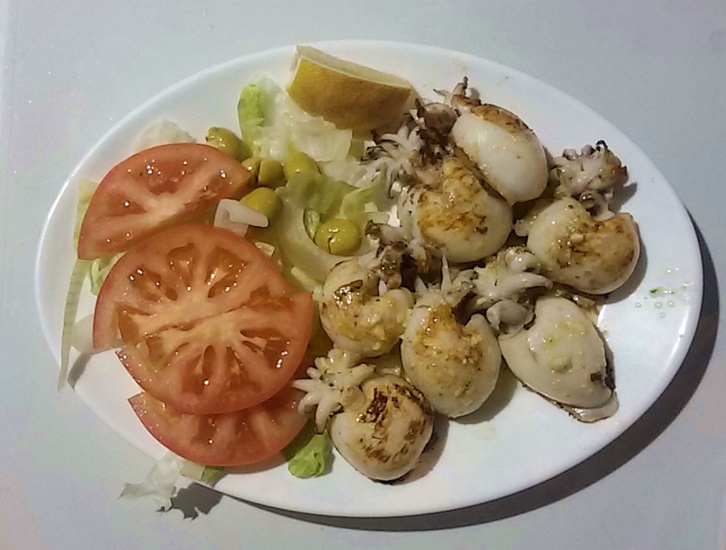 Grilled baby cuttlefish – Casa Vicente • Foodie Malaga
Friends of ours begged us not to include this little seafood street eatery in our foodie list and we must admit that we were inclined to keep this secret all to ourselves. Some of the tastiest seafood in Malaga is awaiting you. Absolute must-eats are the grilled baby cuttlefish and the grilled prawns. This is not a fine-dining experience by any means, as you will sit in a little side street on run-of-the-mill plastic chairs. But trust us, you will be devouring some of the best and freshest seafood fare in Malaga. Interesting little side note: When you hear the large copper bell ring, it means that somebody has just left a tip 😉
Opening Hours:
Monday-Sunday noon – 4:00 pm and 7:00 – 11:30 pm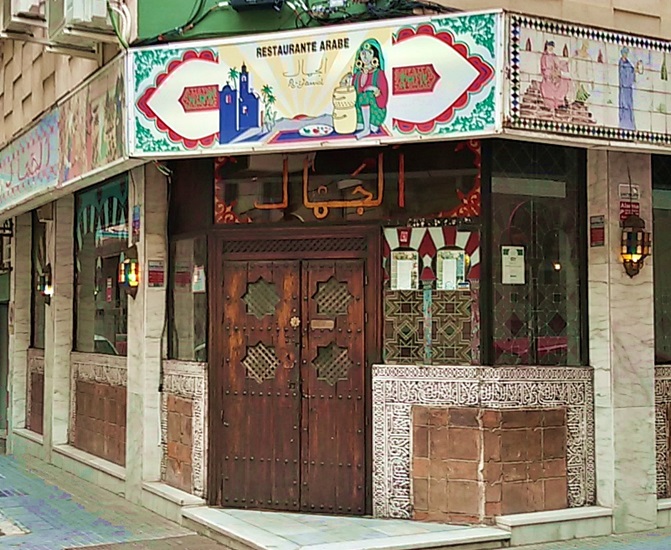 Moroccan restaurant Al Yamal • Foodie Malaga
If you wish to taste something completely different, Al-Yamal in the Soho neighborhood is a good find. With appealing Moroccan decor and intimate atmosphere this is a fantastic place to sample a succulent veal tagine, lamb couscous and some veal keftas. It is also perfect for setting the mood for a subsequent visit to the Hammam Al-Andalus – the Arabian Baths of Malaga. As your palate rejoices in the unique combination of exotic spices, crisp almonds, dates and Moroccan tea, slowly allow your mind and soul to pass over into the fantastic world of One Thousand and One Nights. Shhh, don't disturb the magic!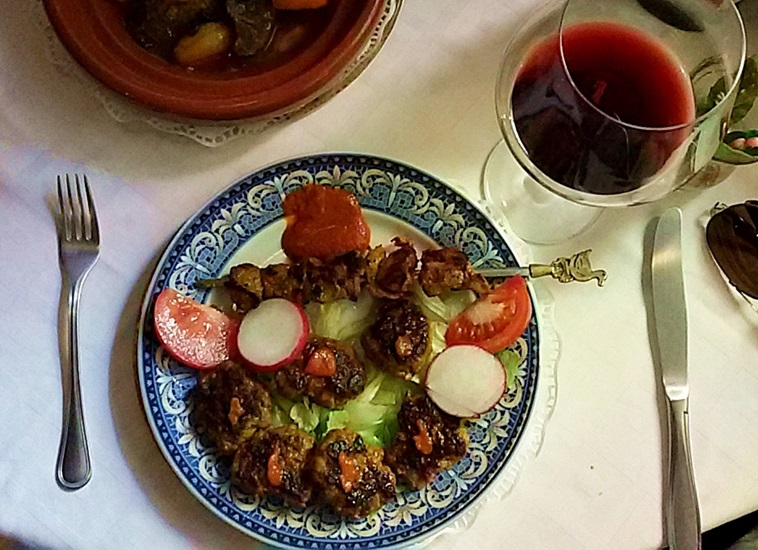 Sample delectable Moroccan delicacies at Al Yamal • Foodie Malaga
Opening Hours:
Monday – Saturday noon – 4:30 pm and 7:00 pm – 11:30 pm
Sunday closed
El Tintero
Address: Playa del Dedo/ close to Avenida Salvador Allende 340
The espetos at El Tintero are widely considered the best in the whole of Malaga • Foodie Malaga
What better place could there be for sampling seafood than the beach, with the ocean at your feet and the salty smell of the sea in the air? El Tintero on Playa del Dedo is widely popular with the local Malaguenos and offers terrific seafood. The Espetos are among the best in the whole of Malaga. Espetos are sardines on a skewer which are grilled over an open fire and seasoned only with olive oil and sea salt. To make sure that you won't leave the restaurant with an empty stomach and full of misguided anger, allow yourself some time to observe and get accustomed to the droll practice of ordering food here: The waiters are basically walking around with plates of food that nobody in particular ordered. If you see the waiter carry a dish that you like, flag him down. A unique way of ordering for a unique restaurant.
Opening Hours:
Monday – Sunday noon – 11:30 pm

Eating delicious, fresh monkfish at Marisqueria Godoy • Foodie Malaga
Marisqueria Godoy is a modern upscale seafood restaurant at the marina of Malaga. The seafood is fresh and well-prepared and the location is just beautiful with an amazing view over the harbor and the cathedral in the background. One of the specialties is the whole monkfish, which just melts on your tongue. Unfortunately the service does not live up to the standard of the food and is rather slow and disengaged. If you can overlook this (not unimportant) deficit though, you will get high quality food for a fair price.
Opening Hours:
Monday – Sunday noon – midnight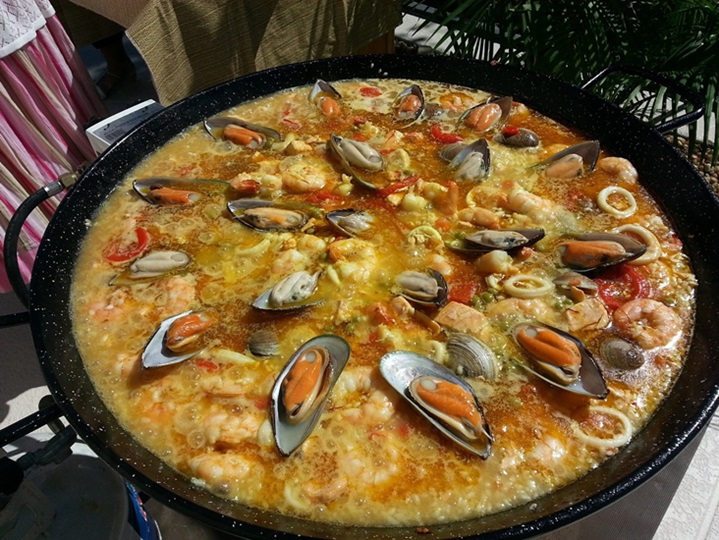 Traditional seafood paella at Los Mellizos • Foodie Malaga
One of the best places in Malaga to chomp Spanish seafood paella, Los Mellizos has no shortage of loyal fans. The service is seamless, the ambience is nice and the paella outstanding. Better make a reservation as the place gets packed quite quickly especially later at night.
Opening Hours:
Monday – Sunday 12:30 pm – midnight
---
3. Other Culinary Delights
Mercado de Atarazanas (Fresh Market)
Address: Calle Atarazanas 10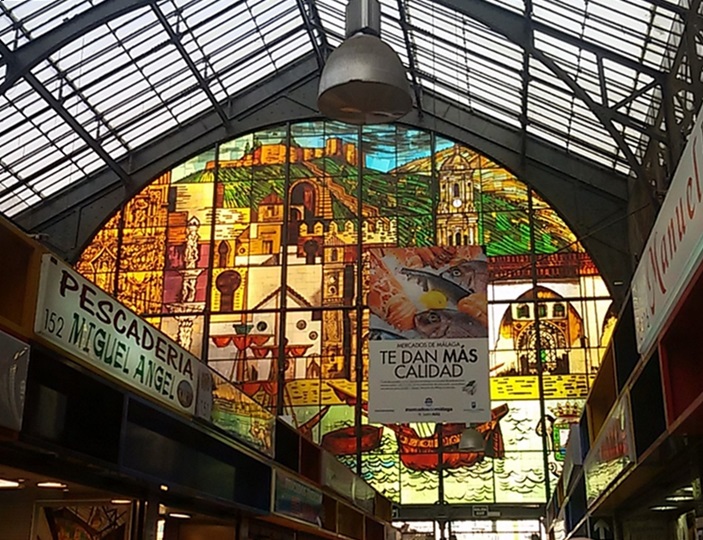 Fresh market Mercado Atarazanas – a former Moorish shipyard • Foodie Malaga
Ever bought your groceries at a former Moorish shipyard? No? Then it's time to visit Malaga's vibrant Mercado Atarazanas. Like so many other buildings in Malaga and Andalucia, this market is shrouded in Moorish history. "Atarazanas" literally means shipyard in Arabic and it is at Calle Atarazanas – where nowadays the colorful fresh market looms – that the Moors used to build and repair ships for their fleet, before the city was retaken by Spanish troops in 1487.
The shipyard was not immediately transformed into a market after the Moors left, but it first served all kinds of different purposes, including as a convent, a hospital and a storage facility for the military. It then regrettably rotted away for decades before architect Joaquin de Rucoba turned the remnants of the former shipyard into the building that we can see today in the 1870s: Of the original Moorish structure unfortunately only the marble gateway at the south side of the building remained. The rest of the building Rucoba revamped in modern industrial style mainly dominated by iron struts and red bricks, however clearly incorporating Arabic elements like the typical arched windows and intricate ornaments. Noteworthy is also the magnificent, monumental stained glass window which floods the market with beautiful shimmers of color on a sunny day.
The market itself is an embodiment of vibrant Spanish culture: Full of energy and an alluring mishmash of scents and sounds, Mercado Atarazanas is just exploding with color and life. It is here where all the locals flock to for buying giant prawns, lobsters, mussels and clams, fresh fruit and veg, and those enormous pig legs that hang from the stalls in the dozens. Try the Jamon Iberico, try the delectable selection of fresh olives, try the Malaga Suckling Goat, the amazing crayfish, the Galician beef, the figs, the fresh tuna, the almonds, the spices … and try not to drool everywhere you go in this culinary wonderland of the senses.

Opening Hours:
Monday – Saturday 8:00 am – 2:00 pm
Sunday closed
Christmas Sweets of Malaga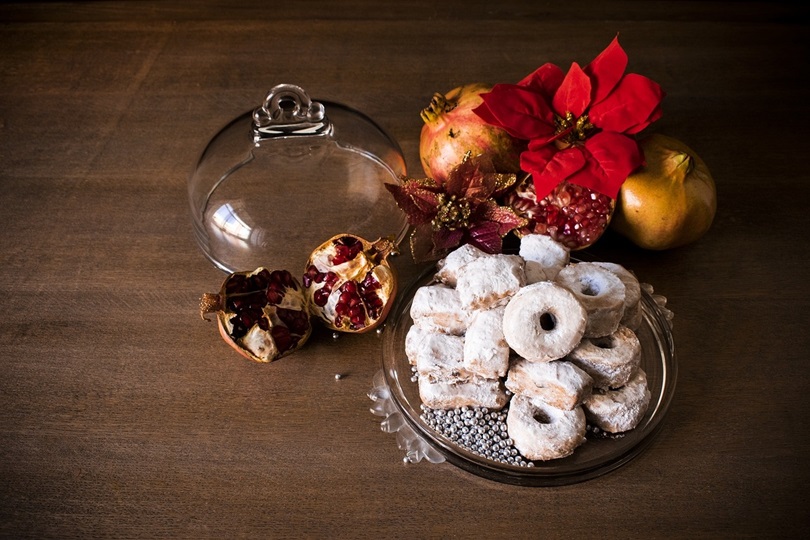 Don't miss out on sampling delicious Christmas sweets in Malaga • Foodie Malaga
In case you come to Malaga around Christmas time, you should treat yourself and your friends to a selection of Malaga's best holiday pastries and Christmas treats. Our favorites are the delicious doughnut-shaped Roscos de Vino, pastries made of almonds and cinnamon and rounded-off with a touch of Moscatel wine and powdered sugar. The most classic of all the Spanish Christmas sweets certainly has to be Turron, a crunchy nougat-kind-of bar with slightly sandy texture, that pampers your palate with a mixture of wildflower honey, almonds and sugar.
Equally delicious are the Roscon de Reyes – colorful cakes filled with vanilla or chocolate cream and topped with candied fruit – which are normally dished up on Three Kings Day (January 6th). And don't forget to gorge on the mouth-watering Polvorones and Mantecados – Christmas treats that have been around since the 16th century.
Where to find the best Christmas pastries
✓ Casa Mira: Calle Marques de Larios 5
✓ La Canasta: Avenida de la Aurora 61
✓ La Mallorquina: Calle Sagasta 3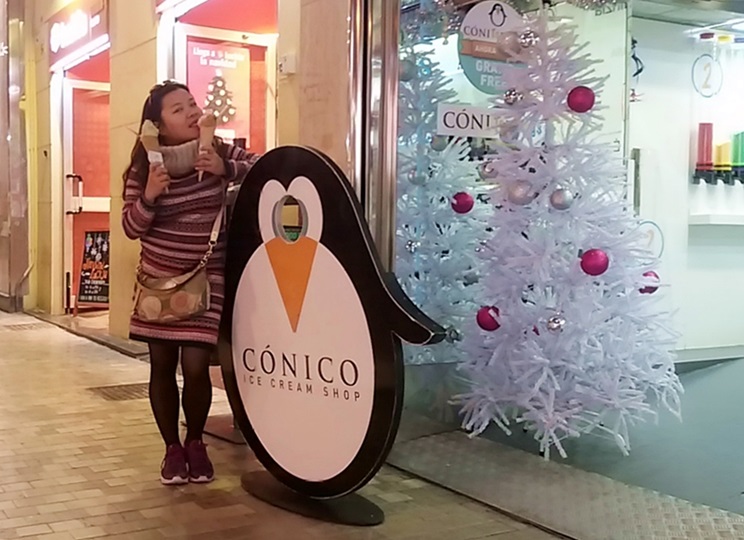 It's never too cold in Spain for eating ice-cream • Foodie Malaga
December is too cold for ice-cream you say? Sure … but not in Malaga! So head over to Conico on Calle Granada – our favorite ice-cream store on the Costa del Sol. The selection of flavors is large and unique and ranges from Strawberry Mousse and Chocolate Ginger to White Pistachio and Pomegranate Yoghurt. Good news for people with food allergies: A lot of the flavors come gluten-, lactose-, soy-, and/or sugar-free and yet taste fabulous! The staff are said to be pretty generous too, gladly offering free tasters and large scoops.
Opening Hours:
Monday – Sunday 11:00 am – 1:00 am