A colorful street art walking tour in the Belleville neighborhood in Paris

Paris is hip – Do you know all about it?
Paris has a lot on offer for its 5 million citizens (metropolitan area that is), expats and tourists. The City of Lights boasts countless cafes, bistros, restaurants (yes, all with magnificent food, rather expensive and wielding the ubiquitous grumpy Parisian waiters like hurtful weapons of mass disservice), museums and theaters. The luxurious shopping arcades and posh boutiques will quickly eat a bottomless hole into your budget. And the grandeur of the city's many churches, palaces, and elaborate parks will always make you feel like you are walking through one gigantic outdoor museum.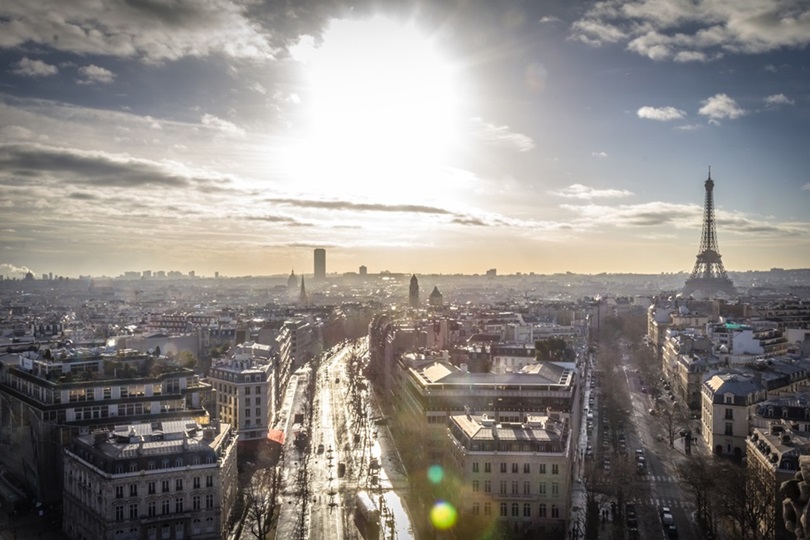 Paris – the beautiful City of Lights • Street Art Belleville

Paris got something for everyone. The possibilities for entertainment and serious, orgasmic debauchery are limitless in the heart of the country of philosophers, kings and high culture. What most visitors of Paris are however often unaware of is that amidst all of the obvious, overrun tourist destinations also lies a vibrant and active scene of urban street art culture. This can be seen all over the city, but it particularly centers around the 11th, 19th and 20th district (the Belleville neighborhood) and district 13 with its large murals.
In this post we will focus exclusively on the rich street art scene of the Belleville neighborhood. Limiting the focus to this relatively small area makes the scene more accessible to exploration, as everything is really close together and thus easily walkable.
A Map of Street Art in Belleville, Paris. Click the little symbol at the top left to see the artists' names.
1 Spaik Le Mur – 107 Rue Oberkampf
We will start at the address 107 Rue Oberkampf, which is home to the Café Place Vert. Rue Oberkampf is easily reached via public transport using Metro line 3 (stop: Parmentier or St Maur) or Metro line 2 (stop: Menilmontant). The café doesn't really offer anything special and has rather mediocre reviews, but the square itself is of great interest to us: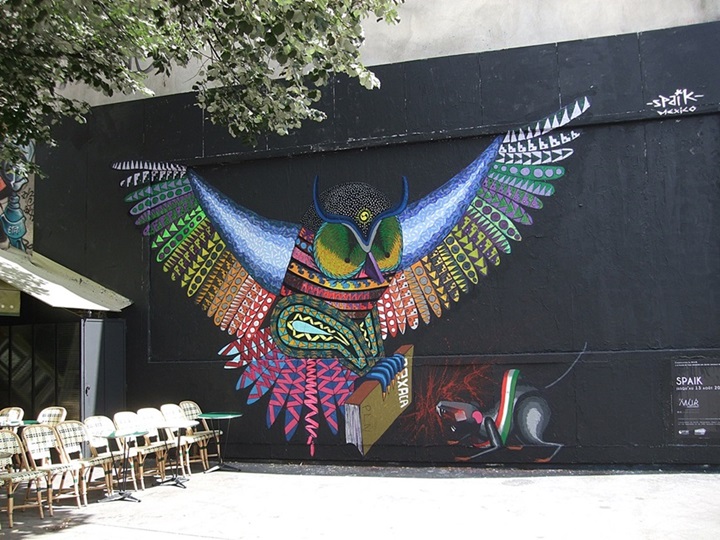 Street Art by Mexican artist Spaik • Street Art Belleville

On a huge black wall adjacent to the café, which in earlier times was being used for hanging up large billboards, the French Street Art association Le Mur has created a space where artists from all around the world can give their creative spirit a welcome, legal outlet, thus turning a former symbol of consumerism into a space for free artistic expression. The concept is as simple as it is intriguing: Le Mur will commission a street artist from anywhere in the world to paint a mural for them. For this they will pay the artist 750 Euros. The painting however will only stay there for 2 weeks, when another artist will be hired to do another painting and paint over the previous mural, and so forth. In other words, every 2nd and 4th Saturday of each month there is a new street art performance where street artists showcase their skills and creativity. The performances usually take place from around 10am in the morning all Saturday long. This does not only offer a unique chance to see the artists at work, but also to get in touch and talk to them.
At the time of us writing this article, we had the chance of seeing Mexican street artist Spaik in action, who painted this magnificent, vivid bird fighting off an aggressive, robotic rat. In the context of the two-weekly continuous flow of new street art murals, Le Mur has already reached painting number 214 with Spaik's contribution. Inspired by his Mexican heritage, Spaik's art carries a unique signature of interweaving Mexican folklore style with its intense and extremely colorful patterns with contemporary motifs.
If you are interested further in the activities of Le Mur or what Mexican artist Spaik is up to, please check out:
2 Obey
Rue Saint-Maur
Continue walking down Rue Oberkampf from Le Mur and immediately turn left into Rue Saint-Maur (a walk of about 10 seconds). Right above the entrance of an Italian Trattoria, you will notice the somber stare of André the Giant, a famous WWF wrestling star with French roots. André the Giant has been put from the ring of wrestling into the spotlight of the world's street art scene by U.S. street artist Shepard Fairey, who created the so called Obey Giant posters in 1989. Fascinating is the message that Fairey put out together with his Obey posters which quickly conquered the streets of the world: The picture of André in combination with the word 'Obey' doesn't really carry any meaning but is nonsensical. Fairey explains that he basically started the Obey poster campaign for people simply to react and contemplate about the poster and to pay more attention to the details of their immediate surroundings. This becomes especially intriguing when considering how we often to not really pay any conscious attention to how we are (in an equally meaningless way) bombarded by advertisement campaigns in our modern age.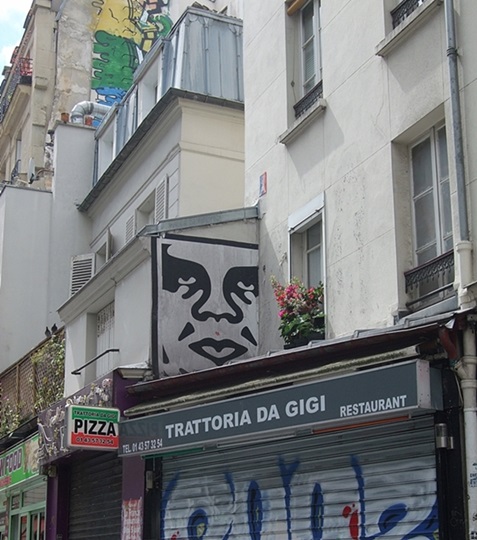 The Obey Giant by Shepard Fairey • Street Art Belleville

The Obey Giant poster campaign over time has become a pop cultural phenomenon that has taken on a life of its own. References to it can even be found in movies and cartoons, such as Batman Forever and Family Guy.
If one pays very close attention to the immediate vicinity of the Obey Giant poster (get what I'm hinting at? ;)), one can catch a tiny little street art gem to the top right of André. There the Danish street art crew OEPS has installed a little picture of the Eiffel Tower made of HAMA beads, which are normally used by children as toys. Have a look at the pictures on the website 'Underground Paris' of how the OEPS crew fixed their little artwork to the wall:
If you would like to learn more about Obey or the OEPS crew, visit:
3 Chiot
Rue Saint-Maur
In the background, much further up in the vertigo-inducing heights of the roofs of Paris, one can see a strange, colorful cocktail drink (with cocktail umbrella, straw and a slice of kiwi). Not a glass is used as a vessel though where to pour the drink in, but a series of downwards cascading toilets. The solution to this mysterious concoction arrives when considering the name of the artist, which is Chiot. Looking at a French dictionary of slang words, we quickly figure out that 'chiottes' is a not so flattering slang term for toilet, and well . . . voilà! There is your explanation. Apparently Chiot's toilet art is also a clever little comment on the decay and rotting away of urban structures.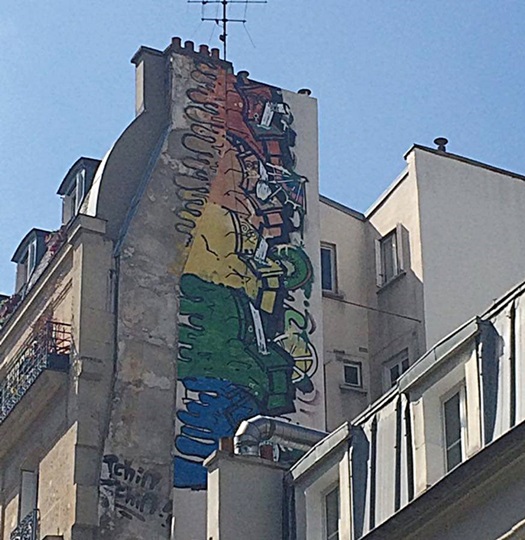 Colorful toilet art by Chiot • Street Art Belleville

Thinking carefully about how difficult it must have been for Chiot to reach the heights of the building in the obscurity of the night (hey, it's illegal, you know?! ;)) and to maneuver his spray can around while dangerously balancing along the fire escape ladder, one has to admire his courage and artistry, which gained him the respect of the street art community.
If you would like to learn more about Chiot, visit:
4 Kashink – 5 Obey
Rue Saint-Maur
Turn around and walk down Rue Saint-Maur towards the other direction. After walking for about one minute or so, you will see a piece of street art by female artist Kashink on the right hand side of the street.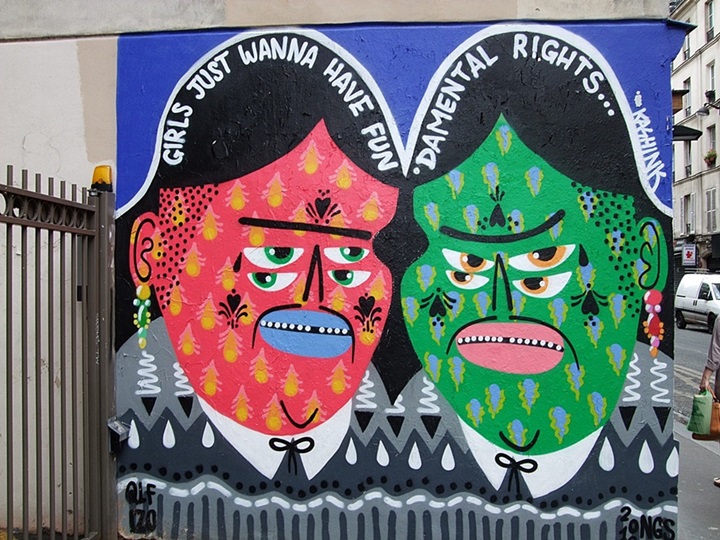 French street artist Kashink – the woman with the moustache • Street Art Belleville

Kashink's art, which almost always depicts faces, is often characterized by monstrous facial features, the doubling of the eyes, and the use of ornamental patterns and lucid, striking colors. Most important are however the thin moustaches, which Kashink often sports herself by drawing it onto her own upper lip in real life, thus playing with the shackles of traditional gender roles.
One should also take note of how Kashink plays with language and visual devices here in this particular mural, as she cleverly fragments the sentence 'Girls just wanna have fundamental rights…' into two separate halves, thus creating ambiguity in meaning.
Continue heading straight on Rue Saint-Maur, then take a right-turn at Rue de la Fontaine au Roi. Stop immediately at the corner and turn around. You will see a big black-and-white stencil of a man's face. Closely pay attention to every detail of the man's face, that's all the hints you will get 😉 And now obey!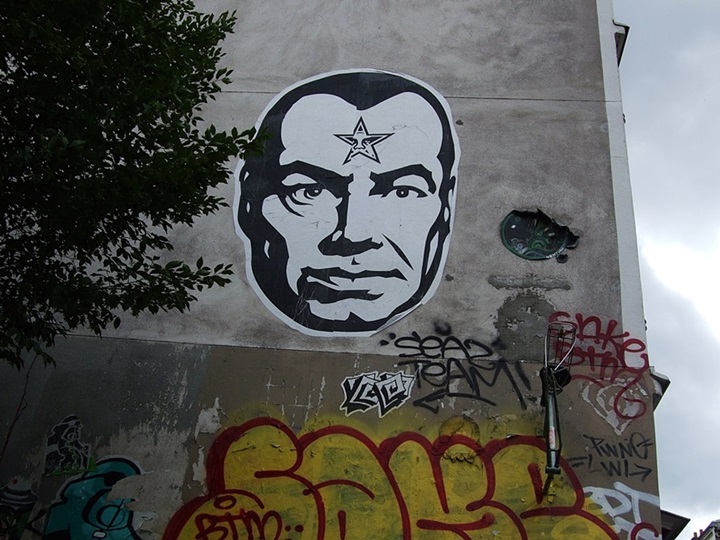 Shepard Fairey likes to hide the Obey Giant face in his street art • Street Art Belleville

If you would like to know more about Kashink and her art, visit her official facebook page: