A Map of Street Art in Belleville, Paris. Click the little symbol at the top left to see the artists' names.
6 Le Module de Zeer & GZUP, 7 Manolo Mesa, 8 Patrick Appere – Rue de la Fontaine Au Roi

We are now at point 5 on the map. Follow Rue de la Fontaine au Roi. The entire wall to your right is basically completely covered in street art. Make sure to also cross the street to get a better overview of the art, especially of the graffiti which is a little higher up so that you won't miss anything.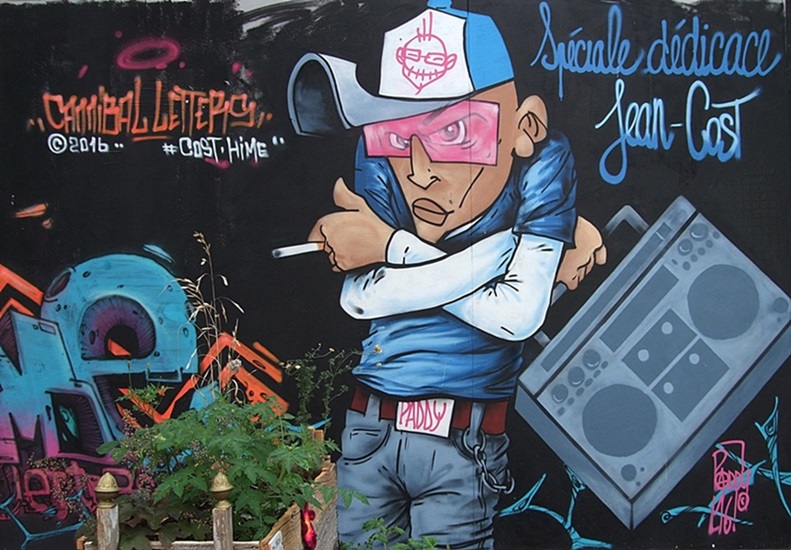 Mural by Patrick Appere • Street Art Belleville
Among the many different pieces of street art that seemingly melt together on this long stretch, we find many Hip Hop influences. There is, for example, the depiction of a b-boy (in other words a practitioner of Hip Hop break-dancing) fashioned by French street artist Patrick Appere. Close to it is another cartoon-style figure chilling out, wearing a typical Hip Hop style bucket hat. He is surrounded by ghetto blasters, tapes and a turntable from which is emanating a magnificent, stylized pink tag. To add a little natural flavor to the scene, local residents have put up wooden flower boxes to fill up the urban spaces of their neighborhood dominated by grey asphalt and concrete with lively plants and flowers.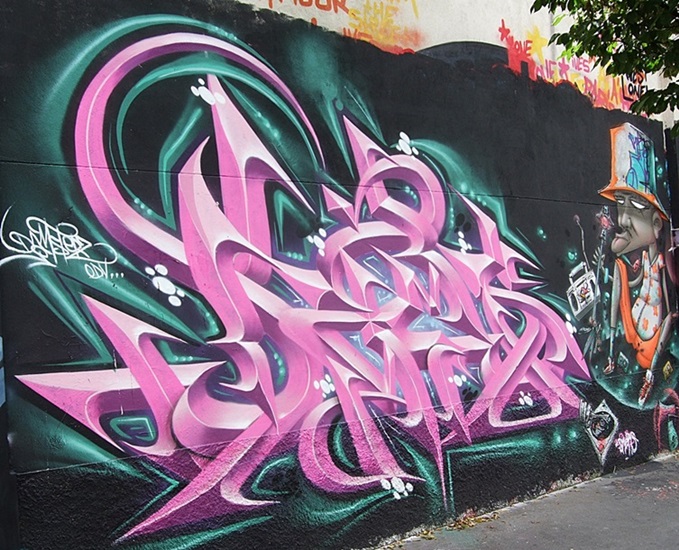 Hip Hop style graffiti • Street Art Belleville
Above a large modern billboard we can see a bizarre, futuristic black-and-white stencil of … Well, what exactly is it? A great jumble of toasters and gasmasks? Robot parts? Vacuum cleaners? The interpretation is completely up to the beholder, but Mehdi, the master mind behind LMDLDZR (Le MoDuLe De ZeeR) certainly knows how to get your mind going.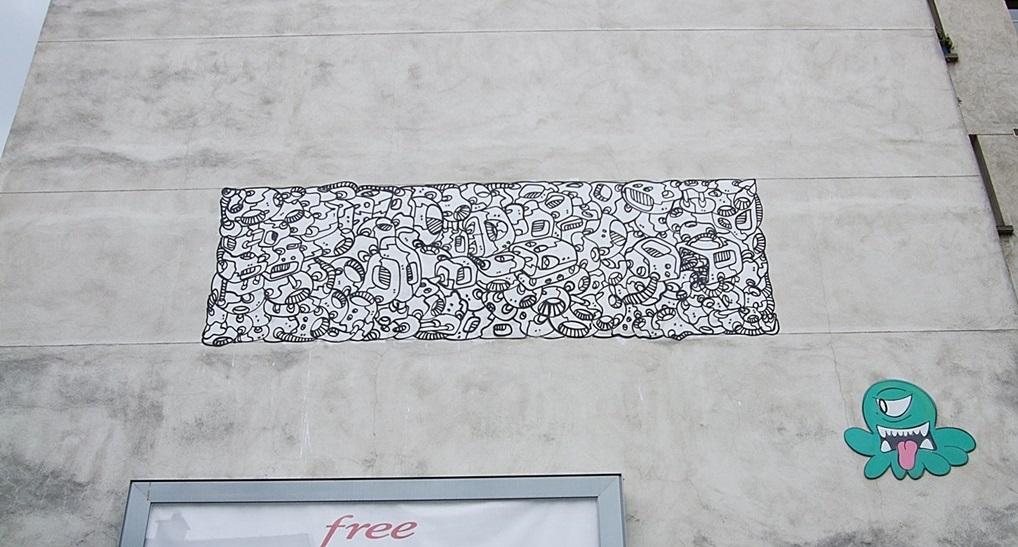 Mural by LMDLDZR • Street Art Belleville
Right next to the LMDLDZR stencil is a green, one-eyed octopus sticking its tongue out. This is the brain-child of a street artist who goes by the moniker of GZUP. GZUP puts up his little octopuses all over Paris. They always come with different faces looking at you from the center of the tentacles, for example Mona Lisa, Homer Simpson or Star Wars storm troopers. Make a game of it when walking through the streets of Paris and try to find as many of GZUP's octopuses as possible. You'll be surprised at how many you will find, if you REALLY pay attention (and look up high).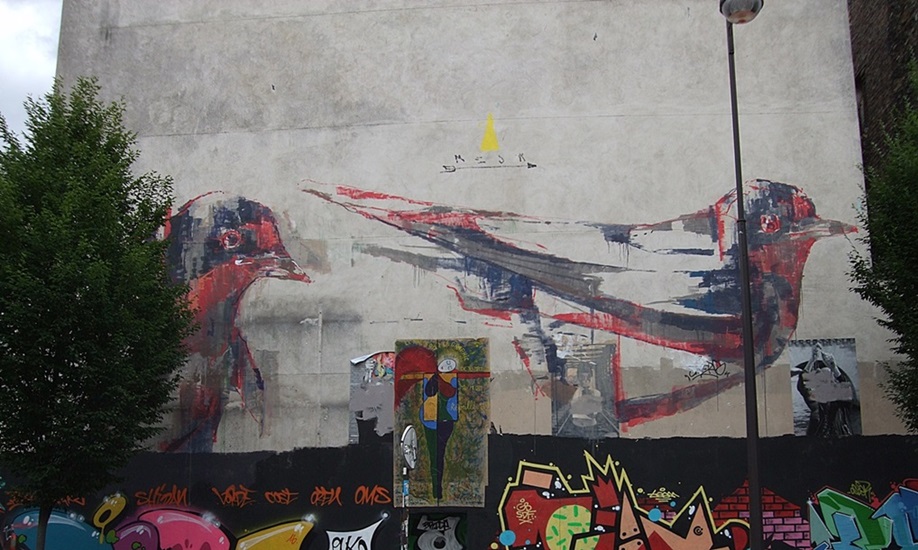 Mural by Manolo Mesa • Street Art Belleville
A totally different style can be found in the gigantic black-white-and-red mural of two singing birds. Spanish artist Manolo Mesa from Cádiz did neither use stencils nor the spray can in the creation of this masterpiece. He painted his birds with a huge brush on an extremely long stick (without using a ladder!). Quite a feat we think.
Wanna find out more about Le MoDuLe De ZeeR, GZUP, Manolo Mesa and Patrick Appere? Visit:
Le Module de Zeer Website & Le Module de Zeer Facebook
9 KWIM, 10 Cost. TPK, 11 Ives One – Rue de la Fontaine au Roi

Mural by Kwim • Street Art Belleville
The young woman in sunglasses and black hoodie with skull was created by female street artist Kwim.  Left of it, at the very end of the wall, is an intricate tag done by Cost and the TPK crew, blazing in cosmic colors. We continue following Rue de la Fontaine au Roi towards Boulevard de Belleville. On the way we can spot a bunch of blue, zebra-striped monsters with a single, cyclopean eye and razor-sharp teeth conjured up by an unknown artist. Right next to it is the rendition of a distorted, slightly out-of-phase Donald Duck image. This is the work of Dutch artist Ives One, based in Amsterdam. His specialty is to work with fragmented images of portraits, thus challenging the human perception into trying to reconstruct the proper image before one's inner eye. It almost feels like being drunk looking at the image, resulting in the well-known double-vision effect.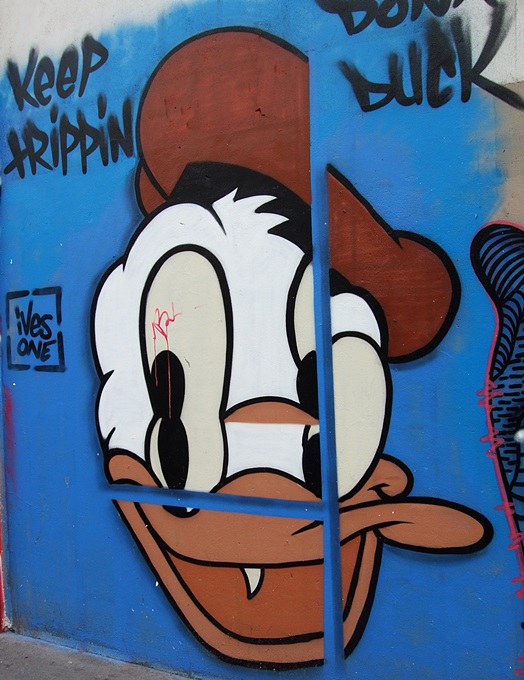 Mural by Ives One • Street Art Belleville
For learning more about Kwim and Ives One, check out:
Street Market at Boulevard de Belleville
Once you reach the intersection of Rue de la Fontaine au Roi and Boulevard de Belleville you will be in for a treat, provided that you are there on a Tuesday or Friday morning between 8am and 1.30pm. This is when the Belleville outdoor market takes place on Boulevard de Belleville.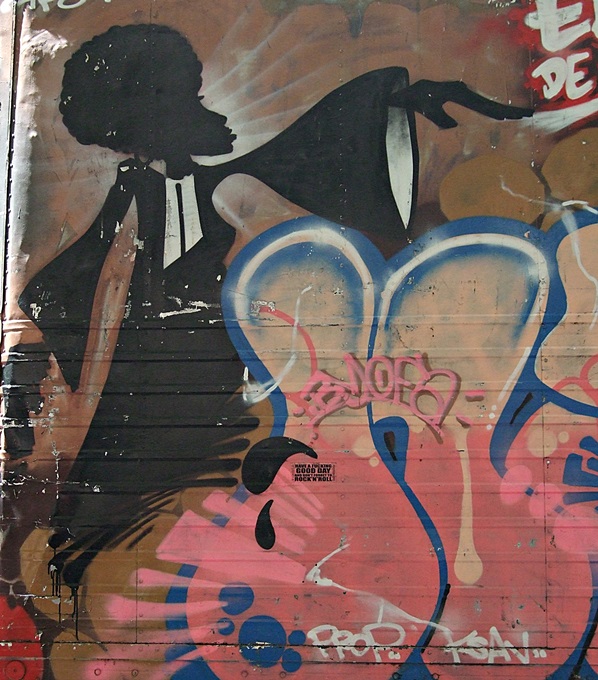 Street Market at Boulevard de Belleville • Street Art Belleville
Apart from offering a bustling experience of cultural diversity as products of Africa, Asia, France and the Middle East are being sold and vociferously promoted, the market is also fascinating from a street art perspective. One can see many trucks and vans being veiled into the alluring cloak of graffiti art. In the video there is, for example, a truck with a large cartoon-style image of a castle and three oriental men wearing turbans, whereas on the following truck one can see the depiction of a female African sorceress (minutes 1:37-1:45).
It is also not uncommon to find vans completely covered in graffiti parked somewhere on the sidewalk in the Belleville neighborhood. The picture of the graffiti-soaked van at minutes 0:33-0:37, for example, was taken by us on Rue Saint-Maur. So walk through the streets with your eyes wide open, it's definitely worth it 😉
Rue Denoyez
Next, take a right turn off Boulevard de Belleville into Rue Ramponeau. Immediately turn left again onto Rue Denoyez. We are now at point 9 on our map. Absolutely everything in this little, tucked-away side alley literally SCREAMS of street art. Not the tiniest inch in the entire street is left that is not trenched in and dripping of color, spray and stencils. Nothing has been spared: The walls, the street poles, sometimes even the cobblestones have become the objects of artistic love to the street art movement of underground Paris who have turned an entire block into an artist's outdoor workshop.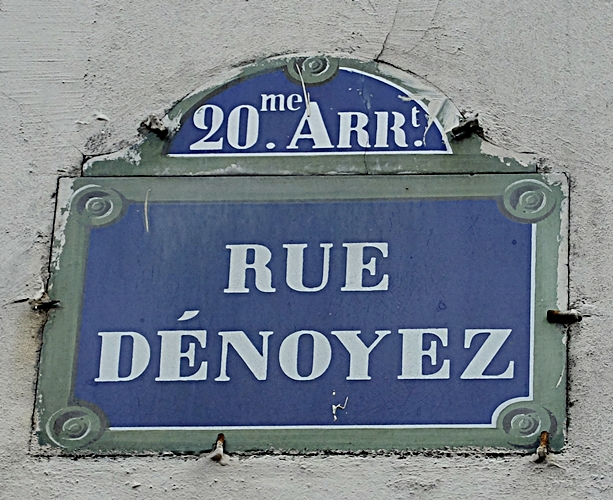 Rue Denoyez – Everything screams of street art in this little street • Street Art Belleville
At one of the few places in metropolitan Paris where spraying graffiti is not illegal, the street art community comes together night in and night out and keeps tagging, stenciling and practicing away. And the wheel of art turns fast at Rue Denoyez. If you visit again a month or even a week later you may barely recognize or revisit any familiar artworks again, so quickly are graffitis replaced by their artful successors.
The quality and artistry varies widely though. A lot of it is rather uninventive tagging, but one can also discover many little gems of street art. I deliberately did not post any pictures of this particular street which is the heart and core of the Belleville Street Art scene. It is a sight that should be taken in live and with the element of maiden surprise. Only then will you be able to fully appreciate the artistic distinctiveness of this truly special place.